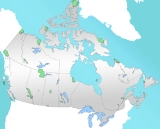 Kluane National Park and Reserve
Kluane National Park and Reserve
are two units of Canada's national park system, located in the extreme southwestern corner of
Yukon
Yukon
Yukon is the westernmost and smallest of Canada's three federal territories. It was named after the Yukon River. The word Yukon means "Great River" in Gwich'in....
Territory. Kluane National Park Reserve was established in 1972, covering 22,016 square kilometres.
The park includes the highest mountain in Canada,
Mount Logan
Mount Logan
Mount Logan is the highest mountain in Canada and the second-highest peak in North America, after Mount McKinley . The mountain was named after Sir William Edmond Logan, a Canadian geologist and founder of the Geological Survey of Canada . Mount Logan is located within Kluane National Park and...
(5,959 m) of the
Saint Elias Mountains
Saint Elias Mountains
The Saint Elias Mountains are a subgroup of the Pacific Coast Ranges, located in southeastern Alaska in the United States, southwestern Yukon and the very far northwestern part of British Columbia in Canada. The range spans Wrangell-St. Elias National Park and Preserve in the USA and Kluane...
. Mountains and
glacier
Glacier
A glacier is a large persistent body of ice that forms where the accumulation of snow exceeds its ablation over many years, often centuries. At least 0.1 km² in area and 50 m thick, but often much larger, a glacier slowly deforms and flows due to stresses induced by its weight...
s dominate the park's landscape, covering 82% of its area. It contains close to 105 species of birds, including the rock ptarmigan and the
golden
Golden Eagle
The Golden Eagle is one of the best known birds of prey in the Northern Hemisphere. Like all eagles, it belongs to the family Accipitridae. Once widespread across the Holarctic, it has disappeared from many of the more heavily populated areas...
and
bald eagle
Bald Eagle
The Bald Eagle is a bird of prey found in North America. It is the national bird and symbol of the United States of America. This sea eagle has two known sub-species and forms a species pair with the White-tailed Eagle...
.
Activities
A day-use area with boat launch, picnic facilities and campground is located at Kathleen Lake, and is operated from mid May to mid September.
Hiking
Hiking
Hiking is an outdoor activity which consists of walking in natural environments, often in mountainous or other scenic terrain. People often hike on hiking trails. It is such a popular activity that there are numerous hiking organizations worldwide. The health benefits of different types of hiking...
is a popular activity, on trails such as St. Elias Lake, Mush Lake Road, Shorty Creek, Cottonwood, Rock Glacier, King's Throne, Kokanee, Auriol, Dezadeash River Trail, Alsek Trail, Sheep Creek Trail, Bullion Plateau Trail, Slims West or Soldiers Summit.
Rafting
Rafting
Rafting or white water rafting is a challenging recreational outdoor activity using an inflatable raft to navigate a river or other bodies of water. This is usually done on white water or different degrees of rough water, in order to thrill and excite the raft passengers. The development of this...
on the
Alsek River
Alsek River
The Alsek River is a wilderness river flowing from the Yukon into Northern British Columbia and into Alaska. The surrounding area from the Western edge of the Alsek to East of the East Alsek is known to locals as Dry Bay.-Course:...
(a
Canadian Heritage river
Canadian Heritage Rivers System
The Canadian Heritage Rivers System was established in 1984 by the federal, provincial and territorial governments to conserve and protect the best examples of Canada's river heritage, to give them national recognition, and to encourage the public to enjoy and appreciate them. It is a cooperative...
),
mountain biking
Mountain biking
Mountain biking is a sport which consists of riding bicycles off-road, often over rough terrain, using specially adapted mountain bikes. Mountain bikes share similarities with other bikes, but incorporate features designed to enhance durability and performance in rough terrain.Mountain biking can...
on old mining roads, horseback riding through the
Alsek Pass
,
boating
Boating
Boating is the leisurely activity of travelling by boat, or the recreational use of a boat whether powerboats, sailboats, or man-powered vessels , focused on the travel itself, as well as sports activities, such as fishing or water skiing...
on Kathleen Lake and Mush Lake as well as
fishing
Fishing
Fishing is the activity of trying to catch wild fish. Fish are normally caught in the wild. Techniques for catching fish include hand gathering, spearing, netting, angling and trapping....
for
lake trout
Lake trout
Lake trout is a freshwater char living mainly in lakes in northern North America. Other names for it include mackinaw, lake char , touladi, togue, and grey trout. In Lake Superior, they can also be variously known as siscowet, paperbellies and leans...
,
arctic grayling
Arctic grayling
Arctic grayling is a species of freshwater fish in the salmon family of order Salmoniformes. It comprises five subspecies native to the Nearctic and Palearctic ecozones. T. a. arcticus is widespread throughout the Arctic and Pacific drainages in Canada, Alaska, and Siberia, as well as the upper...
,
rainbow trout
Rainbow trout
The rainbow trout is a species of salmonid native to tributaries of the Pacific Ocean in Asia and North America. The steelhead is a sea run rainbow trout usually returning to freshwater to spawn after 2 to 3 years at sea. In other words, rainbow trout and steelhead trout are the same species....
,
northern pike
Northern Pike
The northern pike , is a species of carnivorous fish of the genus Esox...
and
sockeye salmon
Sockeye salmon
Sockeye salmon , also called red salmon or blueback salmon in the USA, is an anadromous species of salmon found in the Northern Pacific Ocean and rivers discharging into it...
are also among activities available in the park.
The park was the subject of a short film in 2011's
National Parks Project
National Parks Project
The National Parks Project is a Canadian music and film project. Released in 2011 to mark the 100th anniversary of the creation of the National Parks of Canada system, the project sent three Canadian musicians and a filmmaker to each of 13 Canadian national parks, one in each province and...
, directed by Louise Archambault and scored by Graham Van Pelt,
Ian D'Sa
Ian D'Sa
Ian Michael D'Sa is the guitarist for the Canadian band Billy Talent.-Early life and career:Ian's family moved from the UK to Canada when he was 3 years old. He is of Indian Goan descent and grew up in Mississauga, Ontario learning guitar at the age of 13...
and Mishka Stein.
World Heritage Site
The bi-national
Kluane-Wrangell-St. Elias-Glacier Bay-Tatshenshini-Alsek
Kluane-Wrangell-St. Elias-Glacier Bay-Tatshenshini-Alsek
Kluane / Wrangell-St. Elias / Glacier Bay / Tatshenshini-Alsek is an international park system located in Canada and the U.S., at the border of Yukon, Alaska and British Columbia....
park system comprising Kluane,
Wrangell-St Elias
Wrangell-St. Elias National Park and Preserve
Wrangell–St. Elias National Park and Preserve is a United States National Park in southeastern Alaska. It was established in 1980 by the Alaska National Interest Lands Conservation Act. The park area is included in an International Biosphere Reserve and is part of a UNESCO World Heritage Site...
,
Glacier Bay
Glacier Bay National Park and Preserve
Glacier Bay National Park is a national park in Alaska. The area around Glacier Bay in southeastern Alaska was first proclaimed a U.S. National Monument on February 25, 1925. It was changed to Glacier Bay National Park and Preserve on Dec. 2, 1980 by the Alaska National Interest Lands Conservation...
and
Tatshenshini-Alsek
Tatshenshini-Alsek Park
Tatshenshini-Alsek Park or Tatshenshini-Alsek Provincial Wilderness Park is a provincial park in British Columbia, Canada . It was established in 1993 after an intensive campaign by Canadian and American conservation organizations to halt mining exploration and development in the area and protect...
parks, was declared a
UNESCO
UNESCO
The United Nations Educational, Scientific and Cultural Organization is a specialized agency of the United Nations...
World Heritage Site
World Heritage Site
A UNESCO World Heritage Site is a place that is listed by the UNESCO as of special cultural or physical significance...
in 1979 for the spectacular glacier and icefield landscapes as well as for the importance of
grizzly bears
Grizzly Bear
The grizzly bear , also known as the silvertip bear, the grizzly, or the North American brown bear, is a subspecies of brown bear that generally lives in the uplands of western North America...
,
caribou
Reindeer
The reindeer , also known as the caribou in North America, is a deer from the Arctic and Subarctic, including both resident and migratory populations. While overall widespread and numerous, some of its subspecies are rare and one has already gone extinct.Reindeer vary considerably in color and size...
and
Dall sheep
Dall Sheep
The Dall sheep , Ovis dalli, is a species of sheep native to northwestern North America, ranging from white to slate brown in color and having curved yellowish brown horns...
habitat.
First Nations presence
Kluane National Park lies within the traditional territories of the Champagne and Aishihik First Nations and Kluane First Nation who have a long history of living in this region. Through their respective Final Agreements with the Canadian Government, they have made into law their rights to harvest in this region.
See also
National Parks of Canada
List of National Parks of Canada
External links