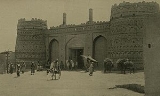 Kerman
Geological characteristics
For the Iranian paleontologists, Kerman has always been considered a
fossil
Fossil
Fossils are the preserved remains or traces of animals , plants, and other organisms from the remote past...
paradise. Finding new
dinosaur
Dinosaur
Dinosaurs are a diverse group of animals of the clade and superorder Dinosauria. They were the dominant terrestrial vertebrates for over 160 million years, from the late Triassic period until the end of the Cretaceous , when the Cretaceous–Paleogene extinction event led to the extinction of...
footprints in 2005 has now revealed new hopes for paleontologists to better understand the history of this area.
Economy
Economy of Kerman is mostly based on farming and nut farming. Sarchashmeh Copper mine is the second biggest copper mine in the world after the one located in Chile. Pistachio is another important source of economy in Kerman. Kerman Province is the biggest producer of pistachio in Iran and all over the world.
Carpet weaving is one of the main industries of the city, and the carpets produced there are renowned internationally. Carpet weaving is a very old tradition in Kerman. The oldest carpet discovered in Kerman, belongs to about 500 years ago, which proves the precedence of weaving in this city. Among the most famous Kerman carpet producers of the 19th & 20th centuries include Costigian, Ghastili and
Dilmaghani
Dilmaghani
The Dilmaghani family, the oldest existing manufacturers of hand knotted carpets and Oriental rugs, is verifiable traced back to the 1850s Qajar Dynasty, Persia. In an industry which largely produces untitled items often needing seasoned eyes to identify, the history and lineage of any name...
, the latter still in operation & considered an important connection of 19th and 20th century production of carpets in Kerman. Cotton textiles and goats-wool shawls are also manufactured.
A number of modern establishments such as textile mills and brickworks also have been constructed. The province's mineral wealth includes copper and coal.
Culture
The archeological ancient city of
Jiroft
Jiroft
Jiroft is a city in and the capital of Jiroft County, Kerman Province, Iran. At the 2006 census, its population was 95,031, in 19,926 families. It is located south of the city of Kerman, and south of Tehran along Road 91...
is located south of Kerman.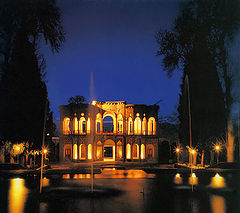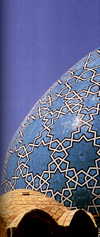 Demography
Most of the population of Kerman are Persians and Shi'a Muslims. But Kerman also has a small but culturally significant Zoroastrian minority. Balochis living in Kerman as the second largest ethnicity and are predominantly Sunni.
The population of the city in 1996 was 385,000 and the current population is 533,799.
Government
Politics in Kerman are influenced by the former
President
President of Iran
The President of Iran is the highest popularly elected official in, and the head of government of the Islamic Republic of Iran; although subordinate to the Supreme Leader of Iran, who functions as the country's head of state...
Ali Akbar Hashemi Rafsanjani, his brother and Vice President
Mohammad Hashemi Rafsanjani
Mohammad Hashemi Rafsanjani
Mohammad Hashemi Rafsanjani is an Iranian politician who has been a member of the Expediency Discernment Council since 1997. Before that he served as vice president in charge of executive affairs during the presidency of his older brother, Hojatoleslam Ali Akbar Hashemi Rafsanjani, and later...
and
Hossein Marashi
Hossein Marashi
Seyyed Hossein Marashi is an Iranian politician who was the Iranian Vice President for Cultural Heritage and Tourism. Prior to that, Marashi represented Kerman in the Iranian parliament. He strongly backed opposition candidate Mousavi in the 2009 Iranian election...
, both from the nearby
Rafsanjan
Rafsanjan
Rafsanjan is a city in and the capital of Rafsanjan County, Kerman Province, Iran. At the 2006 census, its population was 136,388, in 33,489 families.It is Iran's center of pistachio cultivation. It had an estimated population of 134,848 in 2005....
.
Colleges and universities
Shahid Bahonar University of Kerman
Shahid Bahonar University of Kerman
Shahid Bahonar University of Kerman is a research institution and university of engineering and science in Iran, offering both undergraduate and postgraduate studies...
is one of Iran's leading technological institutions.
Kerman University of Medical Sciences
Transportation
Kerman is on the
Tehran, Bandar Abbas
Road 71 (Iran)
This important road connects Tehran to Persian gulf....
and
Zahedan route
Road 86 (Iran)
Road 86 is a route connecting southwest to southeast from Kerman to Ahvaz....
.
Kerman Airport
is counted as one of the main airports which has daily and weekly flights to
Tehran
Tehran
Tehran , sometimes spelled Teheran, is the capital of Iran and Tehran Province. With an estimated population of 8,429,807; it is also Iran's largest urban area and city, one of the largest cities in Western Asia, and is the world's 19th largest city.In the 20th century, Tehran was subject to...
, Ahwaz,
Yazd
Yazd
Yazd is the capital of Yazd Province in Iran, and a centre of Zoroastrian culture. The city is located some 175 miles southeast of Isfahan. At the 2006 census, the population was 423,006, in 114,716 families....
, Esfahan,
Bandar Abbas
Bandar Abbas
Bandar-Abbas or Bandar-e 'Abbās , also Romanized as Bandar 'Abbās, Bandar 'Abbāsī, and Bandar-e 'Abbās; formerly known as Cambarão and Port Comorão to Portuguese traders, as Gombroon to English traders and as Gamrun or Gumrun to Dutch merchants) is a port city and capital of Hormozgān Province on...
,
Mashhad
Mashhad
Mashhad , is the second largest city in Iran and one of the holiest cities in the Shia Muslim world. It is also the only major Iranian city with an Arabic name. It is located east of Tehran, at the center of the Razavi Khorasan Province close to the borders of Afghanistan and Turkmenistan. Its...
and
Shiraz
Shiraz
Shiraz may refer to:* Shiraz, Iran, a city in Iran* Shiraz County, an administrative subdivision of Iran* Vosketap, Armenia, formerly called ShirazPeople:* Hovhannes Shiraz, Armenian poet* Ara Shiraz, Armenian sculptor...
. Also the
Trans-Iranian Railway
Trans-Iranian Railway
The Trans-Iranian Railway was a major railway building project started in 1927 and completed in 1938, under the direction of the Persian monarch, Reza Shah, and entirely with indigenous capital. It links the capital Tehran with the Persian Gulf and Caspian Sea...
passes through this city.
Famous people from Kerman
Houshang Moradi Kermani
Keikhosrow Shahrokh

Keikhosrow Shahrokh

Keikhosrow Shahrokh was the mastermind and designer of the mausoleum for Persian poet Ferdowsi at his burial site in the city of Tus. As elected representative of the Zoroastrian community, he was an active member of the Iranian parliament...



Peyman Soltani

Peyman Soltani

Peyman Soltani is a notable Persian musician and conductor of the Melal Orchestra.-External links:* ***...


, conductor of Melal Orchestra
Dr. Javad Nurbakhsh
Arash Borhani

Arash Borhani

Arash Borhani is an Iranian football player who currently plays for Esteghlal in Iran's Premier Football League and is a member of Iran national football team....



Ali Akbar Abdolrashidi

Ali Akbar Abdolrashidi

Ali Akbar Abdolrashidi is an Iranian intellectual, journalist, writer, traveler, translator, and university lecturer. During his forty five-year career as a journalist, Abdolrashidi conducted hundreds of television interviews with notable international figures, such as Fidel Castro, Rajiv Gandhi,...



Roohollah Khaleghi
Mirza Reza Kermani

Mirza Reza Kermani

Mirza Reza Kermani , born in Kerman, Iran and died on August 10, 1896 in Tehran, was an adherent of Jamal al-Din al-Afghani and an Iranian revolutionary....



Abbas Namazian

Abbas Namazian

Abbas Namazian was born in Kerman, Iran. His father was one of the most famous rug merchants in Kerman. He lived in Kerman until the age of 18 and, after getting his diploma, he went to Tehran to pursue his education in the field of Physical Sciences at University of Tehran...



Parviz Shahriari
Ferdows Kaviani
Mohammad Ebrahim Bastani Parizi
Mozaffar Baghaie
Professor Abbas Riazi Kermani
Professor Mehdi Riazi Kermani
Professor RajabAlipour
Arfaee Kermani
Nazemoleslam-e-Kermani
Ahmad raza Ahmadi
External links