 Ken Wallis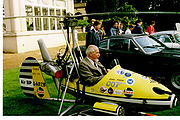 Wing Commander
Wing Commander (rank)
Wing commander is a commissioned rank in the Royal Air Force and the air forces of many other Commonwealth countries...
Kenneth Horatio Wallis
MBE,
DEng
Deng
Deng refers to:*The Chinese surname Deng**Deng Xiaoping, de facto leader of China from 1979 or 1980 until his death in 1997* Dèng Lìjūn, an Asian singer, from Taipei, Taiwan**Deng Yingchao, Chinese communist leader and wife of Zhou Enlai...
(hc),
CEng
Chartered Engineer (UK)
In the United Kingdom, a Chartered Engineer is an engineer registered with Engineering Council UK . Contemporary Chartered Engineers are master's degree-qualified and have gained professional competencies through training and experience...
, FRAeS, FSETP,
PhD
PHD
PHD may refer to:*Ph.D., a doctorate of philosophy*Ph.D. , a 1980s British group*PHD finger, a protein sequence*PHD Mountain Software, an outdoor clothing and equipment company*PhD Docbook renderer, an XML renderer...
(hc),
RAF
Royal Air Force
The Royal Air Force is the aerial warfare service branch of the British Armed Forces. Formed on 1 April 1918, it is the oldest independent air force in the world...
(Ret'd), is one of the leading exponents of
autogyro
Autogyro
An autogyro , also known as gyroplane, gyrocopter, or rotaplane, is a type of rotorcraft which uses an unpowered rotor in autorotation to develop lift, and an engine-powered propeller, similar to that of a fixed-wing aircraft, to provide thrust...
s. He has held (in some cases still holds) 34 records relating to them.
Early life
Born on 26 April 1916 at
Ely
Ely, Cambridgeshire
Ely is a cathedral city in Cambridgeshire, England, 14 miles north-northeast of Cambridge and about by road from London. It is built on a Lower Greensand island, which at a maximum elevation of is the highest land in the Fens...
,
Cambridgeshire
Cambridgeshire
Cambridgeshire is a county in England, bordering Lincolnshire to the north, Norfolk to the northeast, Suffolk to the east, Essex and Hertfordshire to the south, and Bedfordshire and Northamptonshire to the west...
, Wallis developed a practical interest in mechanics, building a motorcycle at the age of 11. In 1936, he was inspired by a demonstration by
Henri Mignet
Henri Mignet
Henri Mignet, Henri Mignet, Henri Mignet, (October 19, 1893 in Charente-Maritime – August 31, 1965 in Pessac in Gironde, was a French radio engineer who became well-known as an aircraft designer and builder...
of his
Mignet HM.14
Mignet HM.14
The Mignet HM.14 Flying Flea is a single-seat light aircraft first flown in 1933, designed for amateur construction. It was the first of a family of aircraft collectively known as Flying Fleas....
Pou-du-Ciel ("Flying Flea"). Using only Mignet's book, Wallis gathered the materials required, and started to build his own Flying Flea. He abandoned construction because of widespread adverse publicity about fatal accidents that implicated inadequate design of the type.
Wallis took an interest in powerboating which he kept up until 1957, when he won the 56 miles (90.1 km) long Missouri Marathon.
Military career
Wallis was keen to join the RAF, and applied for their Volunteer Reserve Service, but he was turned down due to a defective right eye. Consequently, he obtained a private flying license which required only a certificate signed by his GP. Wallis obtained his A License for dual and solo flying in a record 12 hours. In 1938, Wallis tried to join the RAF again, this time with the newly formed RAF Short Service Commission Scheme, but again failed the eye test. In 1939, he was called up to
RAF Uxbridge
RAF Uxbridge
RAF Uxbridge was a Royal Air Force station in Uxbridge within the London Borough of Hillingdon. Its grounds covered originally belonging to the Hillingdon House estate, which was purchased by the British Government in 1915, three years before the founding of the RAF...
, and again was sent for a medical. When it came to the eyesight test he managed to pass, as Wallis later recalled, "I did the first line with my good eye then they covered it up and asked me to read the bottom line with my bad eye, without them realising I just turned my head slightly so I could again see with my good eye – I passed it with Above Average Eye Sight!"
Wallis's military career started with
Westland Lysander
Westland Lysander
The Westland Lysander was a British army co-operation and liaison aircraft produced by Westland Aircraft used immediately before and during the Second World War...
patrols in the RAF. In 1942, he was transferred to
RAF Bomber Command
RAF Bomber Command
RAF Bomber Command controlled the RAF's bomber forces from 1936 to 1968. During World War II the command destroyed a significant proportion of Nazi Germany's industries and many German cities, and in the 1960s stood at the peak of its postwar military power with the V bombers and a supplemental...
, flying
Wellingtons
Vickers Wellington
The Vickers Wellington was a British twin-engine, long range medium bomber designed in the mid-1930s at Brooklands in Weybridge, Surrey, by Vickers-Armstrongs' Chief Designer, R. K. Pierson. It was widely used as a night bomber in the early years of the Second World War, before being displaced as a...
near
Grimsby
Grimsby
Grimsby is a seaport on the Humber Estuary in Lincolnshire, England. It has been the administrative centre of the unitary authority area of North East Lincolnshire since 1996...
. Wallis subsequently served in
Italy
Italy
Italy , officially the Italian Republic languages]] under the European Charter for Regional or Minority Languages. In each of these, Italy's official name is as follows:;;;;;;;;), is a unitary parliamentary republic in South-Central Europe. To the north it borders France, Switzerland, Austria and...
and on secondment to the US
Strategic Air Command
Strategic Air Command
The Strategic Air Command was both a Major Command of the United States Air Force and a "specified command" of the United States Department of Defense. SAC was the operational establishment in charge of America's land-based strategic bomber aircraft and land-based intercontinental ballistic...
, where he flew the massive
Convair B-36
Convair B-36
The Convair B-36 "Peacemaker" was a strategic bomber built by Convair and operated solely by the United States Air Force from 1949 to 1959. The B-36 was the largest mass-produced piston engine aircraft ever made. It had the longest wingspan of any combat aircraft ever built , although there have...
, that had six piston engines and four auxiliary jet engines. Thereafter, he was involved in research and development, and was awarded a number of patents on his inventions. Wallis left the RAF in 1964, retiring to
Norfolk
Norfolk
Norfolk is a low-lying county in the East of England. It has borders with Lincolnshire to the west, Cambridgeshire to the west and southwest and Suffolk to the south. Its northern and eastern boundaries are the North Sea coast and to the north-west the county is bordered by The Wash. The county...
.
Autogyros
Wallis produces autogyros for, in his own words, "reconnaissance, research & development, surveillance and military purposes", and his designs are not available for enthusiasts as he considers that although the design is simple it has to be built to the appropriate standards. His contribution to autogyro design includes the "offset gimbal rotor head".
Wallis flew one of his
WA-116
s named
Little Nellie
in the
James Bond
James Bond
James Bond, code name 007, is a fictional character created in 1953 by writer Ian Fleming, who featured him in twelve novels and two short story collections. There have been a six other authors who wrote authorised Bond novels or novelizations after Fleming's death in 1964: Kingsley Amis,...
film
You Only Live Twice
You Only Live Twice (film)
You Only Live Twice is the fifth spy film in the James Bond series, and the fifth to star Sean Connery as the fictional MI6 agent James Bond. The film's screenplay was written by Roald Dahl, and loosely based on Ian Fleming's 1964 novel of the same name...
.
Production was at Cambridge by "Wallis Autogyros Ltd." run by his cousin.
In 1970, Wallis provided camera footage from one of his autogyros in a search for the
Loch Ness Monster
Loch Ness Monster
The Loch Ness Monster is a cryptid that is reputed to inhabit Loch Ness in the Scottish Highlands. It is similar to other supposed lake monsters in Scotland and elsewhere, though its description varies from one account to the next....
.
In 1970 it was announced that Airmark would produce his autogyro design with a certificate of airworthiness (C of A), that being essential for commercial use of the autogyro. Expected price was around £3000.
Between 2006 and 2009, Wallis took part in filming for Into the Wind, a documentary by Steven Hatton featuring the experiences and memories of wartime members of Bomber Command. The film, due for release in 2011, features Wallis demonstrating several of his autogyro designs.
He is President of the
Norfolk and Suffolk Aviation Museum
Norfolk and Suffolk Aviation Museum
The Norfolk and Suffolk Aviation Museum is a museum collection of aircraft and aviation-related artefacts, located near the former RAF Bungay airfield on the outskirts of Flixton, in the United Kingdom....
, and Patron of the
Wolf Preservation Foundation
Wolf Preservation Foundation
The Wolf Preservation Foundation is an international non-profit organisation, independent of political parties or common interests...
.
Autogyros and aircraft
Wallbro Monoplane Replica
Wallis WA-117
Wallis WA-118 Meteorite
Wallis WA-119
Wallis WA-120

Wallis WA-120

-See also:...



Wallis WA-121
Recognition
Wing Commander
Wing Commander (rank)
Wing commander is a commissioned rank in the Royal Air Force and the air forces of many other Commonwealth countries...
Wallis has been the recognized world record holder for many categories of autogyro records over the years, and is also recognized as the oldest pilot to set a world flight record at the age of 89.
Ken Wallis has held most of the autogyro world records during his autogyro flying career. These include the
Fédération Aéronautique Internationale
Fédération Aéronautique Internationale
The Fédération Aéronautique Internationale is the world governing body for air sports and aeronautics and astronautics world records. Its head office is in Lausanne, Switzerland. This includes man-carrying aerospace vehicles from balloons to spacecraft, and unmanned aerial vehicles...
speed record of 186 km/h (111.7 mph), and the straight-line distance record of 869.23 km (540.1 mi). On 16 November 2002, at 89 years of age, Wallis increased the speed record to 207.7 km/h (129.1 mph).
Wallis received the MBE in 1996.
External links