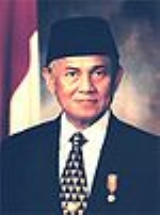 Jusuf Habibie
Bacharuddin Jusuf Habibie
( born 25 June 1936), also known
B. J. Habibie
, was the third and shortest-serving
President of Indonesia
President of Indonesia
The President of the Republic of Indonesia is the head of state and the head of government of the Republic of Indonesia.The first president was Sukarno and the current president is Susilo Bambang Yudhoyono.- Sukarno era :...
, serving from 1998 to 1999.
Early life and career
Habibie was born in Parepare, South Sulawesi(Province) on June 25, 1936 to Abdul Jalil Habibie and R. A. Tuti Marini Puspowardojo. His father was an agriculturist from
Gorontalo
Gorontalo (province)
Gorontalo is a province of Indonesia on the northern part of Sulawesi. The province was established in December 2000 after being split from North Sulawesi province...
and his mother was a Javanese
noblewoman
Priyayi
Priyayi is the Dutch era class of the nobles of the Robe, as opposed to royal nobility or bangsawan or ningrat/di ningrat in Java, Indonesia's most populous island...
from Yogyakarta. His parents met while studying in
Bogor
Bogor
Bogor is a city on the island of Java in the West Java province of Indonesia. The city is located in the center of the Bogor Regency , 60 kilometers south of the Indonesian capital Jakarta...
. His father died when he was 14, and after his father's death, he travelled to Jakarta to continue his studies. In 1955, he flew to Germany to further his studies. He successfully obtained his Dipl.-Ing. in 1960. After obtaining his degree, he remained in Germany as a
research assistant
Research assistant
A research assistant is a researcher employed, often on a temporary contract, by a university or a research institute, for the purpose of assisting in academic research...
for Hans Ebner at the Lehrstuhl und Institut für Leichtbau RWTH
Aachen
Aachen
Aachen has historically been a spa town in North Rhine-Westphalia, Germany. Aachen was a favoured residence of Charlemagne, and the place of coronation of the Kings of Germany. Geographically, Aachen is the westernmost town of Germany, located along its borders with Belgium and the Netherlands, ...
, while conducting research for his doctorate degree.
In 1962, he travelled back to Indonesia for three months
sick leave
Sick leave
Sick leave is time off from work that workers can use during periods of temporary illness to stay home and address their health and safety needs without losing pay. Some workplaces offer paid sick time as a matter of workplace policy, and in few jurisdictions it is codified into law...
. During this time, he met Hasri Ainun, the daughter of R. Mohamad Besari. He and Ainun were childhood friends and knew each other since junior. They attended senior high school together at SMA-Kristen,
Bandung
Bandung
Bandung is the capital of West Java province in Indonesia, and the country's third largest city, and 2nd largest metropolitan area in Indonesia, with a population of 7.4 million in 2007. Located 768 metres above sea level, approximately 140 km southeast of Jakarta, Bandung has cooler...
. They married on May 12, 1962 and went to Germany later that month.
They settled in
Aachen
Aachen
Aachen has historically been a spa town in North Rhine-Westphalia, Germany. Aachen was a favoured residence of Charlemagne, and the place of coronation of the Kings of Germany. Geographically, Aachen is the westernmost town of Germany, located along its borders with Belgium and the Netherlands, ...
for a short period before moving to Oberforstbach later that year. Habibie's minimum wage salary forced him to find a part time job. He choose to work for
Talbot
Talbot
Talbot was an automobile marque that existed from 1903 to 1986, with a hiatus from 1960 to 1978, under a number of different owners, latterly under Peugeot...
where he worked as adviser, where he contributed to two projects funded by
Deutsche Bundesbahn
Deutsche Bundesbahn
The Deutsche Bundesbahn or DB was formed as the state railway of the newly established Federal Republic of Germany on September 7, 1949 as a successor of the Deutsche Reichsbahn-Gesellschaft '...
, dan Talbot won both. Due to his contribution to Makosh, the Head of Train Constructions offered his position to Habibie upon retirement 3 years later, but Habibie refused.
In May 1963, his first son, Ilham Akbar Habibie, was born. In 1965, B. J. Habibie obtained his Dr.-Ing. after successfully defending his thesis with "Sehr Gut" (very good). During the same year, he accepted Dr.-Ing. Hans Ebner's offer to continue his research about Thermoelastisitas and Habilitation, but refused to join RWTH as a professor. Since his thesis about light construction in supersonic or even hypersonic, companies like
Boeing
Boeing
The Boeing Company is an American multinational aerospace and defense corporation, founded in 1916 by William E. Boeing in Seattle, Washington. Boeing has expanded over the years, merging with McDonnell Douglas in 1997. Boeing Corporate headquarters has been in Chicago, Illinois since 2001...
and
Airbus
Airbus
Airbus SAS is an aircraft manufacturing subsidiary of EADS, a European aerospace company. Based in Blagnac, France, surburb of Toulouse, and with significant activity across Europe, the company produces around half of the world's jet airliners....
offered him to join their company, but he refused.
During 1955–1965, he studied
aerospace engineering
Aerospace engineering
Aerospace engineering is the primary branch of engineering concerned with the design, construction and science of aircraft and spacecraft. It is divided into two major and overlapping branches: aeronautical engineering and astronautical engineering...
at the RWTH Aachen University, Germany, receiving a Diploma (Germany's First degree certificate which is equivalent to Master in most countries) in 1960 and doctorate in 1965. He then worked for
Messerschmitt-Bölkow-Blohm
Messerschmitt-Bölkow-Blohm
Messerschmitt-Bölkow-Blohm was a German aerospace company formed as the result of several mergers in the late 1960s. Among its best-known products was the MBB Bo 105 light twin helicopter...
in Hamburg. His time spent in Europe might have made him interested in the Leica line of cameras.
While working in
Messerschmitt-Bölkow-Blohm
Messerschmitt-Bölkow-Blohm
Messerschmitt-Bölkow-Blohm was a German aerospace company formed as the result of several mergers in the late 1960s. Among its best-known products was the MBB Bo 105 light twin helicopter...
, he conducted many research assignments, producing theories on thermodynamics, construction, and aerodynamics, known as the Habibie Factor, Habibie Theorem, and Habibie Method, respectively.
When Habibie came back to Indonesia in 1974, he was made CEO of a new state owned enterprise called PT. Nurtanio. By the early 1980s it had grown considerably, specializing in making helicopters and small passenger planes. In 1995, he succeeded in flying an N-250 (dubbed Gatotkoco) commuter plane. He was assisted in his efforts by A.B. Wolff, former Chief of Staff of the Dutch Airforce.
In developing Indonesia's Aviation Industry, he adopted an approach called "Begin at the End and End at the Beginning". In this method, things such as basic research became the last things that the workers at IPTN focused on, while actual manufacturing of the planes was placed as the first objective.
In 1985, PT. Nurtanio changed its name to Indonesian Aviation Industry and is now known as Indonesian Aerospace Inc. (Dirgantara).
Member of Golkar
Like most government officials in Suharto's regime, Habibie was a member of the
Golkar
Golkar
The Party of the Functional Groups is a political party in Indonesia. It is also known as Sekber Golkar . It was the ruling party during Suharto's regime...
organisation. From 1993–1998, he was a daily coordinator for the chairman of the Executive Board.
Vice presidency
The 1998 People's Consultative Assembly (MPR) General Session was to be held in the midst of the Asian Financial Crisis and many were hoping for Suharto to take serious steps to take the country out of trouble. In January 1998, after accepting nomination for a 7th term as President, Suharto announced the criteria for the person who he wanted as Vice President. Suharto did not mention Habibie by name but his suggestion that the next Vice President should have mastery over science and technology made it obvious who he wanted to nominate. The market reacted badly, causing the rupiah to further depreciate in value.
Despite protests and former Minister
Emil Salim
Emil Salim
Professor Dr Emil Salim, is an economist and former Minister of Indonesia. Born of Minangkabau parents, both from the village of Koto Gedang in West Sumatra...
trying to nominate himself as Vice President, Habibie was elected as Vice President in March 1998.
Rise to office
By May 1998, the increasing poverty caused by the Financial Crisis and political discontent had reached a boiling point. On May 13, the
shooting of four students
Trisakti shootings
The Trisakti shootings occurred at Trisakti University, Jakarta, Indonesia on 12 May 1998. At a demonstration asking for president Suharto's resignation, soldiers opened fire on unarmed protestors. Four students, Elang Mulia Lesmana, Heri Hertanto, Hafidin Royan, and Hendriawan Sie, were killed;...
at
Trisakti University
Trisakti University
Trisakti University is a private university in Jakarta, Indonesia. Founded on 29 November 1965, the university has more than 30,000 students.It has several campuses and nine faculties:*Faculty of Law*Faculty of Medical Sciences*Faculty of Dentistry...
in Jakarta, caused extreme anger which in turn caused widespread riots and lootings. There were now explicit calls for Suharto to step down as President of Indonesia. Suharto responded by saying on May 19, 1998 that if he stepped down, the Vice President would become President and in a not too subtle jab to Habibie, said that he was not sure whether the Vice President could solve the problems facing the country.
After learning of Suharto's comments from television, he was upset with his mentor and from then on was increasingly sympathetic to those who wanted Suharto to step down. While careful not to oppose him directly or support those who did, he left the president in little doubt that he saw himself as Suharto's legitimate successor. Suharto, faced with dwindling civilian and military support, even among loyalists like
Wiranto
Wiranto
Wiranto is a retired Indonesian army General. He was Commander of the military of Indonesia from February 1998 to October 1999, and ran unsuccessfully for President of Indonesia in 2004 and the vice-presidency in 2009....
and
Ginandjar Kartasasmita
Ginandjar Kartasasmita
Prof. Dr. Ir. Ginandjar Kartasasmita April 1941 in Bandung, West Java is an Indonesian politician. He served a five-year term as Speaker of Indonesia Regional Representative Council .-Background:...
, decided to resign late on the evening of May 20, 1998.
The next morning, on May 21, 1998, Suharto publicly announced his resignation and Habibie was immediately sworn in as President. There were mixed reactions to Habibie's assumption to the Presidency. Hardline reformists saw him as an extension of Suharto's regime while moderate reformists saw him as leading a transitional Government.
With the release of his 2006 book,
Detik-Detik Yang Menentukan: Jalan Panjang Indonesia Menuju Demokrasi
(Decisive Moments: Indonesia's Long Road Towards Democracy), there is speculation that Suharto had wanted Habibie to resign along with him. In Javanese style, Suharto hinted at this intention subtly. Habibie, despite having Javanese roots from his mother, didn't take the hint and decided to take the office of the President. Because of this inability to read his intentions, Suharto showed nothing but contempt and never talked to him again.
Cabinet
Habibie's Cabinet, which was called the
Development Reform Cabinet
Development Reform Cabinet
The Development Reform Cabinet was the Indonesian cabinet which served under President BJ Habibie during his term as President from 21 May 1998-20 October 1999....
consisted mostly of the same faces which had served in Suharto's last Cabinet. To show his reformist bent, he included
United Development Party
United Development Party
The United Development Party , sometimes translated as Development Unity Party is a political party in Indonesia. It is an islamic party and currently led by Suryadharma Ali.-Origins:...
(PPP) member
Hamzah Haz
Hamzah Haz
Hamzah Haz is an Indonesian politician. He is the head of the United Development Party and served as the ninth Vice-President from 2001 until 2004....
in the Cabinet.
East Timor
When he took office, he made it clear that
East Timorese Independence
East Timor
The Democratic Republic of Timor-Leste, commonly known as East Timor , is a state in Southeast Asia. It comprises the eastern half of the island of Timor, the nearby islands of Atauro and Jaco, and Oecusse, an exclave on the northwestern side of the island, within Indonesian West Timor...
was out of the question, but that he would consider giving East Timor special autonomy. In January 1999, however, he surprised everyone by announcing that a
referendum
Referendum
A referendum is a direct vote in which an entire electorate is asked to either accept or reject a particular proposal. This may result in the adoption of a new constitution, a constitutional amendment, a law, the recall of an elected official or simply a specific government policy. It is a form of...
, choosing between special autonomy and independence, would be held in East Timor. This particular decision made him extremely unpopular with ABRI.
On 30 August 1999, the referendum was held and the East Timorese people chose overwhelmingly for Independence. However, the retreat of Indonesian troops from East Timor would not be peaceful as many people were killed during the transition period.
Suharto's corruption charge
The 1998 MPR Special Session in November declared that an investigation should be made into corruption charges especially that of Suharto's.
Habibie also thought of forming a special commission as a gesture of good faith towards Reformasi and invited noted lawyer Adnan Buyung Nasution to be on the commission. Nasution would ask for a lot of power in investigating the matter and Habibie rejected the offer. Instead, he appointed
Attorney General
Attorney General
In most common law jurisdictions, the attorney general, or attorney-general, is the main legal advisor to the government, and in some jurisdictions he or she may also have executive responsibility for law enforcement or responsibility for public prosecutions.The term is used to refer to any person...
and loyalist, Andi Muhammad Ghalib to head the investigation.
On 9 December 1998, Suharto was questioned for three hours by Ghalib. The Habibie Government declared that Suharto had gained his wealth through corruption.
A controversial tape was released which involved a telephone conversation between Habibie and Ghalib. The conversation seemed to suggest that Habibie's Government was not giving a serious attempt at investigating Suharto's corruption charges.
The economy
Habibie's Government stabilized the economy after the chaos which it went through in the Asian Financial Crisis and the last few months of Suharto's Presidency.
Social
Habibie's Government also began making concilliatory gestures towards
Chinese Indonesian
Chinese Indonesian
Chinese Indonesians, also called the Indonesian Chinese, are an overseas Chinese group whose ancestors emigrated from China to Indonesia, formerly a colony of the Netherlands known as the Dutch East Indies...
s who because of their wealth and dominance of the Indonesian economy were targeted during the violence and looting. In September 1998, he issued a Presidential Instruction which does not allow for the discriminatorial reference to
pribumi
(Native) and
non-pribumi
(Non-Native). In May 1999, he followed this up with another Presidential Instruction which states that a display of ID Card is enough to prove someone's Indonesian citizenship whereas before, displaying the Letter of Evidence of Republic of Indonesia Citizenship (SBKRI) was the norm.
Although they were not mentioned specifically, it is clear that these policies were targeted towards Chinese Indonesians who in the Suharto years were referred to as non-Pribumi and had to display SBKRI to prove their Indonesian citizenship.
Other
When he was a State Minister for Research and Technology, he created a program called OFP (Overseas Fellowship program), SMDP (Science and Manpower Development Program) and STAID (Science and Technology for Industrial Development). The three programs were to provide scholarships to thousands of students to continue their study for master's and doctorate program in the United States, Europe, Japan, and others.
End of presidency
Although he had been viewed as leading a transitional government, he seemed determined to continue as president. In May 1999, Golkar announced that Habibie would be their presidential candidate.
At the 1999 MPR General Session in October, Habibie delivered an accountability speech which was a report of what he had achieved during his presidency. Once this was completed, MPR members began voting to decide if they would accept or reject his speech. During this process, pro-Reform members of Golkar broke with the ranks and voted against him, and his accountability speech was rejected 355 votes to 322. Seeing that it would be inappropriate to press his candidacy for the presidency after having his accountability speech rejected, Habibie withdrew his nomination.
Post-presidency
Since relinquishing the presidency, he has spent more time in Germany than in Indonesia, however he has during Susilo Bambang Yudoyono's presidency been active both as a presidential adviser and through The Habibie Centre to ensure democratisation in Indonesia.
In September 2006, he released a book called
Detik-Detik Yang Menentukan: Jalan Panjang Indonesia Menuju Demokrasi
(Decisive Moments: Indonesia's Long Road Towards Democracy). The book recalled the events of May 1998 which led to his rise to the Presidency. In the book, he controversially accuses
Lieutenant General
Lieutenant General
Lieutenant General is a military rank used in many countries. The rank traces its origins to the Middle Ages where the title of Lieutenant General was held by the second in command on the battlefield, who was normally subordinate to a Captain General....
Prabowo Subianto, Suharto's son-in-law and the
Kostrad
Kostrad
Kostrad is the Indonesian Army's Strategic Reserve Command. Kostrad is a Corps level command which has up to 35,000 troops...
Commander, of planning a coup d'état against him in May 1998.
Family
Habibie was married to Hasri Ainun Besari, a medical doctor, from 12 May 1962 until her death on 22 May 2010. The couple had two sons, Ilham Akbar Habibie and Thareq Kemal Habibie. BJ Habibie's brother, Yunus Habibie, is the current Indonesian ambassador to the Netherlands.
Further reading
Habibie, Bacharuddin Jusuf (Desember 2010).
Habibie & Ainun
(Cet. 2. ed.). Jakarta: THC Mandiri. ISBN 9789791255134.
External links