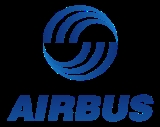 Airbus
Airbus SAS

Société par actions simplifiée

Société par actions simplifiée is the first hybrid law enacted under French law and based on common law principles rather than civil. It is similar to a limited liability company under United States law, as the Delaware limited liability company was the model used by the French Government...



(ˈɛərbʌs, ɛʁbys, ˈɛːɐbʊs, airˈβus) is an
aircraft manufacturing
Aerospace manufacturer
An aerospace manufacturer is a company or individual involved in the various aspects of designing, building, testing, selling, and maintaining aircraft, aircraft parts, missiles, rockets, and/or spacecraft....
subsidiary of
EADS
EADS
The European Aeronautic Defence and Space Company N.V. is a global pan-European aerospace and defence corporation and a leading defence and military contractor worldwide...
, a European aerospace company. Based in
Blagnac
Blagnac
Blagnac is a commune in the Haute-Garonne department in southwestern France.It is the third-largest suburb of the city of Toulouse, although governed by a separate council, and is adjacent to it on the northwest side. It is a member of the Urban community of Greater Toulouse...
, France, surburb of
Toulouse
Toulouse
Toulouse is a city in the Haute-Garonne department in southwestern FranceIt lies on the banks of the River Garonne, 590 km away from Paris and half-way between the Atlantic Ocean and the Mediterranean Sea...
, and with significant activity across Europe, the company produces around half of the world's
jet airliner
Jet airliner
A jet airliner is an airliner that is powered by jet engines. This term is sometimes contracted to jetliner or jet.In contrast to today's relatively fuel-efficient, turbofan-powered air travel, first generation jet airliner travel was noisy and fuel inefficient...
s.
Airbus began as a
consortium
Consortium
A consortium is an association of two or more individuals, companies, organizations or governments with the objective of participating in a common activity or pooling their resources for achieving a common goal....
of aerospace manufacturers,
Airbus Industrie
. Consolidation of European defence and aerospace companies in 1999 and 2000 allowed the establishment of a simplified joint-stock company in 2001, owned by EADS (80%) and
BAE Systems
BAE Systems
BAE Systems plc is a British multinational defence, security and aerospace company headquartered in London, United Kingdom, that has global interests, particularly in North America through its subsidiary BAE Systems Inc. BAE is among the world's largest military contractors; in 2009 it was the...
(20%).