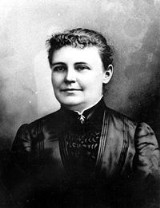 Julia Tuttle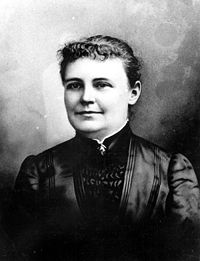 Julia DeForest
Tuttle
, (January 22, 1849 – September 14, 1898) was an entrepreneur, citrus farmer and businesswoman who was largely responsible for, and the original owner of, the land upon which Miami,
Florida
Florida
Florida is a state in the southeastern United States, located on the nation's Atlantic and Gulf coasts. It is bordered to the west by the Gulf of Mexico, to the north by Alabama and Georgia and to the east by the Atlantic Ocean. With a population of 18,801,310 as measured by the 2010 census, it...
, was built. For this reason, she is called the "Mother of Miami."
History
Julia DeForest Sturtevant married Frederick Leonard Tuttle on January 22, 1867. They had two children: a daughter, Frances Emeline (b. 1868), and a son, Henry Athelbert (b. 1870). Mrs. Tuttle first visited the
Biscayne Bay
Biscayne Bay
Biscayne Bay is a lagoon that is approximately 35 miles long and up to 8 miles wide located on the Atlantic coast of South Florida, United States. It is usually divided for purposes of discussion and analysis into three parts: North Bay, Central Bay, and South Bay. Its area is...
region of
southern Florida
South Florida metropolitan area
The South Florida metropolitan area, also known as the Miami metropolitan area, and designated the Miami–Fort Lauderdale–Pompano Beach, FL Metropolitan Statistical Area by the U.S...
in 1875 with her husband, visiting a 40 acre (0.16 Km2) orange grove her father had purchased. She loved the experience, but returned to
Cleveland, Ohio
Cleveland, Ohio
Cleveland is a city in the U.S. state of Ohio and is the county seat of Cuyahoga County, the most populous county in the state. The city is located in northeastern Ohio on the southern shore of Lake Erie, approximately west of the Pennsylvania border...
with her family.
Moving to southern Florida
Mrs. Tuttle came to Fort Dallas from Cleveland, Ohio, via steamship with her father, Ephean T. Sturtevant, in 1871. A little over ten years later in 1886, her husband died, leaving her the iron
foundry
Foundry
A foundry is a factory that produces metal castings. Metals are cast into shapes by melting them into a liquid, pouring the metal in a mold, and removing the mold material or casting after the metal has solidified as it cools. The most common metals processed are aluminum and cast iron...
he owned, which she continued to operate. In 1891, when her father died and left her his land in Florida, she sold the iron foundry business in Ohio and relocated to Biscayne Bay.
She used the money from the sale of the business to purchase the James Egan grant of 640 acres (2.6 km²), where the city of Miami is now located, on the north side of the river, including the old
Fort Dallas
Fort Dallas
Fort Dallas is a urban park in the Lummus Park Historic District of Miami, Florida, just west of Downtown. It once acted as a military base during the Seminole Wars, located on the banks of the Miami River in what is now Downtown, Miami, Florida, United States....
stone buildings, which she converted into her home and the pride of her life. In 1891, Julia Tuttle brought her family to live there. Tuttle repaired and converted the home into one of the show places in the area with a sweeping view of the river and Biscayne Bay.
Mrs. Tuttle immediately decided to take a leading role in the movement to start a new
city
City
A city is a relatively large and permanent settlement. Although there is no agreement on how a city is distinguished from a town within general English language meanings, many cities have a particular administrative, legal, or historical status based on local law.For example, in the U.S...
on the river, but knew that a decent transportation (in that time, a railroad) was necessary to attract development. Mrs. Tuttle tried to induce Henry Flagler to extend his railroad to Fort Dallas (Miami), and offered to divide her large real estate holdings if he would do this. She wrote numerous letters to Mr. Flagler in this connection and finally made the trip to St. Augustine and in person repeated her offer. Her efforts were of no avail at that time; however, providence favored Mrs. Tuttle. The great freeze on 1894-1895 devastated the old orange belt of central and northern Florida, destroying valuable groves and wiping out fortunes overnight.
Either Mr. Flagler then recalled Mrs. Tuttle's story of the tropical Biscayne Bay County weather and sent some men to investigate, or Mrs. Tuttle alerted Mr. Flagler that the freeze had spared the Miami River, sending as evidence a bouquet of flowers and foliage (possibly oranges) to Mr. Flagler, whose order to extend the Florida East Coast Railway was then given. On February 15, 1896 Joseph B. Reilly, John Sewell and E.G. Sewell, the vanguard of the Flagler forces, arrived, and the work of building the Royal Palm Hotel was commenced. The city of Miami was born on the summer day in 1896.
Under an agreement between the two, Tuttle supplied Flagler with the land for a hotel and a railroad station for free, and they split the remainder of her 640 acres (2.6 km²) north of the Miami River in alternating sections. On April 22, 1896, train service of the
Florida East Coast Railway
Florida East Coast Railway
The Florida East Coast Railway is a Class II railroad operating in the U.S. state of Florida; in the past, it has been a Class I railroad.Built primarily in the last quarter of the 19th century and the first decade of the 20th century, the FEC was a project of Standard Oil principal Henry Morrison...
came to the area. On July 28, male residents voted to incorporate a new city, Miami. Thereafter, the city steadily grew from a small town to a sophisticated metropolis.
Death and legacy
In 1898, Tuttle fell ill with apparent
meningitis
Meningitis
Meningitis is inflammation of the protective membranes covering the brain and spinal cord, known collectively as the meninges. The inflammation may be caused by infection with viruses, bacteria, or other microorganisms, and less commonly by certain drugs...
. Plans were made to move her to
Asheville, North Carolina
Asheville, North Carolina
Asheville is a city in and the county seat of Buncombe County, North Carolina, United States. It is the largest city in Western North Carolina, and the 11th largest city in North Carolina. The City is home to the United States National Climatic Data Center , which is the world's largest active...
, by rail for treatment, but her condition deteriorated before she could be transported. She died on September 14, 1898, at age 49. Her funeral took place at her Fort Dallas home, and she was buried in a place of honor at the
City of Miami Cemetery
City of Miami Cemetery
The City of Miami Cemetery is a historic cemetery in Miami, Florida, United States. It is located at 1800 Northeast 2nd Avenue. On January 4, 1989, it was added to the U.S. National Register of Historic Places.-History:...
.
She died leaving a large amount of debt, partly the result of her altruistic land grants to Flagler. Her children sold her remaining land to pay off the debt. For that reason, her name was mostly lost as a contributor to Miami's founding until it was placed on a causeway for
Interstate 195
Interstate 195 (Florida)
Interstate 195 is a spur expressway connecting Interstate 95 in the west with Miami Beach in the east, crossing Biscayne Bay by traveling over the Julia Tuttle Causeway, named after Miami founder Julia Tuttle....
over Biscayne Bay. In contrast, the name of
William Brickell
William Brickell
William Brickell joined Julia Tuttle as a co-founder of Miami, Florida.Brickell and his wife Mary moved to southern Florida from Cleveland, Ohio in 1871...
, a large landowner on the south side of the Miami River who contributed to Tuttle's efforts to incorporate the city, was widely used on the south side of what became Miami.
Just as Tuttle is called the Mother of Miami, Mr. Flagler became known as the Father of Miami. Coincidentally, both Tuttle and Flagler had previously lived in Cleveland, where they first met.
In addition to the Julia Tuttle Causeway, the memory of Tuttle has been honored with a statue in
Bayfront Park
Bayfront Park
Bayfront Park is a public, urban park in Downtown Miami, Florida on Biscayne Bay.-History:The park began construction in 1924 under the design plans of Warren Henry Manning and officially opened in March 1925. Beginning in 1980, it underwent a major redesign by Japanese-American modernist artist...
.
Sources