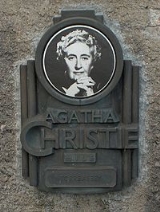 Agatha Christie
Dame Agatha Christie
DBE (15 September 1890 – 12 January 1976) was a British crime writer of
novel
Novel
A novel is a book of long narrative in literary prose. The genre has historical roots both in the fields of the medieval and early modern romance and in the tradition of the novella. The latter supplied the present generic term in the late 18th century....
s,
short stories
Short Stories
Short Stories may refer to:*A plural for Short story*Short Stories , an American pulp magazine published from 1890-1959*Short Stories, a 1954 collection by O. E...
, and
plays
Play (theatre)
A play is a form of literature written by a playwright, usually consisting of scripted dialogue between characters, intended for theatrical performance rather than just reading. There are rare dramatists, notably George Bernard Shaw, who have had little preference whether their plays were performed...
. She also wrote
romances
Romance novel
The romance novel is a literary genre developed in Western culture, mainly in English-speaking countries. Novels in this genre place their primary focus on the relationship and romantic love between two people, and must have an "emotionally satisfying and optimistic ending." Through the late...
under the name
Mary Westmacott
, but she is best remembered for her 66 detective novels and 14 short story collections (especially those featuring
Hercule Poirot
Hercule Poirot
Hercule Poirot is a fictional Belgian detective created by Agatha Christie. Along with Miss Marple, Poirot is one of Christie's most famous and long-lived characters, appearing in 33 novels and 51 short stories published between 1920 and 1975 and set in the same era.Poirot has been portrayed on...
or Miss Jane Marple), and her successful West End plays.
According to the
Guinness Book of World Records
Guinness World Records
Guinness World Records, known until 2000 as The Guinness Book of Records , is a reference book published annually, containing a collection of world records, both human achievements and the extremes of the natural world...
, Christie is the best-selling novelist of all time.
Understand this, I mean to arrive at the truth. The truth, however ugly in itself, is always curious and beautiful to seekers after it.

"Hercule Poirot|Hercule Poirot" in The Murder of Roger Ackroyd (1926)
Crime is terribly revealing. Try and vary your methods as you will, your tastes, your habits, your attitude of mind, and your soul is revealed by your actions.

The ABC Murders (1936) Ch. 17
I have given them life instead of death, freedom instead of the cords of superstition, beauty and truth instead of corruption and exploitation. The old bad days are over for them, the Light of the Aten|Aton has risen, and they can dwell in peace and harmony freed from the shadow of fear and oppression.

Akhenaten|Akhenaten, as portrayed in Akhnaton (play)|Akhnaton (1937); Christie later revised the play slightly in 1972, and it was published in 1973.
An archaeologist is the best husband any woman can have: the older she gets, the more interested he is in her.

Christie denied having made this remark, which had been attributed to her by her second husband Sir Max Mallowan|Max Mallowan in a news report (1954-03-09)
Oh dear, I never realized what a terrible lot of explaining one has to do in a murder!

Spider's Web (play)|Spider's Web (1956)
I specialize in murders of quiet, domestic interest.

Life magazine (1956-05-14)
It is ridiculous to set a detective story in New York City. New York City is itself a detective story.

Life magazine (1956-05-14)
I have a certain experience of the way people tell lies.

"Miss Marple|Miss Marple" in A Caribbean Mystery (1964) :This is the first story featuring "Hercule Poirot|Hercule Poirot".
The intense interest aroused in the public by what was known at the time as "The Styles Case" has now somewhat subsided. Nevertheless, in view of the world-wide notoriety which attended it, I have been asked, both by my friend Poirot and the family themselves, to write an account of the whole story. This, we trust, will effectually silence the sensational rumours which still persist.

Captain Arthur Hastings|Arthur Hastings
Every murderer is probably somebody's old friend.

Hercule Poirot