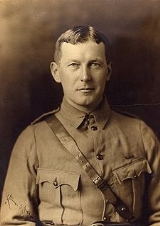 John McCrae
Lieutenant Colonel
Lieutenant colonel
Lieutenant colonel is a rank of commissioned officer in the armies and most marine forces and some air forces of the world, typically ranking above a major and below a colonel. The rank of lieutenant colonel is often shortened to simply "colonel" in conversation and in unofficial correspondence...
John Alexander McCrae
(November 30, 1872 – January 28, 1918) was a
Canadian
Canada
Canada is a North American country consisting of ten provinces and three territories. Located in the northern part of the continent, it extends from the Atlantic Ocean in the east to the Pacific Ocean in the west, and northward into the Arctic Ocean...
poet
Poet
A poet is a person who writes poetry. A poet's work can be literal, meaning that his work is derived from a specific event, or metaphorical, meaning that his work can take on many meanings and forms. Poets have existed since antiquity, in nearly all languages, and have produced works that vary...
,
physician
Physician
A physician is a health care provider who practices the profession of medicine, which is concerned with promoting, maintaining or restoring human health through the study, diagnosis, and treatment of disease, injury and other physical and mental impairments...
,
author
Author
An author is broadly defined as "the person who originates or gives existence to anything" and that authorship determines responsibility for what is created. Narrowly defined, an author is the originator of any written work.-Legal significance:...
, artist and soldier during
World War I
World War I
World War I , which was predominantly called the World War or the Great War from its occurrence until 1939, and the First World War or World War I thereafter, was a major war centred in Europe that began on 28 July 1914 and lasted until 11 November 1918...
and a surgeon during the
Second Battle of Ypres
Second Battle of Ypres
The Second Battle of Ypres was the first time Germany used poison gas on a large scale on the Western Front in the First World War and the first time a former colonial force pushed back a major European power on European soil, which occurred in the battle of St...
. He is best known for writing the famous war memorial poem "
In Flanders Fields
In Flanders Fields
"In Flanders Fields" is one of the most notable poems written during World War I, created in the form of a French rondeau. It has been called "the most popular poem" produced during that period...
".
McCrae was born in
McCrae House
McCrae House
McCrae House, located in Guelph, Ontario, is the birthplace of John McCrae , doctor, soldier and author of the famous First World War poem "In Flanders Fields". The house is a National Historic Site of Canada.-History:...
in
Guelph
Guelph
Guelph is a city in Ontario, Canada.Guelph may also refer to:* Guelph , consisting of the City of Guelph, Ontario* Guelph , as the above* University of Guelph, in the same city...
,
Ontario
Ontario
Ontario is a province of Canada, located in east-central Canada. It is Canada's most populous province and second largest in total area. It is home to the nation's most populous city, Toronto, and the nation's capital, Ottawa....
to Lieutenant-Colonel David McCrae and Janet Simpson Eckford; he was the grandson of
Scottish
Scottish people
The Scottish people , or Scots, are a nation and ethnic group native to Scotland. Historically they emerged from an amalgamation of the Picts and Gaels, incorporating neighbouring Britons to the south as well as invading Germanic peoples such as the Anglo-Saxons and the Norse.In modern use,...
immigrants. He attended the
Guelph Collegiate Vocational Institute
Guelph Collegiate Vocational Institute
The Guelph Collegiate Vocational Institute is a public high school located in the city of Guelph, Ontario, Canada...
and became a member of the Guelph militia regiment.