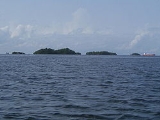 Islands of Trinidad and Tobago
This is a
list of islands of Trinidad and Tobago
.
Trinidad and Tobago
Trinidad and Tobago
Trinidad and Tobago officially the Republic of Trinidad and Tobago is an archipelagic state in the southern Caribbean, lying just off the coast of northeastern Venezuela and south of Grenada in the Lesser Antilles...
is an
archipelagic
Archipelago
An archipelago , sometimes called an island group, is a chain or cluster of islands. The word archipelago is derived from the Greek ἄρχι- – arkhi- and πέλαγος – pélagos through the Italian arcipelago...
republic
Republic
A republic is a form of government in which the people, or some significant portion of them, have supreme control over the government and where offices of state are elected or chosen by elected people. In modern times, a common simplified definition of a republic is a government where the head of...
in the southern
Caribbean
Caribbean
The Caribbean is a crescent-shaped group of islands more than 2,000 miles long separating the Gulf of Mexico and the Caribbean Sea, to the west and south, from the Atlantic Ocean, to the east and north...
.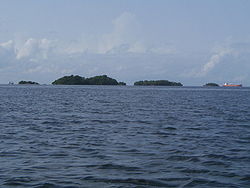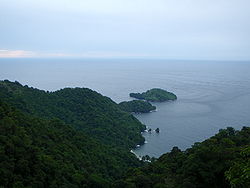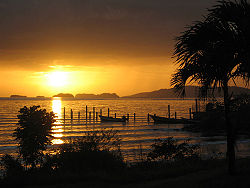 Bocas Islands
The Bocas Islands lie between Trinidad and Venezuela, in the
Bocas del Dragón
Bocas del Dragón
The Bocas del Dragón is the name of the series of straits separating the Gulf of Paria from the Caribbean Sea. There are four Bocas, from west to east they are:...
(Dragons' Mouth). Locally they are referred to as "Down the Islands".
Major Bocas Islands
Minor Bocas Islands
Five Islands
The Five Islands are a group of actually six small islands lying west of
Port of Spain
Port of Spain
Port of Spain, also written as Port-of-Spain, is the capital of the Republic of Trinidad and Tobago and the country's third-largest municipality, after San Fernando and Chaguanas. The city has a municipal population of 49,031 , a metropolitan population of 128,026 and a transient daily population...
in the
Gulf of Paria
Gulf of Paria
The Gulf of Paria is a shallow inland sea between the island of Trinidad and the east coast of Venezuela. This sheltered body of water is considered to be one of the best natural harbours on the Atlantic coast of the Americas...
. Also known as Las Cotorras.
San Diego Islands
Sometimes referred to simply as the Diego Islands, these two islets lie between the Bocas Islands and the Five Islands.
Others in the Gulf of Paria
Off Tobago
See also