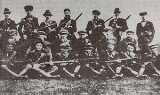 Irish Republican Army
The
Irish Republican Army
(
IRA
) was an
Irish republican
Irish Republicanism
Irish republicanism is an ideology based on the belief that all of Ireland should be an independent republic.In 1801, under the Act of Union, the Kingdom of Great Britain and the Kingdom of Ireland merged to form the United Kingdom of Great Britain and Ireland...
revolutionary military organisation. It was descended from the
Irish Volunteers
Irish Volunteers
The Irish Volunteers was a military organisation established in 1913 by Irish nationalists. It was ostensibly formed in response to the formation of the Ulster Volunteers in 1912, and its declared primary aim was "to secure and maintain the rights and liberties common to the whole people of Ireland"...
, an organisation established on 25 November 1913 that staged the
Easter Rising
Easter Rising
The Easter Rising was an insurrection staged in Ireland during Easter Week, 1916. The Rising was mounted by Irish republicans with the aims of ending British rule in Ireland and establishing the Irish Republic at a time when the British Empire was heavily engaged in the First World War...
in April 1916. In 1919, the
Irish Republic
Irish Republic
The Irish Republic was a revolutionary state that declared its independence from Great Britain in January 1919. It established a legislature , a government , a court system and a police force...
that had been proclaimed during the Easter Rising was formally established by an elected assembly (Dáil Éireann), and the Irish Volunteers were recognised by Dáil Éireann as its legitimate army.
1920 Irish War of Independence: In Dublin, 31 people are killed in what became known as "Bloody Sunday". This included fourteen British informants, fourteen Irish civilians and three Irish Republican Army prisoners.
1920 Irish War of Independence: Kilmichael Ambush - The Irish Republican Army ambush a convoy of British Auxiliaries and kill seventeen.
1921 Irish War of Independence: One of the biggest engagements of the war takes place at Crossbarry, County Cork. About 100 Irish Republican Army (IRA) volunteers escape an attempt by over 1,300 British forces to encircle them.
1922 Author and Irish Republican Army member Robert Erskine Childers is executed by an Irish Free State firing squad for illegally carrying a revolver.