 Illustration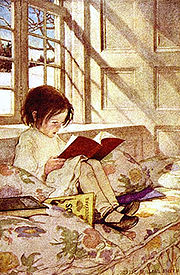 An
illustration
is a displayed visualization form presented as a
drawing
Drawing
Drawing is a form of visual art that makes use of any number of drawing instruments to mark a two-dimensional medium. Common instruments include graphite pencils, pen and ink, inked brushes, wax color pencils, crayons, charcoal, chalk, pastels, markers, styluses, and various metals .An artist who...
,
painting
Painting
Painting is the practice of applying paint, pigment, color or other medium to a surface . The application of the medium is commonly applied to the base with a brush but other objects can be used. In art, the term painting describes both the act and the result of the action. However, painting is...
,
photograph
Photograph
A photograph is an image created by light falling on a light-sensitive surface, usually photographic film or an electronic imager such as a CCD or a CMOS chip. Most photographs are created using a camera, which uses a lens to focus the scene's visible wavelengths of light into a reproduction of...
or other work of
art
Art
Art is the product or process of deliberately arranging items in a way that influences and affects one or more of the senses, emotions, and intellect....
that is created to elucidate or dictate sensual information (such as a story, poem or
newspaper
Newspaper
A newspaper is a scheduled publication containing news of current events, informative articles, diverse features and advertising. It usually is printed on relatively inexpensive, low-grade paper such as newsprint. By 2007, there were 6580 daily newspapers in the world selling 395 million copies a...
article) by providing a visual representation graphically.
Early history
The earliest forms of illustration were prehistoric cave paintings. Before the invention of the
printing press
Printing press
A printing press is a device for applying pressure to an inked surface resting upon a print medium , thereby transferring the ink...
,
book
Book
A book is a set or collection of written, printed, illustrated, or blank sheets, made of hot lava, paper, parchment, or other materials, usually fastened together to hinge at one side. A single sheet within a book is called a leaf or leaflet, and each side of a leaf is called a page...
s, such as Medieval illuminated manuscripts, were hand-illustrated. Illustration has been used in China and Japan since the 8th century, traditionally by creating woodcuts to accompany writing.
15th century through 18th century
During the 15th century,
book
Book
A book is a set or collection of written, printed, illustrated, or blank sheets, made of hot lava, paper, parchment, or other materials, usually fastened together to hinge at one side. A single sheet within a book is called a leaf or leaflet, and each side of a leaf is called a page...
s illustrated with
woodcut
Woodcut
Woodcut—occasionally known as xylography—is a relief printing artistic technique in printmaking in which an image is carved into the surface of a block of wood, with the printing parts remaining level with the surface while the non-printing parts are removed, typically with gouges...
illustrations became available. The main processes used for reproduction of illustrations during the 16th and 17th centuries were
engraving
Engraving
Engraving is the practice of incising a design on to a hard, usually flat surface, by cutting grooves into it. The result may be a decorated object in itself, as when silver, gold, steel, or glass are engraved, or may provide an intaglio printing plate, of copper or another metal, for printing...
and
etching
Etching
Etching is the process of using strong acid or mordant to cut into the unprotected parts of a metal surface to create a design in intaglio in the metal...
. At the end of the 18th century,
lithography
Lithography
Lithography is a method for printing using a stone or a metal plate with a completely smooth surface...
allowed even better illustrations to be reproduced.
The most notable illustrator of this epoch was
William Blake
William Blake
William Blake was an English poet, painter, and printmaker. Largely unrecognised during his lifetime, Blake is now considered a seminal figure in the history of both the poetry and visual arts of the Romantic Age...
who rendered his illustrations in the medium of relief etching.
Early to mid 19th century
Notable figures of the early century were
John Leech
John Leech
John Leech was an English caricaturist and illustrator.-Early life:John Leech was born in London...
,
George Cruikshank
George Cruikshank
George Cruikshank was a British caricaturist and book illustrator, praised as the "modern Hogarth" during his life. His book illustrations for his friend Charles Dickens, and many other authors, reached an international audience.-Early life:Cruikshank was born in London...
,
Dickens
Charles Dickens
Charles John Huffam Dickens was an English novelist, generally considered the greatest of the Victorian period. Dickens enjoyed a wider popularity and fame than had any previous author during his lifetime, and he remains popular, having been responsible for some of English literature's most iconic...
' illustrator
Hablot Knight Browne
Hablot Knight Browne
Hablot Knight Browne was an English artist, famous as Phiz, illustrator of books by Charles Dickens, Charles Lever and Harrison Ainsworth.-Biography:...
and, in France,
Honoré Daumier
Honoré Daumier
Honoré Daumier was a French printmaker, caricaturist, painter, and sculptor, whose many works offer commentary on social and political life in France in the 19th century....
. The same illustrators contributed to satirical and straight-fiction magazines, but in both cases the demand was for character-drawing that encapsulated or caricatured social types and classes.
The British humorous magazine
Punch
Punch (magazine)
Punch, or the London Charivari was a British weekly magazine of humour and satire established in 1841 by Henry Mayhew and engraver Ebenezer Landells. Historically, it was most influential in the 1840s and 50s, when it helped to coin the term "cartoon" in its modern sense as a humorous illustration...
, which was founded in 1841 riding on the earlier success of Cruikshank's Comic Almanac (1827–1840), employed an uninterrupted run of high-quality comic illustrators, including
Sir John Tenniel
John Tenniel
Sir John Tenniel was a British illustrator, graphic humorist and political cartoonist whose work was prominent during the second half of England's 19th century. Tenniel is considered important to the study of that period's social, literary, and art histories...
, the
Dalziel Brothers
Dalziel Brothers
The Brothers Dalziel were a highly productive firm of Victorian engravers founded in 1839 by George Dalziel and his brother Edward Dalziel . They were later joined by John Dalziel and Thomas Dalziel . All were sons of the artist, Alexander Dalziel of Wooler in Northumberland...
and
Georges du Maurier
George du Maurier
George Louis Palmella Busson du Maurier was a French-born British cartoonist and author, known for his cartoons in Punch and also for his novel Trilby. He was the father of actor Gerald du Maurier and grandfather of the writers Angela du Maurier and Dame Daphne du Maurier...
, into the 20th century. It chronicles the gradual shift in popular illustration from reliance on caricature to sophisticated topical observations. These artists all trained as conventional fine-artists, but achieved their reputations primarily as illustrators. Punch and similar magazines such as the Parisian Le Voleur realised that good illustrations sold as many copies as written content.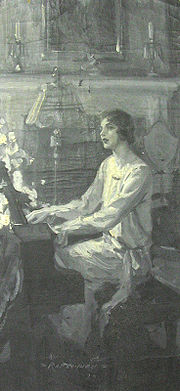 Golden age of illustration
The American "golden age of illustration" lasted from the 1880s until shortly after World War I (although the active career of several later "golden age" illustrators went on for another few decades). As in Europe a few decades earlier, newspapers, mass market magazines, and illustrated books had become the dominant media of public consumption. Improvements in printing technology freed illustrators to experiment with color and new rendering techniques. A small group of illustrators in this time became rich and famous. The imagery they created was a portrait of American aspirations of the time.
Technical illustration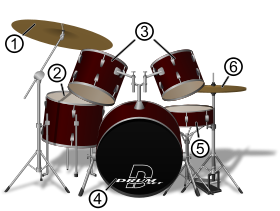 Technical illustration is the use of illustration to visually communicate information of a technical nature. Technical illustrations can be component
technical drawing
Technical drawing
Technical drawing, also known as drafting or draughting, is the act and discipline of composing plans that visually communicate how something functions or has to be constructed.Drafting is the language of industry....
s or
diagram
Diagram
A diagram is a two-dimensional geometric symbolic representation of information according to some visualization technique. Sometimes, the technique uses a three-dimensional visualization which is then projected onto the two-dimensional surface...
s. Technical illustration in general aim "to generate expressive images that effectively convey certain information via the visual channel to the human observer". Nowadays, many illustration programs are used to create technical illustrations due the need for detailed imaging and repeated updating. Besides the commonplace 2-D Adobe Illustrator, there are many 3-D computer graphics software that are often utilized to create illustration for textbooks, especially scientific ones.
Technical illustration generally have to describe and explain the subjects to a nontechnical audience. Therefore the visual image should be accurate in terms of dimensions and proportions, and should provide "an overall impression of what an object is or does, to enhance the viewer's interest and understanding".
Illustration art
Today, there is a growing interest in collecting and admiring original artwork that was used as illustrations in books, magazines, posters, blogs, etc. Various museum exhibitions, magazines and art galleries have devoted space to the illustrators of the past.
In the visual art world, illustrators have sometimes been considered less important in comparison with fine artists and
graphic designer
Graphic designer
A graphic designer is a professional within the graphic design and graphic arts industry who assembles together images, typography or motion graphics to create a piece of design. A graphic designer creates the graphics primarily for published, printed or electronic media, such as brochures and...
s, the term "illustrative" sometimes being used as a negative critique. But, possibly in part due to the growth of computer game and graphic novel industries, as well as a recent swing in value towards illustration in magazines and other publications over photography, illustration is becoming a valued, popular and profitable art form that can acquire a wider market than the other two, such as in
Korea
Korea
Korea ) is an East Asian geographic region that is currently divided into two separate sovereign states — North Korea and South Korea. Located on the Korean Peninsula, Korea is bordered by the People's Republic of China to the northwest, Russia to the northeast, and is separated from Japan to the...
,
Japan
Japan
Japan is an island nation in East Asia. Located in the Pacific Ocean, it lies to the east of the Sea of Japan, China, North Korea, South Korea and Russia, stretching from the Sea of Okhotsk in the north to the East China Sea and Taiwan in the south...
,
Hong Kong
Hong Kong
Hong Kong is one of two Special Administrative Regions of the People's Republic of China , the other being Macau. A city-state situated on China's south coast and enclosed by the Pearl River Delta and South China Sea, it is renowned for its expansive skyline and deep natural harbour...
and USA. Original illustration art from the best-known magazine illustrators is known to bring prices into the hundreds of thousands of US Dollars at auction.
Norman Rockwell
Norman Rockwell
Norman Percevel Rockwell was a 20th-century American painter and illustrator. His works enjoy a broad popular appeal in the United States for their reflection of American culture. Rockwell is most famous for the cover illustrations of everyday life scenarios he created for The Saturday Evening...
's work transcends even these high standards, with his painting "Breaking Home Ties" selling in a 2006
Sotheby's
Sotheby's
Sotheby's is the world's fourth oldest auction house in continuous operation.-History:The oldest auction house in operation is the Stockholms Auktionsverk founded in 1674, the second oldest is Göteborgs Auktionsverk founded in 1681 and third oldest being founded in 1731, all Swedish...
auction for USD15.4 million. The best-known pinup artists such as
Gil Elvgren
Gil Elvgren
Gil Elvgren , born Gillette Elvgren, was an American painter of pin-up girls, advertising and illustration. Elvgren was one of the more important pin-up and glamour artists of the twentieth century. Today he is best known for his pin-up paintings for Brown & Bigelow...
and
Alberto Vargas
Alberto Vargas
Alberto Vargas was a noted Peruvian painter of pin-up girls. He is often considered one of the most famous of the pin-up artists...
also bring tremendous prices at auction, with a number of Elvgren's works having sold for over USD100,000 in
Heritage
Heritage Auctions
Heritage Auction Galleries is the world's largest collectibles auctioneer and the third largest auction house, with over $700 million in annual sales and 600,000 online bidder-members...
Auctions.
Types of illustration
Digolo and Mazrui subcategorize illustration into the techniques, which are being applied, such as: drawing, painting, printing and pasting. These technices affect the art in various ways, being chosen for the different impact the chosen medium produces. The choice can be based on the requirements of the illustration, constraints of the artist, cost, or other factors.
Various illustration techniques have been available to the artist over the centuries. The invention of paper pushed its boundaries even further. Traditional illustration focuses on reproducible ways of creating illustration and can be classified into different types:
Pen-and-ink illustration has been around in various forms. The Chinese Sumi-E can be attributed to this technique, incorporating the use of paints and dyes. Navigational maps have been produced using this technique in the 14-15th century. The technique has not fallen out of disuse and is still popular with artists and illustrators, due to its simplicity of use, drying time and visual impact. Modern artists use a brush, pen or quill to achieve the desired effects, samples see references.
See also
Archaeological illustration

Archaeological illustration

Archaeological Illustration is a form of technical illustration that records material derived from an archaeological context graphically. - Overview :Archaeological Illustration encompasses a number of sub disciplines. These are:...



Art gallery

Art gallery

An art gallery or art museum is a building or space for the exhibition of art, usually visual art.Museums can be public or private, but what distinguishes a museum is the ownership of a collection...



Book illustration

Book illustration

The book illustration is specific type of illustration, which appears in books. Some of modern illustrations are performed by American Society of Children's Book Writers and Illustrators....



Concept art

Concept art

Concept art is a form of illustration where the main goal is to convey a visual representation of a design, idea, and/or mood for use in films, video games, animation, or comic books before it is put into the final product. Concept art is also referred to as visual development and/or concept design...



Communication design

Communication design

Communication design is a mixed discipline between design and information-development which is concerned with how media intermission such as printed, crafted, electronic media or presentations communicate with people...



Graphic design

Graphic design

Graphic design is a creative process – most often involving a client and a designer and usually completed in conjunction with producers of form – undertaken in order to convey a specific message to a targeted audience...



Illustrator

Illustrator

An Illustrator is a narrative artist who specializes in enhancing writing by providing a visual representation that corresponds to the content of the associated text...


s
Image development
Information graphics

Information graphics

Information graphics or infographics are graphic visual representations of information, data or knowledge. These graphics present complex information quickly and clearly, such as in signs, maps, journalism, technical writing, and education...



Medical illustrator

Medical illustrator

A medical illustrator is a professional artist who interprets and creates visual material to help record and disseminate medical, biological and related knowledge. Medical illustrators not only produce such material but can also function as consultants and administrators within the field of...



National Museum of American Illustration

National Museum of American Illustration

The National Museum of American Illustration , founded in 1998, is the first national museum to be devoted exclusively to American illustration artwork....



Posters
Technical illustration

Technical illustration

Technical Illustration is the use of illustration to visually communicate information of a technical nature. Technical illustrations can be components of technical drawings or diagrams...



Top-left lighting

Top-left lighting

Top-left lighting is an artistic convention in which illustrations are produced so that the light appears to come from the top left of the picture....