 Hofbräuhaus am Platzl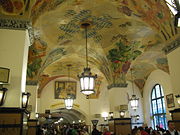 The
Hofbräuhaus am Platzl
is a
beer hall
Beer hall
A beer hall is a large pub that specializes in beer. Bavaria's capital Munich is the city most associated with beer halls; almost every brewery in Munich operates a beer hall...
in the city center of
Munich
Munich
Munich The city's motto is "" . Before 2006, it was "Weltstadt mit Herz" . Its native name, , is derived from the Old High German Munichen, meaning "by the monks' place". The city's name derives from the monks of the Benedictine order who founded the city; hence the monk depicted on the city's coat...
,
Germany
Germany
Germany , officially the Federal Republic of Germany , is a federal parliamentary republic in Europe. The country consists of 16 states while the capital and largest city is Berlin. Germany covers an area of 357,021 km2 and has a largely temperate seasonal climate...
. The inn originally built in 1598 by Bavarian Duke Maximilian I. It was built as an extension of the original Hofbräu brewery, but for Weissbier (wheat beer). The general public was admitted only in 1828 by then king
Ludwig I
Ludwig I of Bavaria
Ludwig I was a German king of Bavaria from 1825 until the 1848 revolutions in the German states.-Crown prince:...
. The building was completely remodeled in 1897, when the brewery moved to the suburbs. In the bombing of
WW II
World War II
World War II, or the Second World War , was a global conflict lasting from 1939 to 1945, involving most of the world's nations—including all of the great powers—eventually forming two opposing military alliances: the Allies and the Axis...
, everything but the ground floor ("Schwemme") was destroyed; it took until 1958 to be rebuilt.
On 24 February 1920
Adolf Hitler
Adolf Hitler
Adolf Hitler was an Austrian-born German politician and the leader of the National Socialist German Workers Party , commonly referred to as the Nazi Party). He was Chancellor of Germany from 1933 to 1945, and head of state from 1934 to 1945...
organized the first of many large publicity and propaganda events to be held at the Munich Hofbräuhaus. During this event he outlined a twenty-five point programme of ideas, which were to become the basis of the
Nazi Party
National Socialist German Workers Party
The National Socialist German Workers' Party , commonly known in English as the Nazi Party, was a political party in Germany between 1920 and 1945. Its predecessor, the German Workers' Party , existed from 1919 to 1920...
.
The restaurant comprises most of the mentioned inn, a ballroom as well as a
beer garden
Beer garden
Beer garden is an open-air area where beer, other drinks and local food are served. The concept originates from and is most common in Southern Germany...
. Its menu features Bavarian dishes such as roast pork, pork knuckle, and sausages such as Weisswurst.
Helles
is served in a
Maß
Maß
The is a term used in German-speaking countries for a unit of volume, now typically used only for measuring beer sold for immediate on-site consumption. In modern times, a is defined as exactly 1 litre....
, along with
wheat beer
Wheat beer
Wheat beer is a beer that is brewed with a large proportion of wheat. Wheat beers often also contain a significant proportion of malted barley. Wheat beers are usually top-fermented...
and
wine
Wine
Wine is an alcoholic beverage, made of fermented fruit juice, usually from grapes. The natural chemical balance of grapes lets them ferment without the addition of sugars, acids, enzymes, or other nutrients. Grape wine is produced by fermenting crushed grapes using various types of yeast. Yeast...
. Though sometimes regarded as being "commercialized", it is popular among locals as well as foreigners. During regular hours, traditional Bavarian music is played. The Hofbräuhaus song, composed in 1935 by Wilhelm 'Wiga' Gabriel, goes:
"In München steht ein Hofbräuhaus, oans, zwoa, g'suffa!"
("There's a Hofbräuhaus in Munich—one, two, drink!"). The beer is provided by the brewery
Staatliches Hofbräuhaus
Hofbräuhaus
The Staatliches Hofbräuhaus in München is a brewery in Munich, Germany, owned by the Bavarian state government...
.
External links