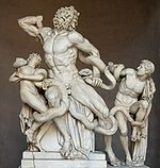 History of art
The
History of art
refers to visual art which may be defined as any activity or product made by humans in a visual form for
aesthetical
Aesthetics
Aesthetics is a branch of philosophy dealing with the nature of beauty, art, and taste, and with the creation and appreciation of beauty. It is more scientifically defined as the study of sensory or sensori-emotional values, sometimes called judgments of sentiment and taste...
or communicative purposes, expressing ideas, emotions or, in general, a worldview. Over time art has been classified in diverse ways, from the medieval distinction between
liberal arts
Liberal arts
The term liberal arts refers to those subjects which in classical antiquity were considered essential for a free citizen to study. Grammar, Rhetoric and Logic were the core liberal arts. In medieval times these subjects were extended to include mathematics, geometry, music and astronomy...
and
mechanical arts
Artes Mechanicae
"Mechanical arts": a medieval concept of ordered practices or skills, often juxtaposed to the traditional seven liberal arts Artes liberales. Also called "servile" and considered "vulgar", from antiquity they had been deemed unbecoming for a free man, as ministering to baser needs.Already Johannes...
, to the modern distinction between
fine art
Fine art
Fine art or the fine arts encompass art forms developed primarily for aesthetics and/or concept rather than practical application. Art is often a synonym for fine art, as employed in the term "art gallery"....
s and applied arts, or to the many contemporary definitions, which define art as a manifestation of human creativity.