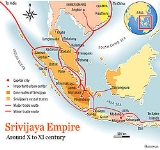 History of Malaysia
Malaysia
is a country in South East Asia whose strategic sea-lane position brought trade and foreign influences that fundamentally influenced its history.
Hindu
Hindu
Hindu refers to an identity associated with the philosophical, religious and cultural systems that are indigenous to the Indian subcontinent. As used in the Constitution of India, the word "Hindu" is also attributed to all persons professing any Indian religion...
and Buddhist cultures imported from
India
India
India , officially the Republic of India , is a country in South Asia. It is the seventh-largest country by geographical area, the second-most populous country with over 1.2 billion people, and the most populous democracy in the world...
dominated early Malaysian history. They reached their peak in the
Sumatra
Sumatra
Sumatra is an island in western Indonesia, westernmost of the Sunda Islands. It is the largest island entirely in Indonesia , and the sixth largest island in the world at 473,481 km2 with a population of 50,365,538...
n-based
Srivijaya
Srivijaya
Srivijaya was a powerful ancient thalassocratic Malay empire based on the island of Sumatra, modern day Indonesia, which influenced much of Southeast Asia. The earliest solid proof of its existence dates from the 7th century; a Chinese monk, I-Tsing, wrote that he visited Srivijaya in 671 for 6...
civilization, whose influence extended through Sumatra,
Java
Java
Java is an island of Indonesia. With a population of 135 million , it is the world's most populous island, and one of the most densely populated regions in the world. It is home to 60% of Indonesia's population. The Indonesian capital city, Jakarta, is in west Java...
, the
Malay Peninsula
Malay Peninsula
The Malay Peninsula or Thai-Malay Peninsula is a peninsula in Southeast Asia. The land mass runs approximately north-south and, at its terminus, is the southern-most point of the Asian mainland...
and much of
Borneo
Borneo
Borneo is the third largest island in the world and is located north of Java Island, Indonesia, at the geographic centre of Maritime Southeast Asia....
from the 7th to the 14th centuries.
Although Muslims had passed through Malaysia as early as the 10th century, it was not until the 14th and 15th centuries that Islam first established itself on the Malayan Peninsular.