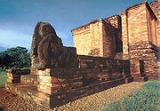 Srivijaya
Srivijaya
was a powerful ancient
thalassocratic
Thalassocracy
The term thalassocracy refers to a state with primarily maritime realms—an empire at sea, such as Athens or the Phoenician network of merchant cities...
Malay empire based on the island of
Sumatra
Sumatra
Sumatra is an island in western Indonesia, westernmost of the Sunda Islands. It is the largest island entirely in Indonesia , and the sixth largest island in the world at 473,481 km2 with a population of 50,365,538...
, modern day
Indonesia
Indonesia
Indonesia , officially the Republic of Indonesia , is a country in Southeast Asia and Oceania. Indonesia is an archipelago comprising approximately 13,000 islands. It has 33 provinces with over 238 million people, and is the world's fourth most populous country. Indonesia is a republic, with an...
, which influenced much of
Southeast Asia
Southeast Asia
Southeast Asia, South-East Asia, South East Asia or Southeastern Asia is a subregion of Asia, consisting of the countries that are geographically south of China, east of India, west of New Guinea and north of Australia. The region lies on the intersection of geological plates, with heavy seismic...
. The earliest solid proof of its existence dates from the 7th century; a Chinese monk, I-Tsing, wrote that he visited Srivijaya in 671 for 6 months. The first inscription in which the name Srivijaya appears also dates from the 7th century, namely the
Kedukan Bukit Inscription
Kedukan Bukit Inscription
The Kedukan Bukit Inscription was discovered by the Dutchman M. Batenburg on 29 November 1920 at Kedukan Bukit, South Sumatra, on the banks of the River Tatang, a tributary of the River Musi. It is the oldest surviving specimen of the Malay language, in a form known as Old Malay. It is a small...
around
Palembang
Palembang
Palembang is the capital city of the South Sumatra province in Indonesia. Palembang is one of the oldest cities in Indonesia, and has a history of being a capital of a maritime empire. Located on the Musi River banks on the east coast of southern Sumatra island, it has an area of 400.61 square...
in Sumatra, dated 683.