 Hessischer Rundfunk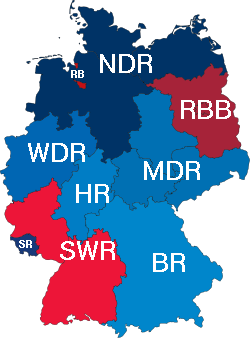 Hessischer Rundfunk
(HR) is the public broadcaster for the
German state
States of Germany
Germany is made up of sixteen which are partly sovereign constituent states of the Federal Republic of Germany. Land literally translates as "country", and constitutionally speaking, they are constituent countries...
(Bundesland) of
Hesse
Hesse
Hesse or Hessia is both a cultural region of Germany and the name of an individual German state.* The cultural region of Hesse includes both the State of Hesse and the area known as Rhenish Hesse in the neighbouring Rhineland-Palatinate state...
. The main offices of HR are in Frankfurt am Main. HR is a member of the ARD.
Studios
The main radio and television studios for HR are located at Bertramstraße 8, Frankfurt am Main. There are additional radio and television studios in
Kassel
Kassel
Kassel is a town located on the Fulda River in northern Hesse, Germany. It is the administrative seat of the Kassel Regierungsbezirk and the Kreis of the same name and has approximately 195,000 inhabitants.- History :...
and
Wiesbaden
Wiesbaden
Wiesbaden is a city in southwest Germany and the capital of the federal state of Hesse. It has about 275,400 inhabitants, plus approximately 10,000 United States citizens...
, and additional radio studios in
Darmstadt
Darmstadt
Darmstadt is a city in the Bundesland of Hesse in Germany, located in the southern part of the Rhine Main Area.The sandy soils in the Darmstadt area, ill-suited for agriculture in times before industrial fertilisation, prevented any larger settlement from developing, until the city became the seat...
,
Fulda
Fulda
Fulda is a city in Hesse, Germany; it is located on the river Fulda and is the administrative seat of the Fulda district .- Early Middle Ages :...
and
Gießen
Gießen
Gießen, also spelt Giessen is a town in the German federal state of Hesse, capital of both the district of Gießen and the administrative region of Gießen...
. HR also has offices in
Berlin
Berlin
Berlin is the capital city of Germany and is one of the 16 states of Germany. With a population of 3.45 million people, Berlin is Germany's largest city. It is the second most populous city proper and the seventh most populous urban area in the European Union...
,
Eltville
Eltville
Eltville am Rhein is a town in the Rheingau-Taunus-Kreis in the Regierungsbezirk of Darmstadt in Hesse, Germany. It is located on the German Half-Timbered House Road ....
,
Erbach
Erbach
-Places:*Erbach, a constituent community of Bad Camberg in Hesse*Erbach an der Donau, town in Baden-Württemberg**Erbach Castle, castle in Erbach an der Donau*Erbach im Odenwald, town in Hesse**Erbacher Schloss, castle in Erbach im Odenwald...
,
Limburg an der Lahn
Limburg an der Lahn
Limburg an der Lahn is the district seat of Limburg-Weilburg in Hesse, Germany.-Location:Limburg lies in western Hesse between the Taunus and the Westerwald on the river Lahn....
and
Marburg
Marburg
Marburg is a city in the state of Hesse, Germany, on the River Lahn. It is the main town of the Marburg-Biedenkopf district and its population, as of March 2010, was 79,911.- Founding and early history :...
. In 2000, HR opened studios on the 53rd floor of the
Maintower
Maintower
Maintower is a 200 metre skyscraper in Frankfurt am Main, Germany. It is named after the river Main. A 40 metre communications tower is mounted atop the building. It features five underground floors, as well as two public viewing platforms. The tower currently remains the only skyscraper in...
in the city centre of Frankfurt. HR is also responsible for the ARD Studios in
Madrid
Madrid
Madrid is the capital and largest city of Spain. The population of the city is roughly 3.3 million and the entire population of the Madrid metropolitan area is calculated to be 6.271 million. It is the third largest city in the European Union, after London and Berlin, and its metropolitan...
and
Prague
Prague
Prague is the capital and largest city of the Czech Republic. Situated in the north-west of the country on the Vltava river, the city is home to about 1.3 million people, while its metropolitan area is estimated to have a population of over 2.3 million...
.
Finances
Licensing fees
Television licence
A television licence is an official licence required in many countries for the reception of television broadcasts...
required for Radio and TV sets are currently €17.98 per month. For radio reception alone, the monthly fee is €5.52
These fees are not collected directly by the HR but by the
GEZ
Gebühreneinzugszentrale
The GEZ, full title Gebühreneinzugszentrale der öffentlich-rechtlichen Rundfunkanstalten in der Bundesrepublik Deutschland , is a joint organization of Germany's public broadcasting institutions ARD, ZDF and Deutschlandradio that is located in Cologne...
that is a common organisation of
ARD
ARD (broadcaster)
ARD is a joint organization of Germany's regional public-service broadcasters...
, it's members ,
ZDF
ZDF
Zweites Deutsches Fernsehen , ZDF, is a public-service German television broadcaster based in Mainz . It is run as an independent non-profit institution, which was founded by the German federal states . The ZDF is financed by television licence fees called GEZ and advertising revenues...
and
Deutschlandfunk
Deutschlandfunk
Deutschlandfunk is a German public broadcasting radio station, broadcasting national news and current affairs.-History:Broadcasting in the Federal Republic of Germany is reserved under the Basic Law to the states. This means that all public broadcasting is regionalised...
.
Television
Like other regional public broadcasting networks in Germany, HR has its own "Channel Three" programming. From 1964 until 1983 it was called 'Hessisches Fernsehprogramm' ("Hessian television programme") and from 1983 until 1997 it was called 'Hessen Drei' ("Hesse Three"). In 1997 it was renamed to 'hessen fernsehen' ("hesse television"), and most recently, in October 2004 it was renamed 'hr-fernsehen' (hr-television).
HR also contributes programming to
Das Erste
Das Erste
Erstes Deutsches Fernsehen , marketed as Das Erste , is the principal publicly owned television channel in Germany...
,
Phoenix
Phoenix (German TV station)
Phoenix is a publicly-funded television station in Germany which is produced jointly by public broadcasting organizations ARD and ZDF. Its programming consists of documentaries, news broadcasts, special events coverage, and discussion programmes...
,
KI.KA
KI.KA
KI.KA is a public non-commercial free television channel based in Erfurt, Germany. It is a joint venture of national public television channels ARD, and ARD's constituent broadcasting institutions – BR, HR, MDR, NDR, Radio Bremen, RBB, Saarländischer Rundfunk, SWR, WDR and ZDF, and is targeted at...
,
ARTE
Arte
Arte is a Franco-German TV network. It is a European culture channel and aims to promote quality programming especially in areas of culture and the arts...
and
3sat
3sat
3sat is the name of a public, advertising-free, television network in Central Europe. The programming is in German and is broadcast primarily within Germany, Austria and Switzerland .3sat was established for cultural...
hr1
hr1 is radio targeted to "middle-aged", playing almost exclusively middle of the road and
easy listening
Easy listening
Easy listening is a broad style of popular music and radio format that emerged in the 1950s, evolving out of big band music, and related to MOR music as played on many AM radio stations. It encompasses the exotica, beautiful music, light music, lounge music, ambient music, and space age pop genres...
music. Until 2004 it was hr's information radio.
hr3
hr3 is an adult-oriented popular music programme. It used to be hr's station targeted to young people during the 80s, but has aged together with its audience.
hr4
hr4 is hr's radio mostly targeted to older people. It broadcasts regional news and German pop music (aka Schlager-musik).
hr-info
hr-info (hr-iNFO) is 24-hour
news radio
News Radio
News Radio can refer to:* NewsRadio, the NBC sitcom which aired from 1995–1999.* News radio, the all-news or news/talk radio format....
. On weekends, it broadcasts special in-depth-reports on several topics.
You FM
Today, You FM is the hr's music programme for young people. It has also become famous outside of Hessen and Germany for its Saturday night techno music transmissions.
Former radio channels
hr-klassik - classical music programme (closed September 2005)
hr XXL - independent music programme for young people (1998-2003, now replaced by YOU FM)
hr-chronos - information programme (closed 2003)
hr-skyline - business-oriented information programme (1998-2004), now replaced by hr-info)
Musical organizations
HR administers two musical organizations:
HR-Sinfonieorchester ("HR Symphony Orchestra") Until 2005 it was known as the Radio-Sinfonie-Orchester Frankfurt or "Radio Symphony Orchestra Frankfurt." Founded in 1929, the Orchestra has balanced its musical output between a classical repertoire (which recently has emphasized music by Haydn under the direction of Hugh Wolff) with contemporary compositions.
hr Big Band
Notable musicians and conductors
Marie Luise Neunecker

Marie Luise Neunecker

Marie Luise Neunecker is a German hornplayer and a professor of French horn.- Professional career :Neunecker studied musicology and German studies....



Eliahu Inbal

Eliahu Inbal

Eliahu Inbal is an Israeli conductor.Inbal studied violin at the Israeli Academy of Music and took composition lessons with Paul Ben-Haim...



H. E. Erwin Walther
Winfried Zillig
Notable programme hosts
Peter Frankenfeld

Peter Frankenfeld

Peter Frankenfeld was a German comedian, radio and television personality....



Bernhard Grzimek

Bernhard Grzimek

Bernhard Klemens Maria Grzimek was a renowned Silesian-German zoo director, zoologist, book author, editor, and animal conservationist in postwar West-Germany.-Early years:Grzimek was born in Neisse , Upper Silesia...



Hans-Joachim Kulenkampff

Hans-Joachim Kulenkampff

Hans-Joachim Kulenkampff, nickname Kuli was a German actor and TV host, remembered mainly as host of Einer wird gewinnen, a quiz show that ran from 1964 to 1987.- External links :* *...



Transmitters
AM transmitter Weiskirchen

Weiskirchen transmitter

Weiskirchen transmitter, which is property of the Hessian broadcasting company is a mediumwave broadcasting facility, situated in the northwest area of the hessian village Weiskirchen, which is a part of Rodgau , close of the motorway A 3.- Frequency and transmission diagrams :The quarter...


(not to be confused with the AM transmitter at Weißkirchen belonging to the American Forces Network

American Forces Network

The American Forces Network is the brand name used by the United States Armed Forces American Forces Radio and Television Service for its entertainment and command internal information networks worldwide...


)
Transmitter for VHF, AM and TV on "Hohen Meißner

Hoher Meissner transmitter

Hoher Meissner transmitter is a facility for mediumwave, FM- and TV-broadcasting on Hoher Meissner mountain in Northern Hesse. Hoher Meissner transmitter was inaugurated in 1951....


"
Transmitter for VHF and TV on Großen Feldberg
Transmitter for VHF and TV on Rimberg

Rimberg transmitter

The Rimberg transmitter is a facility of Hesse Broadcasting Company on Rimberg at Hesse. It is used for FM- and TV-broadcasting and uses as antenna tower a 220 metre tall guyed lattice steel mast with square cross section....



Transmitter for VHF and TV on Sackpfeife in Biedenkopf

Biedenkopf

Biedenkopf is a spa town in western Hessen, Germany with a population of 13,271.- Location :The town of Biedenkopf lies in the west of Marburg-Biedenkopf district. Ringed by mountains reaching up to 674 m above sea level – the Sackpfeife in the Rothaargebirge reaches this height – the town...



Transmitter for VHF and TV on Würzberg
Transmitter for VHF and TV in Essigberg

Essigberg

Essigberg is a mountain of Hesse, Germany....


in Habichtswald
Transmitter for VHF and TV in Marburg

Marburg

Marburg is a city in the state of Hesse, Germany, on the River Lahn. It is the main town of the Marburg-Biedenkopf district and its population, as of March 2010, was 79,911.- Founding and early history :...



Transmitter for VHF and TV on Hardberg
External links
Hessischer Rundfunk