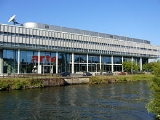 Arte
Arte
is a Franco-German TV network. It is a European culture channel and aims to promote quality programming especially in areas of culture and the arts. Its facilities are located in
Issy-les-Moulineaux
Issy-les-Moulineaux
Issy-les-Moulineaux is a commune in the southwestern suburban area of Paris, France. It is located from the centre of Paris. On 1 January 2003, Issy-les-Moulineaux became part of the Communauté d'agglomération Arc de Seine along with the other communes of Chaville, Meudon, Vanves and Ville-d'Avray...
near Paris and
Strasbourg
Strasbourg
Strasbourg is the capital and principal city of the Alsace region in eastern France and is the official seat of the European Parliament. Located close to the border with Germany, it is the capital of the Bas-Rhin département. The city and the region of Alsace are historically German-speaking,...
(headquarters) in France and
Baden-Baden
Baden-Baden
Baden-Baden is a spa town in Baden-Württemberg, Germany. It is located on the western foothills of the Black Forest, on the banks of the Oos River, in the region of Karlsruhe...
in Germany.
Because it is an international joint venture (an
EEIG
European economic interest grouping
A European Economic Interest Grouping is a type of legal entity created on 1985-07-25 under European Community Council Regulation 2137/85...
), programs cater technically to audiences from both countries. This implies double-titling, opposite-language subtitling and
dubbing
Dubbing (filmmaking)
Dubbing is the post-production process of recording and replacing voices on a motion picture or television soundtrack subsequent to the original shooting. The term most commonly refers to the substitution of the voices of the actors shown on the screen by those of different performers, who may be...
, hosts speaking both languages alternately and generally two separate audio tracks (available through
DVB-T
DVB-T
DVB-T is an abbreviation for Digital Video Broadcasting — Terrestrial; it is the DVB European-based consortium standard for the broadcast transmission of digital terrestrial television that was first published in 1997 and first broadcast in the UK in 1998...
,
satellite television
Satellite television
Satellite television is television programming delivered by the means of communications satellite and received by an outdoor antenna, usually a parabolic mirror generally referred to as a satellite dish, and as far as household usage is concerned, a satellite receiver either in the form of an...
and
digital cable
Digital cable
Digital cable is a generic term for any type of cable television distribution using digital video compression or distribution. The technology was originally developed by Motorola.-Background:...
).
History
Arte began
transmission
Transmission (telecommunications)
Transmission, in telecommunications, is the process of sending, propagating and receiving an analogue or digital information signal over a physical point-to-point or point-to-multipoint transmission medium, either wired, optical fiber or wireless...
in 1992, filling frequencies left unused by the demise of
La Cinq
La Cinq
La Cinq was France's first privately owned free terrestrial television network. Created by politician Jérôme Seydoux and Italian media mogul Silvio Berlusconi, the network broadcasted from 1985 to 1992....
, the first French commercial television network (created in 1986).
Programs are created by Arte France formerly known as
La Sept
La Sept
La Sept was a French television broadcaster and production company created on 23 February 1986 to develop cultural and educational programming for transmission via the TDF 1 satellite...
(theoretically
La Société d'édition des programmes de télévision
, but also a play on words, given that the name intuitively means
the seventh network
and indeed La Sept existed while the fifth network was still La Cinq; it made satellite television programs at the time) and by ARTE Deutschland GmbH, a subsidiary of the two main public German TV networks
ARD
ARD (broadcaster)
ARD is a joint organization of Germany's regional public-service broadcasters...
and
ZDF
ZDF
Zweites Deutsches Fernsehen , ZDF, is a public-service German television broadcaster based in Mainz . It is run as an independent non-profit institution, which was founded by the German federal states . The ZDF is financed by television licence fees called GEZ and advertising revenues...
.
Arte has also an on-line radio web site, called
Arte Radio
.
Transmission and reception
In France, in digital broadcast programming is available permanently (on digital
cable
Cable television
Cable television is a system of providing television programs to consumers via radio frequency signals transmitted to televisions through coaxial cables or digital light pulses through fixed optical fibers located on the subscriber's property, much like the over-the-air method used in traditional...
, digital
satellite
Satellite television
Satellite television is television programming delivered by the means of communications satellite and received by an outdoor antenna, usually a parabolic mirror generally referred to as a satellite dish, and as far as household usage is concerned, a satellite receiver either in the form of an...
and
digital terrestrial television
Digital terrestrial television
Digital terrestrial television is the technological evolution of broadcast television and advance from analog television, which broadcasts land-based signals...
), but the analog broadcast is on the air only in the evening, as
France 5
France 5
France 5 is a public television network in France, part of the France Télévisions group. Principally featuring educational programming, the channel's motto is la chaîne de la connaissance et du savoir...
operates the frequencies during the day.
Arte is more popular in France (market share of about 5%) than in Germany (about 1%), but in Germany it has much more competition. Arte is also available in Belgium, Austria,
Israel
Israel
The State of Israel is a parliamentary republic located in the Middle East, along the eastern shore of the Mediterranean Sea...
, the Netherlands, Portugal and Switzerland via cable.
The Australian
Special Broadcasting Service
Special Broadcasting Service
The Special Broadcasting Service is a hybrid-funded Australian public broadcasting radio and television network. The stated purpose of SBS is "to provide multilingual and multicultural radio and television services that inform, educate and entertain all Australians and, in doing so, reflect...
translates many Arte programs into English for broadcast on its own television network and overseas.
Many French-language Arte programs are also broadcast in Canada on the
ARTV
ARTV
ARTV is a Canadian French language Category A specialty channel specializing in the arts and culture; including music, dance, theatre, visual arts as well as films and scripted television series.-History:...
cable channel, partly owned by the
Canadian Broadcasting Corporation
Canadian Broadcasting Corporation
The Canadian Broadcasting Corporation, commonly known as CBC and officially as CBC/Radio-Canada, is a Canadian crown corporation that serves as the national public radio and television broadcaster...
(60%),
Télé-Québec
Télé-Québec
Télé-Québec is a French language public educational television network in the Canadian province of Quebec. Known legally as Société de télédiffusion du Québec , it is a provincial crown corporation owned by the Government of Quebec...
(25%) and Arte itself (15%).
On 1 July 2008, Arte began broadcasting in HDTV (720p/50) via
DVB-S2
DVB-S2
Digital Video Broadcasting - Satellite - Second Generation is a digital television broadcast standard that has been designed as a successor for the popular DVB-S system. It was developed in 2003 by the , an international industry consortium, and ratified by ETSI in March 2005...
on Astra. Arte is now the second available 24-hour HDTV channel transmitting via satellite to their German and French audience, next to the German Sky pay TV HDTV channel.
Programming
Abenteuer Arte
Arte Europa
Arte Info – information program
Arte Kultur – cultural program
Arte Reportage – current affairs program
Arte Themenabend – special topics show
Bagdad, le bac sous les bombes / Die Jungs von der Bagdad-High

The Boys from Baghdad High

The Boys from Baghdad High, also known as Baghdad High, is a British/Iraqi television documentary film. It was first shown in the United Kingdom at the 2007 Sheffield Doc/Fest, before airing on BBC Two on 8 January 2008. It also aired in many other countries including France, Australia, the United...


– documentary film
Breaking Bad

Breaking Bad

Breaking Bad is an American television drama series created and produced by Vince Gilligan. Set and produced in Albuquerque, New Mexico, Breaking Bad is the story of Walter White , a struggling high school chemistry teacher who is diagnosed with advanced lung cancer at the beginning of the series...


– an American TV show – coming soon
CHIC (arte) – fashion and style program
Das Forum der Europäer – political discussion about Europe
Denken erlaubt
Die großen Sportduelle – a show about the greatest sports duels
Die Nacht/La Nuit – late-night news
Durch die Nacht mit...
Geo 360
Global Mag
Hippokrates
Karambolage

Karambolage (ARTE)

Karambolage is a television show which aims to explain particular elements of French and German daily life. The show is 12 minutes long and is broadcast on the Franco-German television channel Arte....


– a show about French/German customs
Kurzschluss
LOLA – women magazine
Metropolis (arte)
Mit offenen Karten/Le Dessous des Cartes

Mit offenen Karten

Le Dessous Des Cartes is a weekly broadcast on geopolitics from the Franco-German Arte channel. The show makes great use of maps as visual support...


– geopolitical documentary
Maestro (arte)
Memoquiz – recognition game shows
Top of the Pops 70s – archive music show (a French and German equivalent of TOTP2

TOTP2

Top of the Pops 2 is a British television music show broadcast on BBC Two, showing archive footage from the long-running Top of the Pops show, some dating back to the 1960s when the programme first aired on British television....


)
Tracks – music program
WunderWelten
Zapping International – a documentary about television around the world
External links
ARTE Website features a free VoD service for parts of the arte made TV-programs restricted by IP-address.