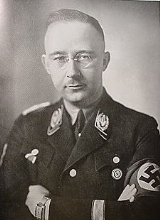 Heinrich Himmler
Posts 1 - 2 of 2

bestfriend350
What did heinrich himmler coordinate during the war effort

replied to: bestfriend350

lukasiwicz
Replied to: What did heinrich himmler coordinate during the war effort
The following is cited, word-for-word, from the Wikipedia entry on Himmler:

"As Reichsführer-SS, he oversaw all internal and external police and security forces, including the Gestapo.

As overseer of the concentration camps, extermination camps, and Einsatzgruppen (literally: task forces, often used as killing squads), Himmler coordinated the killing of some six million Jews, between 200,000 and 500,000 Roma,[1][2] many prisoners of war, and possibly another three to four million Poles, communists, or other groups whom the Nazis deemed unworthy to live or simply 'in the way', including homosexuals, people with physical and mental disabilities, and members of the Confessing Church."

Other sources confirm the above info, unless you're one of those people who thinks The Holocaust never happened.