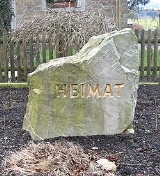 Heimat (film)
Heimat
is the overall title of three series of films in 30 episodes written and directed by
Edgar Reitz
Edgar Reitz
Edgar Reitz is a German filmmaker and Professor of Film at the Staatliche Hochschule für Gestaltung in Karlsruhe.- Early life and education :...
which view life in
Germany
Germany
Germany , officially the Federal Republic of Germany , is a federal parliamentary republic in Europe. The country consists of 16 states while the capital and largest city is Berlin. Germany covers an area of 357,021 km2 and has a largely temperate seasonal climate...
between 1919 and 2000 through the eyes of a family from the
Hunsrück
Hunsrück
The Hunsrück is a low mountain range in Rhineland-Palatinate, Germany. It is bounded by the river valleys of the Moselle , the Nahe , and the Rhine . The Hunsrück is continued by the Taunus mountains on the eastern side of the Rhine. In the north behind the Moselle it is continued by the Eifel...
area of the
Rhineland
Rhineland
Historically, the Rhinelands refers to a loosely-defined region embracing the land on either bank of the River Rhine in central Europe....
. Personal and domestic life is set against glimpses of wider social and political events. The combined length of the 30 films is 53 hours and 25 minutes, making it one of the longest series of feature-length films in cinema history.
The title
Heimat
Heimat
Heimat is a German word that has no simple English translation. It is often expressed with terms such as home or homeland, but these English counterparts fail to encapsulate the true meaning of the word.-The meaning of Heimat:...
is a
German
German language
German is a West Germanic language, related to and classified alongside English and Dutch. With an estimated 90 – 98 million native speakers, German is one of the world's major languages and is the most widely-spoken first language in the European Union....
word meaning "homeland". Its use is partly an
ironic
Irony
Irony is a rhetorical device, literary technique, or situation in which there is a sharp incongruity or discordance that goes beyond the simple and evident intention of words or actions...
reference to the film genre known as
Heimatfilm
Heimatfilm
Heimatfilm is the name given to a film genre that was popular in Germany, Switzerland and Austria from the late 40s to the early 70s. They were usually shot in the Alps, the Black Forest or the Lüneburg Heath and always involved the outdoors...
which was popular in Germany in the 1950s. Heimatfilms were noted for their rural settings, sentimental tone and simplistic morality.
Aesthetically, all three series are notable for their artful switching between colour and
black-and-white
Black-and-white
Black-and-white, often abbreviated B/W or B&W, is a term referring to a number of monochrome forms in visual arts.Black-and-white as a description is also something of a misnomer, for in addition to black and white, most of these media included varying shades of gray...
film to convey different emotional states.
Heimat
Heimat
, the original series, premiered in 1984 and follows the life of Maria Simon (
Marita Breuer
Marita Breuer
Marita Breuer is a German actress, known for her portrayal of Maria in the Heimat TV series.- Biography :Marita Breuer studied acting at the Folkwang University of the Arts...
), a woman living in the fictional
village
Village
A village is a clustered human settlement or community, larger than a hamlet with the population ranging from a few hundred to a few thousand , Though often located in rural areas, the term urban village is also applied to certain urban neighbourhoods, such as the West Village in Manhattan, New...
of Schabbach (the village of
Woppenroth
Woppenroth
-Geology:In the Hahnenbach valley and its side valleys, Devonian slate was mined until the early 20th century. All that now bears witness to this epoch in the village's history is some gallery entrances and tailing heaps.-History:...
in
Rhein-Hunsrück
Rhein-Hunsrück
Rhein-Hunsrück is a district in the middle of Rhineland-Palatinate, Germany. The neighbouring districts are Mayen-Koblenz, Rhein-Lahn, Mainz-Bingen, Bad Kreuznach, Birkenfeld, Bernkastel-Wittlich, Cochem-Zell.-History:...
was used for filming). The film spans the years 1919 to 1982. Subtitled
Eine Deutsche Chronik — A German Chronicle
, it consists of 11
episode
Episode
An episode is a part of a dramatic work such as a serial television or radio program. An episode is a part of a sequence of a body of work, akin to a chapter of a book. The term sometimes applies to works based on other forms of mass media as well, as in Star Wars...
s running in total to 15 hours 24 minutes of screen time and depicts how the events of
German history
History of Germany
The concept of Germany as a distinct region in central Europe can be traced to Roman commander Julius Caesar, who referred to the unconquered area east of the Rhine as Germania, thus distinguishing it from Gaul , which he had conquered. The victory of the Germanic tribes in the Battle of the...
affected the Simon family and the community in which they lived.
Episode List
Episode 1: The Longing to Escape (1919–1928). The teenager Paul Simon takes up the hobby of radio and marries the girl Maria, but leaves the village and never returns.
Episode 2: The Centre of the World (1929–1933). Paul Simon's brother Eduard moves to Berlin and meets the socialite Lucie.
Episode 3: A Christmas Like No Other (1935). Eduard Simon becomes the mayor of a village near Schabbach.
Episode 4: Highway of the Reich (1938). A highway is built near Schabbach, and one of the engineers, Otto, becomes Maria's lover.
Episode 5: Up and Away and Back (1938–1939). Paul writes from the United States that he is visiting, forcing his ex-wife Maria to break up with Otto. However without proof of his Aryan lineage Paul is unable to enter Germany.
Episode 6: The Home Front (1943). Anton Simon, fighting on the Russian front, marries Martha Hanke via a telephone wedding. Schabbach villagers confront the morality of Nazism.
Episode 7: Soldiers and Love (1944). The Simon family deals with the waning years of the German war.
Episode 8: The American (1945–1947). Paul returns to Germany. The Simon family struggles for prosperity in the lean post-war years.
Episode 9: Little Hermann (1955–1956). Hermann has a love affair with 26-year-old Klärchen, who is ostracized from Schabbach.
Episode 10: The Proud Years (1967–1969). Anton Simon and his brother Ernst struggle for success in their businesses.
Episode 11: The Feast of the Living and the Dead (1982). It is the twilight years of the older generation of the Simons, with a flashback to Maria's 70th birthday party and then her funeral.
The Second Heimat
Die Zweite Heimat
(literally
The Second Heimat
, and called, in the
English
English language
English is a West Germanic language that arose in the Anglo-Saxon kingdoms of England and spread into what was to become south-east Scotland under the influence of the Anglian medieval kingdom of Northumbria...
version,
Leaving Home
) (subtitled
Chronik einer Jugend — Chronicle of a Youth
) followed in 1992. It tells the story of how Maria's youngest son Hermann leaves his rural home and makes a new life for himself as a
composer
Composer
A composer is a person who creates music, either by musical notation or oral tradition, for interpretation and performance, or through direct manipulation of sonic material through electronic media...
in
Munich
Munich
Munich The city's motto is "" . Before 2006, it was "Weltstadt mit Herz" . Its native name, , is derived from the Old High German Munichen, meaning "by the monks' place". The city's name derives from the monks of the Benedictine order who founded the city; hence the monk depicted on the city's coat...
during the socially turbulent years of the 1960s.
Episode List
1. The Time Of The First Songs (Hermann, 1960)
2. Two Strange Eyes (Juan, 1960–61)
3. Jealousy And Pride (Evelyne, 1961)
4. Ansgar's Death (Ansgar, 1961–62)
5. The Game With Freedom (Helga, 1962)
6. Kennedy's Children (Alex, 1963)
7. Christmas Wolves (Clarissa, 1963)
8. The Wedding (Schnüsschen, 1964)
9. The Eternal Daughter (Fräulein Cerphal, 1965)
10. The End Of The Future (Reinhard, 1966)
11. Time Of Silence (Rob, 1967–68)
12. A Time Of Many Words (Stefan, 1968–69)
13. Art Or Life (Hermann And Clarissa, 1970)
Plot
Hermann is a musical prodigy whose teenage romance with 26-year old soul mate Klärchen was considered scandalous by his conservative home village. It resulted in her being expelled and coerced not to contact him ever again. Hermann was crushed and vowed never to love again and to leave his wicked village forever. He arrives in Munich at age 19, overwhelmed and with no place to stay. He finds a private room opening in a month, leaving the deposit with a flamboyant Hungarian woman. His friend Renate, a law student, allows Hermann to sleep on her floor but he is put off by her sexual advances. He finally rooms with Clemens, a fellow Hunsrücker who plays jazz drums in Munich's clubs. Hermann is accepted into the music conservatory, where he meets the incredibly talented Juan from Chile, whose school application is rejected on the grounds his marimbas are "folklore". Hermann and Juan network with the avant-garde culture surrounding the conservatory, including film students, while Hermann takes on odd jobs and Juan works as a gymnast teacher. Both Juan and Hermann have a brief fling with the beautiful cellist Clarissa, who fears intimacy but is drawn to those who fear it too. The students are gradually drawn to the Foxhole, a mansion headed by a wealthy art patroness said to be a "collector of artists".
Heimat 3
Heimat 3
(subtitled
Chronik einer Zeitenwende — Chronicle of a Changing Time
) premiered in 2004. It picks up Hermann's story in 1989 as he returns to Schabbach and depicts the events of the period from the fall of the
Berlin Wall
Berlin Wall
The Berlin Wall was a barrier constructed by the German Democratic Republic starting on 13 August 1961, that completely cut off West Berlin from surrounding East Germany and from East Berlin...
until 2000. The cinema version consists of six episodes running to 11 hours 29 minutes, although controversially the version broadcast on the German ARD television network in December 2004 was edited to six ninety-minute episodes
http://www.heimat-komplett.de/index.html
.
Episode List
1. The Happiest People in the World (1989)
2. The World Champions (1990)
3. The Russians are Coming (1992–93)
4. Everyone's Doing Well (1995)
5. The Heirs (1997)
6. Farewell to Schabbach (1999)
Possibility of Heimat 4
When asked in 2005 if he would make a
Heimat 4
Reitz replied "For 25 years, Heimat has dominated my life. At the moment, I'm calling it a trilogy, because it's a symbolic way of finishing it. But it is always possible to continue it because, by its very nature, Heimat is something that can never end."
Criticism
Heimat
has been criticized for its selective interpretation of German history. There is little treatment of the
hyperinflationary spiral of the 1920s
Inflation in the Weimar Republic
The hyperinflation in the Weimar Republic was a three year period of hyperinflation in Germany between June 1921 and July 1924.- Analysis :...
, the
Great Depression
Great Depression
The Great Depression was a severe worldwide economic depression in the decade preceding World War II. The timing of the Great Depression varied across nations, but in most countries it started in about 1929 and lasted until the late 1930s or early 1940s...
, or the Holocaust of
World War II
World War II
World War II, or the Second World War , was a global conflict lasting from 1939 to 1945, involving most of the world's nations—including all of the great powers—eventually forming two opposing military alliances: the Allies and the Axis...
. Schabbach is also depicted as unusually idyllic, with no shops or markets, no financial crisis, and no personal conflict during the first half of the movie. Its themes of decadent American values and Western corporate greed rising up against the innocent simplicity of the Hunsrück have been seen as "resurrecting a discourse that prevailed in the nineteenth century about the modernization of Germany's society and economy ... no compromises or delicate balances are possible".
The Simon family
Matthias Simon (1872–1945), blacksmith. Married to Katharina Schirmer (1875–1948). Parents of Eduard, Pauline, and Paul.

Eduard Simon (1897–1967), mayor of Rhaunen. Married Lucie Hardtke (1906–1978), a socialite in Berlin who embraced life in the Hunsrück. Early in his life Eduard was convinced that there was gold in the Hunsrück streams. Eduard and Lucie were parents of Horst Simon (1934–1948) who died at an early age.
Paul Simon (1898–1984), owner of Simon Electric. Married Maria Wiegand in 1922 and fathered Anton and Ernst (see Maria Wiegand below). After returning from World War I fighting, Paul felt claustrophobic in Hunsrück society and ran away to the U.S. in 1926 to start Simon Electric in Detroit, Michigan.
Pauline Simon (1904–1975), assistant jewelry shop owner. Married watchmaker Robert Kröber (1897–1944). Both became modestly wealthy during the 1930s. Parents of Gabi (1935- ) and Robert (1937- ).
The Wiegand family
Alois Wiegand (1870–1965), mayor of Schabbach. Married Martha Wiegand (1878–1945). Parents of Wilfried and Maria. Alois was an abrasive, wealthy man who embraced status symbols, and later became a Nazi supporter. With his SS son Wilfried he oversaw the village's allegiance to Hitler during WWII.

Gustav Wiegand (1897–1917), died as a World War I soldier. Not married; no children.
Wilfried Wiegand (1915–1972), member of SS during the war. Executed a downed British pilot under false pretenses. At a Schabbach party revealed that Jews were being sent "up the chimney" and in the vein of Himmler lamented how his SS comrades suffered from this unpleasant task. He became a farmer after the war and was also a member of the Christian Democratic Union party. Did not marry and had no children.
Maria Wiegand Simon (1900–1982), matriarch of the family after WWII. Married Paul Simon and gave birth to Anton and Ernst. By Otto Wohlleben (1902–1944), a quarter-Jewish engineer who came to work on a new highway before the outbreak of war, and was killed defusing a bomb, gave birth to Hermann.

Anton Simon (1923–1995), owner of Simon Optical factory. Married to Martha Hanke (1924–1987). Had numerous children born 1945-1953: Marlies, Hartmut, Dieter, Helga, and Gisela. Anton worked for a German Army propaganda unit during WWII and served on the Eastern front. There is one scene showing him filming single executions - these are almost certainly Partisans given that the time is 1943 (and widespread executions in the field had ceased on the orders of Himmler) and also the fact that the machine gun crew carrying out the executions are German Army regulars and not Einsatzgruppen. After the German defeat and subsequent imprisonment in a Russian labor camp, Anton walked home to Germany in the late 1940s. He founded Simon Optical with investment from father Paul.
Ernst Simon (1924–1997), WWII pilot and construction business owner. He had an early aptitude for flying. After the war he attempted unsuccessfully to operate a helicopter business. In the 1960s he started a thriving home renovation business which destroyed the village's traditional architecture. Did not marry; no children.
Hermann Simon (1940-), conductor and composer. At age 15 he was in love with Klärchen Sisse, 26, who was expelled from Schabbach. Moved away from the Hunsrück at age 18 to study music in Munich.
The Schirmer family
Katharina Schirmer (1875–1948), matriarch of the family before WWII. Married to Matthias Simon (see Matthias Simon above).
Marie-Goot Schirmer (1882–1960), sister of Katharina Simon, married to Mäthes-Pat (1869–1949). Marie-Goot was characterized as a gossipy neighbor.

Karl Glasisch (1900–1982), son of Marie-Goot. Throughout the film he was Schabbach's friendly, good-natured drunk, dissociated from village life but seeing all. He served as the story narrator.

Hans Schirmer (1873–1943), lived in Bochum. Father of Fritz and brother of Katharina. Was remembered for having the same birthday as Hitler.

Fritz Schirmer (1903–1937), young Communist sympathizer who lived in Bochum. Married Alice (1902–1945). Parents of Lotti. Fritz was sent to a concentration camp during but was later released on condition he stayed out of any political activity.

Lotti Schirmer (1923- ), chief secretary of Simon Optical. Came from Bochum with Katherina after her father was arrested. After WWII she was a carefree single girl, was a friend of Klärchen Sisse, and in later life she married Sepp Vilsmeier (1920- ). Adopted Vietnamese children Hoa and Hou.
Ursel Schirmer (1936–1945). Died at an early age.

Walter Schirmer (1899–1943), of Bochum, married Lilli (1901–1969). No children.
Unrelated characters
Klärchen Sisse (1929- ), worked at Simon Optik and was a friend of Lotti Schirmer. She enters the story in 1945, as a 16-yr-old refugee from elsewhere in Germany who has been advised by Ernst to go his mother's house in Schabbach, where she will be 'looked after'. Just as he says, Klärchen is accepted into the Simon household and effectively treated as one of the family, eventually gaining a position with Simon Optik. A 1956 love affair with Hermann Simon (still a minor) results in her being ostracized and leaving the village.
Appolonia (1900-?), brief love interest for Paul Simon c. 1920. Was ostracized in Schabbach for her dark complexion. Had a child by a Frenchman and moved to France, never to be seen again.
Martina (c. 1910 - 1945), a prostitute from Berlin and friend of Lucie Hardtke who attempted to bring her trade to the Hunsrück. Was in love with Pollak (1910–1945), both died in Berlin.
Hänschen Betz (c. 1908-?), son of the Schabbach basketmaker, had an injured eye from childhood. With the encouragement of soldiers he became a sharpshooter. Died on the Russian Front during WWII, for which Eduard felt some responsibility having encouraged Hänschen's shooting practice when young.
Fritz Pieritz (1902-?), good-natured assistant to Otto Wohlleben, later worked for Anton Simon at Simon Optik.
Denise de Gallimasch (c. 1900-?), a French horse rider of debatable nobility en route from Paris to Berlin.
Reception
Heimat
was one of director
Stanley Kubrick
Stanley Kubrick
Stanley Kubrick was an American film director, writer, producer, and photographer who lived in England during most of the last four decades of his career...
's favourite films. It is ranked #59 in
Empire
Empire (magazine)
Empire is a British film magazine published monthly by Bauer Consumer Media. From the first issue in July 1989, the magazine was edited by Barry McIlheney and published by Emap. Bauer purchased Emap Consumer Media in early 2008...
magazines "The 100 Best Films Of World Cinema" in 2010.
External links
Heimat script
The Second Heimat script
The Third Heimat official website
Long article about Reitz and Heimat by Carole Angier, from Sight and Sound, 1991
Episode guides for all three series at bbc.co.uk

Bbc.co.uk

BBC Online is the brand name and home for the BBC's UK online service. It is a large network of websites including such high profile sites as BBC News and Sport, the on-demand video and radio services co-branded BBC iPlayer, the pre-school site Cbeebies, and learning services such as Bitesize...



heimat123.net – an English-language fansite with an introduction to and discussion about each episode (with some English) heimat123.de – a very comprehensive German fansite Photos of Heimat und Heimat3 film locations at Hunsrück, Germany Heimat-Fanpage.de - a German fansite with lots of multimedial elements (musik, video, archive etc.)