 Harrach
The
Harrach
family is a Bohemian and Austro-German noble family. The Grafs (Counts) von Harrach were among the most prominent families in the Habsburg Empire.
History
Two main family branches (from two Charles Harrach's sons) — of Rohrau (until 1886) and of Jilemnice. Two extant branches were founded by Frederick August's grandsons — Ernest Christopher Joseph (d. 1838) and Ferdinand Joseph (d. 1841)
1195 — first mentions of family in Ranshofen monastery.
14th century — owned lands in Austria, Carinthia

Carinthia (province)

Slovenian Carinthia or Slovene Carinthia, most commonly simply Carinthia is a traditional region in the north of Slovenia. It has no official status as an administrative unit within Slovenia, although the association with an informal province is still quite common.The region is referred to as...


and Styria
1524 — Leonhard purchased of Castle Rohrau, main residence until now.
January 4, 1552 — Leonhard von Harrach received the title of Imperial Baron from Charles V.
November 6, 1627 — Karl von Harrach, his grandson received the title of Imperial Count from Ferdinand II.
1701 — Ferdinand Bonaventura I purchased Jilemnice

Jilemnice

Jilemnice is a town in the Czech Republic.Belonged to the younger branch of counts Harrach.-Notable persons from Jilemnice:*Jan Weiss - Writer*Ales Vodsedalek - Nordic combined skier*Jakub Hlava - Ski jumper*Lukas Hlava - Ski jumper...


.
1708 — Aloys Thomas Raimund marries Cecilia von Thannhausen and attaches her surname to family.
Manors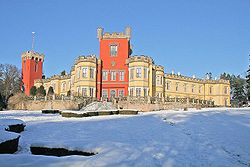 Family owned:
Palais Harrach

Palais Harrach

Palais Harrach is a Baroque palace in Vienna, Austria. It was owned by the noble Harrach family. It was extensively renovated and restored in the late 1990s and houses offices and shops today.-History:From 1600 to 1658, it was property of Freyung family...


(Palais Harrach an der Freyung), Vienna

Vienna

Vienna is the capital and largest city of the Republic of Austria and one of the nine states of Austria. Vienna is Austria's primary city, with a population of about 1.723 million , and is by far the largest city in Austria, as well as its cultural, economic, and political centre...


(sold to city in 1975)
Palais Harrach in der Ungargasse, Vienna
Castle Rohrau, Rohrau, Austria, with notably private collection of paintings known as Graf Harrach'sche Familiensammlung (in 1870-1970 kept in Palais Harrach).
Chateau Prugg in Bruck an der Leitha

Bruck an der Leitha

Bruck an der Leitha is a city located in Lower Austria, Austria at the border to the Burgenland, which is marked by the Leitha river....



Chateau Hrádek u Nechanic

Hrádek u Nechanic

Hrádek u Nechanic is a 19th century Gothic architecture style Romantic château near the town of Hrádek in the Hradec Králové Region of the Czech Republic.-History:Hrádek u Nechanic was built by František Arnošt, count of Harrach...



Chateau Náměšť na Hané

Námešt na Hané

Náměšť na Hané is a market town in Olomouc Region, Czech Republic. It is located at around ....



Harrachov

Harrachov

Harrachov is a town on the Mumlava river in the northern Czech Republic, 300 m from the border with Poland. It is within the Krkonoše mountain range, about above sea level.-History:...


(Harrachsdorf) — town in Czech Republic with family's glass manufactory (since 1712), well known as Harrachglas. brand
Krzeczyn Mały
Kunín

Kunín

Kunín is a village in Moravian-Silesian Region of the Czech Republic. It has around 1,800 inhabitants. Kunin was called Kunvald till 1947 when renamed, so that it is often improperly associated with another village called Kunvald near Žamberk in the Ústí nad Orlicí District, in the Pardubice...



Konárovice

Konárovice

Konárovice is a town in the Kolín District of the Czech Republic.- History :The first mention of Konárovice is from the time of the reign of Boleslaus II. of 976 – 999, who gave the surroundings of Kolín to his youngest son Oldřich. Prince Oldřich built a castle where the village of Přehráď now...



Lodín

Lodín

Lodín is a village in the Czech Republic located about 17 km west-northwest of Hradec Králové.-External links:*...



Members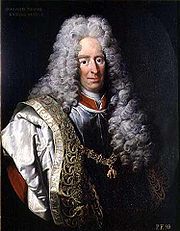 Many of its members bear the title 'Graf' (
count
Count
A count or countess is an aristocratic nobleman in European countries. The word count came into English from the French comte, itself from Latin comes—in its accusative comitem—meaning "companion", and later "companion of the emperor, delegate of the emperor". The adjective form of the word is...
/
earl
Earl
An earl is a member of the nobility. The title is Anglo-Saxon, akin to the Scandinavian form jarl, and meant "chieftain", particularly a chieftain set to rule a territory in a king's stead. In Scandinavia, it became obsolete in the Middle Ages and was replaced with duke...
) or 'Gräfin' (countess). Members of the family are, among others:
Przibislaus Harrach (d. 1289) — founder of the family
Leonhard (d. 1590)
Karl von Harrach (1570–1628) — his grandson, Imperial envoy to German sovereigns' courts, Ferdinand II's favourite. His children:

Ernst Albrecht von Harrach (1598–1667), Archbishop

Archbishop

An archbishop is a bishop of higher rank, but not of higher sacramental order above that of the three orders of deacon, priest , and bishop...


of Prague

Prague

Prague is the capital and largest city of the Czech Republic. Situated in the north-west of the country on the Vltava river, the city is home to about 1.3 million people, while its metropolitan area is estimated to have a population of over 2.3 million...


and Cardinal

Cardinal (Catholicism)

A cardinal is a senior ecclesiastical official, usually an ordained bishop, and ecclesiastical prince of the Catholic Church. They are collectively known as the College of Cardinals, which as a body elects a new pope. The duties of the cardinals include attending the meetings of the College and...


Bishop of Trento.
Leonhard (d. 1645), founder of the Rohrau line, the Superior Marshall at the Emperor Ferdinand III Habsburg's court.
Otto Frederick (d. 1639) founder of the Jilemnice line, soldier and diplomat, brother-in-law of Albrecht Wallenstein. His son:

Ferdinand Bonaventura I Graf Harrach (1637–1706), ambassador in Spain before War of the Spanish Succession

War of the Spanish Succession

The War of the Spanish Succession was fought among several European powers, including a divided Spain, over the possible unification of the Kingdoms of Spain and France under one Bourbon monarch. As France and Spain were among the most powerful states of Europe, such a unification would have...


. His children:

Franz Anton Graf von Harrach (1665–1727) — Bishop of the Archdiocese of Vienna and Archbishop of the Archdiocese of Salzburg
Aloys Thomas Raimund Graf Harrach (1669–1742), vice-king of Naples. His children:

John Ernest Emmanuel (d. 1739) the Bishop of Nitra
Ferdinand Bonaventure II (1708–1778) Governor of Milan
Friedrich August von Harrach-Rohrau

Count Friedrich August von Harrach-Rohrau

Count Friedrich August von Harrach-Rohrau, , was plenipotentiary minister of the Austrian Netherlands and became Governor-General ad interim from ....


(1696–1749), interim governor of the Austrian Netherlands. His grandsons:

Ernest Christopher Joseph (d. 1838)
Ferdinand Joseph (d. 1841). His children:

Auguste von Harrach

Auguste von Harrach

Auguste von Harrach , was the second spouse of King Frederick William III of Prussia. Since the marriage was morganatic, she was not named Queen, but was given the titles Princess of Liegnitz/Legnica and Countess of Hohenzollern...


(1800–1873) — second wife to king Frederick William III of Prussia

Frederick William III of Prussia

Frederick William III was king of Prussia from 1797 to 1840. He was in personal union the sovereign prince of the Principality of Neuchâtel .-Early life:...



Karl Philip (d. 1878). His son:

Ferdinand (1832–1915) — painter.

Johann Philipp Graf Harrach (1678–1764), Austrian field marshal
Ernst Guido (1732–1783)
Maria Josefa von Harrach (1727–1788), princesse of Liechtenstein, wife of Johann Nepomuk Karl, Prince of Liechtenstein
Karl Borromäus von Harrach (1761–1829) — honorary Chief Physician at the Elisabethine Hospital in Vienna.
Johann Nepomuk von Harrach (1828–1909) — Czech politician
Lieutenant Colonel Count Franz von Harrach (1870–1934), Franz Ferdinand

Archduke Franz Ferdinand of Austria

Franz Ferdinand was an Archduke of Austria-Este, Austro-Hungarian and Royal Prince of Hungary and of Bohemia, and from 1889 until his death, heir presumptive to the Austro-Hungarian throne. His assassination in Sarajevo precipitated Austria-Hungary's declaration of war against Serbia...


's bodyguard when he was assassinated in Sarajevo

Sarajevo

Sarajevo |Bosnia]], surrounded by the Dinaric Alps and situated along the Miljacka River in the heart of Southeastern Europe and the Balkans....


on June 28, 1914.
Countess Stephanie Harrach, Johann Harrach's (d. 1945) widow, current member of family
Beppo Harrach, modern rally pilot, count Ernst Harrach's son
See also
Mediatized houses
Gabor Harrach (*1971) Television and Film Producer in New York
External links