 Greatcoat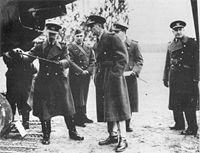 A
greatcoat
, also known as a watchcoat, is a large
overcoat
Overcoat
An overcoat is a type of long coat intended to be worn as the outermost garment. Overcoats usually extend below the knee, but are sometimes mistakenly referred to as topcoats, which are short coats that end at or above the knees. Topcoats and overcoats together are known as outercoats...
typically made of wool designed for warmth and protection against the weather. Its collar and cuffs can be turned out to protect the face and hands from cold and rain, and the short cape around the shoulders provides extra warmth and repels rainwater (if made of a waterproof material). It was popular in the 19th century as a
military uniform
Military uniform
Military uniforms comprises standardised dress worn by members of the armed forces and paramilitaries of various nations. Military dress and military styles have gone through great changes over the centuries from colourful and elaborate to extremely utilitarian...
and casual wear for the wealthy, and is still issued for inclement weather by many
armed forces
Armed forces
The armed forces of a country are its government-sponsored defense, fighting forces, and organizations. They exist to further the foreign and domestic policies of their governing body, and to defend that body and the nation it represents from external aggressors. In some countries paramilitary...
around the world. During the 17th and 18th centuries and the
Industrial Revolution
Industrial Revolution
The Industrial Revolution was a period from the 18th to the 19th century where major changes in agriculture, manufacturing, mining, transportation, and technology had a profound effect on the social, economic and cultural conditions of the times...
, greatcoats became available for all social classes.
The coat generally hangs down below the knees and the cape is kept short, normally just above or below the elbows. It also sports deep pockets for keeping letters and food dry. It is typically coloured grey, though other colours may be used (e.g. black, brown, navy blue). One type of greatcoat is the Petersham (after
Petersham in Surrey
Petersham
Petersham is a place in the London Borough of Richmond upon Thames on the east of the bend in the River Thames south of Richmond, which it shares with neighbouring Ham. It provides the foreground of the scenic view from Richmond Hill across Petersham Meadows, with Ham House further along the River...
).