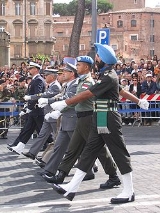 Military uniform
Military uniforms
comprises standardised
dress
Dress
A dress is a garment consisting of a skirt with an attached bodice or with a matching bodice giving the effect of a one-piece garment.Dress may also refer to:*Clothing in general*Costume, fancy dress...
worn by members of the
armed forces
Armed forces
The armed forces of a country are its government-sponsored defense, fighting forces, and organizations. They exist to further the foreign and domestic policies of their governing body, and to defend that body and the nation it represents from external aggressors. In some countries paramilitary...
and
paramilitaries
Paramilitary
A paramilitary is a force whose function and organization are similar to those of a professional military, but which is not considered part of a state's formal armed forces....
of various nations. Military dress and military styles have gone through great changes over the centuries from colourful and elaborate to extremely
utilitarian
Military camouflage
Military camouflage is one of many means of deceiving an enemy. In practice, it is the application of colour and materials to battledress and military equipment to conceal them from visual observation. The French slang word camouflage came into common English usage during World War I when the...
. Military uniforms in the form of standardised and distinctive dress, intended for identification and display, are typically a sign of organised military forces equipped by a central authority.
A distinction should be made between
uniform
Uniform
A uniform is a set of standard clothing worn by members of an organization while participating in that organization's activity. Modern uniforms are worn by armed forces and paramilitary organizations such as police, emergency services, security guards, in some workplaces and schools and by inmates...
s and ethnic dress.