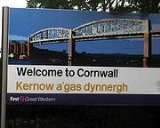 Cornish language
Cornish
is a
Brythonic
Brythonic languages
The Brythonic or Brittonic languages form one of the two branches of the Insular Celtic language family, the other being Goidelic. The name Brythonic was derived by Welsh Celticist John Rhys from the Welsh word Brython, meaning an indigenous Briton as opposed to an Anglo-Saxon or Gael...
Celtic
Celtic languages
The Celtic languages are descended from Proto-Celtic, or "Common Celtic"; a branch of the greater Indo-European language family...
language and a recognised minority language of the
United Kingdom
United Kingdom
The United Kingdom of Great Britain and Northern IrelandIn the United Kingdom and Dependencies, other languages have been officially recognised as legitimate autochthonous languages under the European Charter for Regional or Minority Languages...
. Along with
Welsh
Welsh language
Welsh is a member of the Brythonic branch of the Celtic languages spoken natively in Wales, by some along the Welsh border in England, and in Y Wladfa...
and
Breton
Breton language
Breton is a Celtic language spoken in Brittany , France. Breton is a Brythonic language, descended from the Celtic British language brought from Great Britain to Armorica by migrating Britons during the Early Middle Ages. Like the other Brythonic languages, Welsh and Cornish, it is classified as...
, it is directly descended from the ancient
British language
British language
The British language was an ancient Celtic language spoken in Britain.British language may also refer to:* Any of the Languages of the United Kingdom.*The Welsh language or the Brythonic languages more generally* British English...
spoken throughout much of Britain before the English language came to dominate. The language continued to function as a common
community
Community
The term community has two distinct meanings:*a group of interacting people, possibly living in close proximity, and often refers to a group that shares some common values, and is attributed with social cohesion within a shared geographical location, generally in social units larger than a household...
language in parts of
Cornwall
Cornwall
Cornwall is a unitary authority and ceremonial county of England, within the United Kingdom. It is bordered to the north and west by the Celtic Sea, to the south by the English Channel, and to the east by the county of Devon, over the River Tamar. Cornwall has a population of , and covers an area of...
until the late 18th century. Some children used the language to converse in, and families used it as a language of the home through the 19th century and possibly into the 20th.