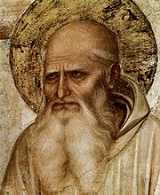 Gospel of Mark
The
Gospel According to Mark
, commonly shortened to the
Gospel of Mark
or simply
Mark
, is the second book of the
New Testament
New Testament
The New Testament is the second major division of the Christian biblical canon, the first such division being the much longer Old Testament....
. This
canonical
Canonical
Canonical is an adjective derived from canon. Canon comes from the greek word κανών kanon, "rule" or "measuring stick" , and is used in various meanings....
account of the life of Jesus of Nazareth is one of the three
synoptic gospels
Synoptic Gospels
The gospels of Matthew, Mark, and Luke are known as the Synoptic Gospels because they include many of the same stories, often in the same sequence, and sometimes exactly the same wording. This degree of parallelism in content, narrative arrangement, language, and sentence structures can only be...
. It was thought to be an
epitome
Epitome
An epitome is a summary or miniature form; an instance that represents a larger reality, also used as a synonym for embodiment....
, which accounts for its place as the second gospel in the
Bible
Bible
The Bible refers to any one of the collections of the primary religious texts of Judaism and Christianity. There is no common version of the Bible, as the individual books , their contents and their order vary among denominations...
. However, most contemporary scholars now regard it as the earliest of the canonical gospels (
c
70), a position known as
Markan priority
Markan priority
Markan priority is the hypothesis that the Gospel of Mark was the first written of the three Synoptic Gospels, and that the two other synoptic evangelists, Matthew and Luke, used Mark's Gospel as one of their sources. The theory of Markan priority is today accepted by the majority of New Testament...
.
The Gospel of Mark narrates the
Ministry of Jesus
Ministry of Jesus
In the Christian gospels, the Ministry of Jesus begins with his Baptism in the countryside of Judea, near the River Jordan and ends in Jerusalem, following the Last Supper with his disciples. The Gospel of Luke states that Jesus was "about 30 years of age" at the start of his ministry...
from
John the Baptist
John the Baptist
John the Baptist was an itinerant preacher and a major religious figure mentioned in the Canonical gospels. He is described in the Gospel of Luke as a relative of Jesus, who led a movement of baptism at the Jordan River...
's
baptism of Jesus
Baptism of Jesus
The baptism of Jesus marks the beginning of Jesus Christ's public ministry. This event is recorded in the Canonical Gospels of Matthew, Mark and Luke. In John 1:29-33 rather than a direct narrative, the Baptist bears witness to the episode...
to the Ascension of Jesus, and it concentrates particularly on the last week of his life (chapters 11–16, the trip to
Jerusalem
).