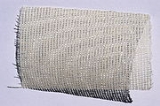 Gauze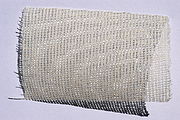 Gauze
is a thin, translucent
fabric
Textile
A textile or cloth is a flexible woven material consisting of a network of natural or artificial fibres often referred to as thread or yarn. Yarn is produced by spinning raw fibres of wool, flax, cotton, or other material to produce long strands...
with a loose open
weave
Weaving
Weaving is a method of fabric production in which two distinct sets of yarns or threads are interlaced at right angles to form a fabric or cloth. The other methods are knitting, lace making and felting. The longitudinal threads are called the warp and the lateral threads are the weft or filling...
.
Uses and types
Gauze was originally made of
silk
Silk
Silk is a natural protein fiber, some forms of which can be woven into textiles. The best-known type of silk is obtained from the cocoons of the larvae of the mulberry silkworm Bombyx mori reared in captivity...
and was used for clothing. It is now used for many different things, including
gauze sponge
Gauze sponge
Gauze sponges are disposable medical supplies used every day in hospitals and medical offices around the world.-Applications:Health care management uses gauze sponges to clean wounds.The different sizes include , , and ....
s for medical purposes. When used as a
medical dressing
Dressing (medical)
A dressing is an adjunct used by a person for application to a wound to promote healing and/or prevent further harm. A dressing is designed to be in direct contact with the wound, which makes it different from a bandage, which is primarily used to hold a dressing in place...
, gauze is generally made of
cotton
Cotton
Cotton is a soft, fluffy staple fiber that grows in a boll, or protective capsule, around the seeds of cotton plants of the genus Gossypium. The fiber is almost pure cellulose. The botanical purpose of cotton fiber is to aid in seed dispersal....
. It is especially useful for dressing wounds where other fabrics might stick to the burn or laceration. Many modern medical gauzes are covered with a plastic porous film such as Telfa or a polyblend which prevents direct contact and further minimizes wound adhesion. Also, it can be impregnated with a thick, creamy mixture of
zinc oxide
Zinc oxide
Zinc oxide is an inorganic compound with the formula ZnO. It is a white powder that is insoluble in water. The powder is widely used as an additive into numerous materials and products including plastics, ceramics, glass, cement, rubber , lubricants, paints, ointments, adhesives, sealants,...
and
calamine
Calamine
Calamine is a mixture of zinc oxide with about 0.5% ferric oxide . It is the main ingredient in calamine lotion and is used as an antipruritic to treat mild pruritic conditions such as sunburn, eczema, rashes, poison ivy, chickenpox, and insect bites and stings...
to promote healing, as in
Unna's boot
Unna's boot
In medicine, an Unna boot is a special gauze bandage, which can be used for the treatment of venous stasis ulcers and other venous insufficiencies of the leg. It can also be used as a supportive bandage for sprains and strains of the foot, ankle and lower leg...
.
In
film
Film
A film, also called a movie or motion picture, is a series of still or moving images. It is produced by recording photographic images with cameras, or by creating images using animation techniques or visual effects...
and
theatre
Theatre
Theatre is a collaborative form of fine art that uses live performers to present the experience of a real or imagined event before a live audience in a specific place. The performers may communicate this experience to the audience through combinations of gesture, speech, song, music or dance...
, gauze is often fashioned into a scrim.
Gauze used in
bookbinding
Bookbinding
Bookbinding is the process of physically assembling a book from a number of folded or unfolded sheets of paper or other material. It usually involves attaching covers to the resulting text-block.-Origins of the book:...
is called
mull
, and is used in case binding to adhere the text block to the
book cover
Book cover
A book cover is any protective covering used to bind together the pages of a book. Beyond the familiar distinction between hardcovers and paperbacks, there are further alternatives and additions, such as dust jackets, ring-binding, and older forms such as the nineteenth-century "paper-boards" and...
.
Modern gauze is also made of synthetic fibers, especially when used in
clothing
Clothing
Clothing refers to any covering for the human body that is worn. The wearing of clothing is exclusively a human characteristic and is a feature of nearly all human societies...
. It can also be made of metal, such as a wire gauze placed on top of a
Bunsen burner
Bunsen burner
A Bunsen burner, named after Robert Bunsen, is a common piece of laboratory equipment that produces a single open gas flame, which is used for heating, sterilization, and combustion.- Operation:...
, used in a
safety lamp
Safety lamp
A safety lamp is any of several types of lamp, which are designed to be safe to use in coal mines. These lamps are designed to operate in air that may contain coal dust, methane, or firedamp, all of which are potentially flammable or explosive...
or spark arrestor, or used as a
fence
Fence
A fence is a freestanding structure designed to restrict or prevent movement across a boundary. It is generally distinguished from a wall by the lightness of its construction: a wall is usually restricted to such barriers made from solid brick or concrete, blocking vision as well as passage .Fences...
.
Uses in Chemistry
There are two types of wire gauze used in chemistry: a normally woven wire gauze, and one with a white circle imprinted on it. The latter has a ceramic composite intended to aid in the dispersal in heat. The normal set-up is a ring stand which a support ring attached to it. The wire gauze is centered on the ring stand as to allow the open flame to be in contact with it to a certain extent, depending on the desired heat. In the context of laboratory experimentation, the combination of the wire gauze plus the added ceramic composite greatly aids in the even dispersal of heat. This means that an object placed over this type of wire gauze will receive a more uniform heat from a Bunsen burner than the naked flame of it. This property is specially important in various chemical processes where precise, even heat dispersal is sought after, as a consistent heat is crucial for the successful maintenance of the chemical process intended. Because of this desired heat dispersal ability, wire gauze can also be used as a cooling surface for beakers, Erlenmeyers flasks or other vessels without damaging the supporting surface (workbench, tabletop, etc.).
Etymology of the word
English "gauze" comes from the synonymous French word "
gaze
". Some sources say gauze was traditionally woven in
Palestine
Palestine
Palestine is a conventional name, among others, used to describe the geographic region between the Mediterranean Sea and the Jordan River, and various adjoining lands....
and the English word derives from the
place name
Place names in Palestine
Place names in Palestine have been the subject of much scholarship and contention, particularly in the context of the Israeli-Arab conflict. The significance of place names in Palestine lies in their potential to legitimize the historical claims asserted by the involved parties, all of whom claim...
for
Gaza
Gaza
Gaza , also referred to as Gaza City, is a Palestinian city in the Gaza Strip, with a population of about 450,000, making it the largest city in the Palestinian territories.Inhabited since at least the 15th century BC,...
, a center of weaving in the region. Despite a prohibition on trade with non-Christians from religious authorities in medieval Europe, a fine type of silk known as
gazzatum
was imported from Gaza as early as the 13th century. Though members of religious orders in Europe were forbidden to wear it, the fabric won a place for itself and emerged into modern life as gauze. However, other sources say that "the existence of a textile industry in Gaza is not assured" at the time the word appeared in the Western languages. A different theory for the word's etymology is that it came from an Arabic and Persian word
qazz
meaning "raw silk"; see
Dictionary.Reference.com
.
External links