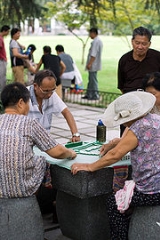 Mahjong
Mahjong
, sometimes spelled
Mah Jongg
, is a
game
Game
A game is structured playing, usually undertaken for enjoyment and sometimes used as an educational tool. Games are distinct from work, which is usually carried out for remuneration, and from art, which is more often an expression of aesthetic or ideological elements...
that originated in
China
China
Chinese civilization may refer to:* China for more general discussion of the country.* Chinese culture* Greater China, the transnational community of ethnic Chinese.* History of China* Sinosphere, the area historically affected by Chinese culture...
, commonly played by four players (with some three-player variations found in Korea and Japan). The four player table version should not be confused with the popular Western single player (tile matching) computer game (
Mahjong solitaire
Mahjong solitaire
Mahjong solitaire is a solitaire matching game that uses a set of Mahjong tiles rather than cards. It is also known as Shanghai solitaire, electronic or computerized mahjong, MahJong solitaire, solitaire Mahjong and, erroneously, as Mahjong...
), which is a recent invention and completely different from the table game. Similar to the Western card game
rummy
Rummy
Rummy is a group of card games notable for gameplay based on the matching of similar playing cards. The Mexican game of Conquian is considered by David Parlett to be ancestral to all rummy games, which itself is derived from a Chinese game called Khanhoo and, going even further back,...
, mahjong is a game of skill, strategy and calculation and involves a certain degree of chance.