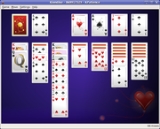 Solitaire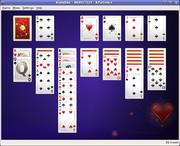 Solitaire
is any tabletop game which one can play by oneself or with other people. The solitaire card game Klondike is often known as simply Solitaire.
In the USA, it may refer to any
card game
Card game
A card game is any game using playing cards as the primary device with which the game is played, be they traditional or game-specific. Countless card games exist, including families of related games...
played by oneself; the British use the term
Patience
to refer to Solitaire with cards. The term "solitaire" is also used for single-player games of concentration and skill using a set layout of
tiles
Tile-based game
A tile-based game is a game that uses tiles as one of the fundamental elements of play. Traditional tile-based games use small tiles as playing pieces for gambling or entertainment games...
, pegs or stones rather than cards. These games include
Peg solitaire
Peg solitaire
Peg solitaire is a board game for one player involving movement of pegs on a board with holes. Some sets use marbles in a board with indentations. The game is known simply as Solitaire in the United Kingdom where the card games are called Patience...
and
Mahjong solitaire
Mahjong solitaire
Mahjong solitaire is a solitaire matching game that uses a set of Mahjong tiles rather than cards. It is also known as Shanghai solitaire, electronic or computerized mahjong, MahJong solitaire, solitaire Mahjong and, erroneously, as Mahjong...
.
Most solitaire games function as a puzzle which, due to a different starting position, may (or may not) be solved in a different fashion each time.
There are a number of different types of solitaire games. These include:
Patience

Patience (game)

Patience is a genre of tabletop games, consisting of card games that can be played by a single player. Patience games can also be played in a multiplayer fashion....


, also known as "solitaire with cards

Playing card

A playing card is a piece of specially prepared heavy paper, thin cardboard, plastic-coated paper, cotton-paper blend, or thin plastic, marked with distinguishing motifs and used as one of a set for playing card games...


". It generally involves placing cards in a layout, and sorting them according to specific rules.
Mahjong solitaire, or "solitaire with Mahjong tiles

Mahjong tiles

Mahjong tiles are tiles of Chinese origin that are used to play many games, most notably Mahjong and Mahjong solitaire. Although they are most commonly tiles, they may also refer to playing cards with similar contents as well.- Construction :Traditionally, Mahjong tiles were made of bone, often...


". Two sets of rules exist, each of which can be played with a variety of layouts. The rulesets are for:

Shanghai solitaire

Mahjong solitaire

Mahjong solitaire is a solitaire matching game that uses a set of Mahjong tiles rather than cards. It is also known as Shanghai solitaire, electronic or computerized mahjong, MahJong solitaire, solitaire Mahjong and, erroneously, as Mahjong...


includes the most common layout, the turtle or flying dragon
Sichuan solitaire

Shisen-Sho

, sometimes referred to as 'Four Rivers' or simply 'Rivers,' is a Japanese tile-based game which uses Mahjong tiles, and is similar to Mahjong solitaire. The objective of the game is to match similar tiles in pairs until every tile has been removed from the playing field.- Rules :The aim of the...


(Shisen-Sho)

Peg solitaire

Peg solitaire

Peg solitaire is a board game for one player involving movement of pegs on a board with holes. Some sets use marbles in a board with indentations. The game is known simply as Solitaire in the United Kingdom where the card games are called Patience...


(more of a puzzle than a game, since, once it is solved, it is repeatable)