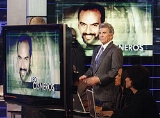 Fugitive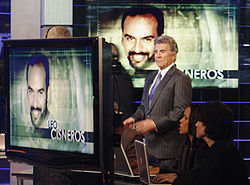 A
fugitive
is a person who is fleeing from custody, whether it be from private
slavery
Slavery
Slavery is a system under which people are treated as property to be bought and sold, and are forced to work. Slaves can be held against their will from the time of their capture, purchase or birth, and deprived of the right to leave, to refuse to work, or to demand compensation...
, a government
arrest
Arrest
An arrest is the act of depriving a person of his or her liberty usually in relation to the purported investigation and prevention of crime and presenting into the criminal justice system or harm to oneself or others...
, government or non-government
questioning
Interrogation
Interrogation is interviewing as commonly employed by officers of the police, military, and Intelligence agencies with the goal of extracting a confession or obtaining information. Subjects of interrogation are often the suspects, victims, or witnesses of a crime...
,
vigilante
Vigilante
A vigilante is a private individual who legally or illegally punishes an alleged lawbreaker, or participates in a group which metes out extralegal punishment to an alleged lawbreaker....
violence, or outraged private individuals. A fugitive from justice, also known as a wanted person (
Interpol
Interpol
Interpol, whose full name is the International Criminal Police Organization – INTERPOL, is an organization facilitating international police cooperation...
uses the terms fugitive and wanted person synonymously), can either be a person convicted or accused of a crime, who is hiding from law enforcement in the state or taking refuge in a different country in order to avoid arrest in another country.
Interpol
Interpol
Interpol, whose full name is the International Criminal Police Organization – INTERPOL, is an organization facilitating international police cooperation...
is the international authority for the pursuit of trans-border fugitives.
Europol
Europol
Europol is the European Union's criminal intelligence agency. It became fully operational on 1 July 1999....
is the European authority for the pursuit of fugitives who are on the run within Europe, and coordinates their search, while national authorities in the probable country of their stay coordinate their arrest. In the
United States
United States
The United States of America is a federal constitutional republic comprising fifty states and a federal district...
, the U.S. Marshals Service is the primary
law enforcement agency
Law enforcement agency
In North American English, a law enforcement agency is a government agency responsible for the enforcement of the laws.Outside North America, such organizations are called police services. In North America, some of these services are called police while others have other names In North American...
that tracks down federal fugitives, though the
Federal Bureau of Investigation
Federal Bureau of Investigation
The Federal Bureau of Investigation is an agency of the United States Department of Justice that serves as both a federal criminal investigative body and an internal intelligence agency . The FBI has investigative jurisdiction over violations of more than 200 categories of federal crime...
also tracks fugitives.
As a verbal metaphor and psychological concept, one might also be described as a "fugitive from oneself". Finally, the literary sense of "fugitive" includes the meaning of simply "fleeing".
In many jurisdictions, a fugitive loses the right to appeal any convictions or sentences imposed on him, since the act of fleeing is deemed to flout the court's authority. Most recently, convicted rapist
Andrew Luster
Andrew Luster
Andrew Stuart Luster is the great-grandson of cosmetics giant Max Factor, Sr. and an heir to the Max Factor cosmetics fortune. He grew up in Malibu, California and attended Windward School in Santa Monica. Luster had been supported by a $3.1 million trust fund as he traveled and surfed at various...
had his appeals denied on the basis that he spent six years as a fugitive (he was convicted
in absentia
In absentia
In absentia is Latin for "in the absence". In legal use, it usually means a trial at which the defendant is not physically present. The phrase is not ordinarily a mere observation, but suggests recognition of violation to a defendant's right to be present in court proceedings in a criminal trial.In...
).
Terminology
"On the lam" or "on the run" often refers to fugitives. Mencken's
The American Language
The American Language
The American Language, first published in 1919, is H. L. Mencken's book about the English language as spoken in the United States.Mencken was inspired by "the argot of the colored waiters" in Washington, as well as one of his favorite authors, Mark Twain, and his experiences on the streets of...
and
The Thesaurus of American Slang
proclaim that lam, lamister, and "on the lam" — all referring to a hasty departure — were common in thieves' slang before the
turn of
Turn of the century
Turn of the century, in its broadest sense, refers to the transition from one century to another. The term is most often used to indicate a non-specific time period either before or after the beginning of a century....
the twentieth century. Mencken quotes a newspaper report on the origin of 'lam' which actually traces it indirectly back to Shakespeare's time.
Mencken also quotes a story from the
New York Herald Tribune
in 1938 which reported that "one of the oldest police officers in New York said that he had heard "on the lam" thirty years ago."
Methods of finding fugitives
Various methods can be used to find fugitives. Phone taps and
pen register
Pen register
A pen register is an electronic device that records all numbers called from a particular telephone line. The term has come to include any device or program that performs similar functions to an original pen register, including programs monitoring Internet communications.The United States statutes...
s can be used on relatives. Credit card and cell phone activities and electronic transfer of money can also be traced.
Wanted poster
Wanted poster
A wanted poster is a poster distributed to let the public know of an alleged criminal whom authorities wish to apprehend. They will generally include either a picture of the alleged criminal when a photograph is available, or of a facial composite image produced by a police artist...
s and rewards can also be used. Jail records are also sometimes used; for instance, after the U.S. Government determined that
Timothy McVeigh
Timothy McVeigh
Timothy James McVeigh was a United States Army veteran and security guard who detonated a truck bomb in front of the Alfred P. Murrah Building in Oklahoma City on April 19, 1995...
had perpetrated the
Oklahoma City Bombing
Oklahoma City bombing
The Oklahoma City bombing was a terrorist bomb attack on the Alfred P. Murrah Federal Building in downtown Oklahoma City on April 19, 1995. It was the most destructive act of terrorism on American soil until the September 11, 2001 attacks. The Oklahoma blast claimed 168 lives, including 19...
, he was found in a local jail. Various countermeasures can be used by fugitives, as described in books such as
The Paper Trip
and
Perpetual Traveler
Perpetual traveler
The term perpetual traveller refers to both a lifestyle and a philosophy.- Background :...
, to make it difficult for others to find them.
See also
US specific:
FBI Ten Most Wanted Fugitives

FBI Ten Most Wanted Fugitives

The FBI Ten Most Wanted Fugitives list arose from a conversation held in late 1949 between J. Edgar Hoover, Director of the United States Federal Bureau of Investigation, and William Kinsey Hutchinson, International News Service Editor-in-Chief, who were discussing ways to promote capture of the...



America's Most Wanted

America's Most Wanted

America's Most Wanted is an American television program produced by 20th Television, and was the longest-running program of any kind in the history of the Fox Television Network until it was announced on May 16, 2011 that the series was canceled after twenty-three years, with the final episode...



External links