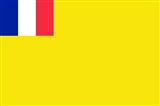 French Indochina
French Indochina
was part of the
French colonial empire
French colonial empire
The French colonial empire was the set of territories outside Europe that were under French rule primarily from the 17th century to the late 1960s. In the 19th and 20th centuries, the colonial empire of France was the second-largest in the world behind the British Empire. The French colonial empire...
in southeast Asia. A federation of the three
Vietnam
Vietnam
Vietnam – sometimes spelled Viet Nam , officially the Socialist Republic of Vietnam – is the easternmost country on the Indochina Peninsula in Southeast Asia. It is bordered by China to the north, Laos to the northwest, Cambodia to the southwest, and the South China Sea –...
ese regions,
Tonkin
Tonkin
Tonkin , also spelled Tongkin, Tonquin or Tongking, is the northernmost part of Vietnam, south of China's Yunnan and Guangxi Provinces, east of northern Laos, and west of the Gulf of Tonkin. Locally, it is known as Bắc Kỳ, meaning "Northern Region"...
(North), Annam (Central), and
Cochinchina
Cochinchina
Cochinchina is a region encompassing the southern third of Vietnam whose principal city is Saigon. It was a French colony from 1862 to 1954. The later state of South Vietnam was created in 1954 by combining Cochinchina with southern Annam. In Vietnamese, the region is called Nam Bộ...
(South), as well as
Cambodia
Cambodia
Cambodia , officially known as the Kingdom of Cambodia, is a country located in the southern portion of the Indochina Peninsula in Southeast Asia...
, was formed in 1887.
Laos
Laos
Laos Lao: ສາທາລະນະລັດ ປະຊາທິປະໄຕ ປະຊາຊົນລາວ Sathalanalat Paxathipatai Paxaxon Lao, officially the Lao People's Democratic Republic, is a landlocked country in Southeast Asia, bordered by Burma and China to the northwest, Vietnam to the east, Cambodia to the south and Thailand to the west...
was added in 1893 and Kouang-Tchéou-Wan in 1900. The capital was moved from
Saigon
Ho Chi Minh City
Ho Chi Minh City , formerly named Saigon is the largest city in Vietnam...
(in Cochinchina) to
Hanoi
Hanoi
Hanoi , is the capital of Vietnam and the country's second largest city. Its population in 2009 was estimated at 2.6 million for urban districts, 6.5 million for the metropolitan jurisdiction. From 1010 until 1802, it was the most important political centre of Vietnam...
(Tonkin) in 1902. During World War II, the colony was administered by
Vichy France
Vichy France
Vichy France, Vichy Regime, or Vichy Government, are common terms used to describe the government of France that collaborated with the Axis powers from July 1940 to August 1944. This government succeeded the Third Republic and preceded the Provisional Government of the French Republic...
and was under Japanese occupation.