Fred Meyer
Fred Meyer, Inc.
, is a chain of
hypermarket
Hypermarket
In commerce, a hypermarket is a superstore combining a supermarket and a department store. The result is an expansive retail facility carrying a wide range of products under one roof, including full groceries lines and general merchandise...
s founded in 1922 in
Portland, Oregon
Portland, Oregon
Portland is a city located in the Pacific Northwest, near the confluence of the Willamette and Columbia rivers in the U.S. state of Oregon. As of the 2010 Census, it had a population of 583,776, making it the 29th most populous city in the United States...
, by
Fred G. Meyer
Fred G. Meyer
Fred G. Meyer was an American businessman.Born Frederick Grubmeyer in Brooklyn, he traveled through the American West before settling in Portland, Oregon in 1909, where he founded a horse-drawn coffee service for lumber camps around Portland...
. The company was one of the pioneers of one-stop shopping, eventually combining a complete grocery supermarket with a drugstore, clothing store, shoe store, fine jewelers, home decor store, home improvement center, garden center, electronics store, toy store, sporting goods store, and more under one roof. He is often confused with Frederik Gerhard Hendrik Meijer (December 7, 1919 – November 25, 2011) the Chairman of the Meijer hypermarket chain in Midwest, United States.
Fred Meyer stores are throughout Oregon, Washington, Idaho, and Alaska. Before the company's merger with
Kroger
Kroger
The Kroger Co. is an American supermarket chain founded by Bernard Kroger in 1883 in Cincinnati, Ohio. It reported US$ 76.7 billion in sales during fiscal year 2009. It is the country's largest grocery store chain and its second-largest grocery retailer by volume and second-place general retailer...
in October 1998, it traded on the New York Stock Exchange under the ticker symbol FMY. Although the company is now a division of Kroger, the stores are still branded Fred Meyer, and the western region of the Kroger Corporation is headquartered in Portland.
Fred Meyer is sometimes known as "Freddy's", a nickname the company was given by its customers and which is used in its advertising. For a number of years, the company has used the marketing slogan
What's on your list today? You'll find it at Fred Meyer!
or more simply
What's on your list today?
in its advertising.
Beginnings
Fred G. Meyer, originally of New York City, opened his first public market at the corner of Fifth and Yamhill in downtown Portland in 1922. In 1928, Mr. Meyer opened the first self-service drug store.
The first suburban one-stop shopping center opened in 1931 in the Hollywood District of Portland, a neighborhood he deliberately chose through a shrewd and prescient application of market research: he would pay customers' overtime parking tickets that they incurred while shopping at his downtown store, just to obtain their home addresses. The store's innovations included a grocery store alongside a drugstore plus home products, off-street parking, gas station, and—eventually—clothing. Fred G. Meyer would base store locations on planned highway construction.
In 1951, the Fred Meyer Company built a large warehouse near
Providence Portland Medical Center
Providence Portland Medical Center
Providence Portland Medical Center, located at 4805 NE Glisan St. in the Center neighborhood of Portland, Oregon, is a full service medical center specializing in cancer and cardiac care. Opened in 1941, the hospital is licensed for 483 beds, and has over 3,000 employees. There are approximately...
in
Laurelhurst
Laurelhurst, Portland, Oregon
Laurelhurst is a neighborhood of vintage homes and undulating streets surrounding a park of the same name, straddling the NE and SE sections of Portland. Stone markers flank the entrances to the area...
, despite complaints and controversy from neighbors and the city council. Neighbors didn't want large truck volume in their city, but the area was already zoned for industrial and commercial east of 44th Avenue. The huge warehouse was built to the detriment of the Banfield Expressway, built in
Sullivan's Gulch
Sullivan's Gulch, Portland, Oregon
Sullivan's Gulch is a neighborhood in the Northeast section of Portland, Oregon. The name commemorates Timothy Sullivan, an early farmer in the area. Sullivan settled his donation land claim on January 27, 1851...
less than five years later. The warehouse had to be condemned and partially destroyed for the freeway, with the state highway commission selling the remaining sections to the
Bemis Company
Bemis Company
Bemis Company, Inc. is an American manufacturer of flexible packaging products and pressure-sensitive materials. Bemis divisions are located in 13 countries and its products are distributed worldwide. Bemis is part of the S&P 500 index.-History:Bemis Inc...
. The Fred Meyer Company moved to
Swan Island
Overlook, Portland, Oregon
Overlook is a neighborhood in the North section of Portland, Oregon on the east shore of the Willamette River. It borders University Park and Arbor Lodge on the north, Humboldt and Boise on the east, Eliot on the southeast, and Northwest Industrial and the Northwest District across the Willamette...
on land formerly occupied by wartime housing for
Kaiser Shipyards
Kaiser Shipyards
The Kaiser Shipyards were seven major shipbuilding yards located mostly on the U.S. west coast during World War II. They were owned by the Kaiser Shipbuilding Company, a creation of American industrialist Henry J...
.
In the 1960s, Fred Meyer entered the Seattle market by acquiring Seattle-based Marketime Drugs. Fred Meyer also acquired a Spokane-based grocery wholesaler, The Roundup Company. Roundup owned no stores in Spokane but owned
Kalispell, Montana
Kalispell, Montana
Kalispell is a city in and the county seat of Flathead County, Montana, United States. The 2010 census put Kalispell's population at 19,927 up 5,704 over 2000. At 40.1% this is the largest percentage of growth of any incorporated city in Montana. Kalispell is the largest city and commercial center...
, based B&B stores in northwest Montana and Consumer Warehouse Foods in Soap Lake, Washington.
By March 1968, Fred Meyer Inc. was operating in four states – Oregon, Washington, Idaho and Montana – and had 48 retail stores. Later in 1968, the first full-fledged Fred Meyer in the Seattle area opened, in
Lynnwood, Washington
Lynnwood, Washington
Lynnwood is a city in Snohomish County, Washington, United States. The population was 35,836 at the 2010 census, making it the fourth largest in Snohomish County and twenty-ninth largest in Washington State. The city is a mix of urban, suburban, small city, crossroads and bedroom community to many...
. It was also the largest Fred Meyer for about a decade.
Valu-Mart acquisition, death of Fred Meyer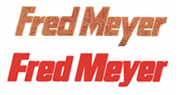 In 1975, after several decades of growth in the Portland area, Fred Meyer purchased the Pacific Northwest-based
Valu-Mart
Valu-Mart
Valu-Mart was a chain of discount stores founded in Seattle in the 1950s. Its parent company was Weisfield's Jewelers. For many years Weisfield's was a store that carried jewelry, as well as televisions , radios, stereos, and other consumer electronics products...
. Valu-Mart had been renamed Leslies about a year before. In 1975, Fred Meyer opened its first stores in Alaska as a result of acquiring Leslies/Valu-Mart, and changed the Leslies/Valu Mart stores to the Fred Meyer banner. As Fred Meyer became better known in the Seattle area, the Marketime Drug chain became known as Fred Meyer-Marketime.
In 1977, Marketime was renamed Fred Meyer. In the mid-1980s, the Northwest Montana B&B stores also took on the Fred Meyer name.
On September 2, 1978, Mr. Meyer died at the age of 92. Until his death, Mr. Meyer had continued to play an active role in the day-to-day operation of his company. Also in 1978,
Fortune
Fortune (magazine)
Fortune is a global business magazine published by Time Inc. Founded by Henry Luce in 1930, the publishing business, consisting of Time, Life, Fortune, and Sports Illustrated, grew to become Time Warner. In turn, AOL grew as it acquired Time Warner in 2000 when Time Warner was the world's largest...
placed Fred Meyer as the 45th largest retail company by sales. The chain had over $1 billion in sales in 1979.
In 1982, the company was purchased by Kohlberg Kravis Roberts in what was one of KKR's first major
leveraged buyout
Leveraged buyout
A leveraged buyout occurs when an investor, typically financial sponsor, acquires a controlling interest in a company's equity and where a significant percentage of the purchase price is financed through leverage...
s.
California Expansion and Retreat
In the 1990s Fred Meyer expanded into
California
California
California is a state located on the West Coast of the United States. It is by far the most populous U.S. state, and the third-largest by land area...
by opening a store in
Chico
Chico, California
Chico is the most populous city in Butte County, California, United States. The population was 86,187 at the 2010 census, up from 59,954 at the time of the 2000 census...
. Plans had been made to open a store in
Redding
Redding, California
Redding is a city in far-Northern California. It is the county seat of Shasta County, California, USA. With a population of 89,861, according to the 2010 Census...
and expand into
Sacramento
Sacramento
Sacramento is the capital of the state of California, in the United States of America.Sacramento may also refer to:- United States :*Sacramento County, California*Sacramento, Kentucky*Sacramento – San Joaquin River Delta...
with several sites having been acquired. Eventually the Chico location was closed and sold and the Sacramento sites sold; the Redding site eventually became a
Wal-Mart
Wal-Mart
Wal-Mart Stores, Inc. , branded as Walmart since 2008 and Wal-Mart before then, is an American public multinational corporation that runs chains of large discount department stores and warehouse stores. The company is the world's 18th largest public corporation, according to the Forbes Global 2000...
store in 1996.
Acquisitions of Grand Central and Smith's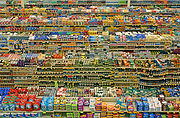 In 1985, Fred Meyer acquired
Grand Central
Grand Central (store)
Grand Central was a chain of discount department stores founded by Maurice Warshaw in Salt Lake City, Utah. Grand Central had stores in Idaho, Utah, New Mexico, Wyoming, Arizona, Nevada...
of
Salt Lake City, Utah
Salt Lake City, Utah
Salt Lake City is the capital and the most populous city of the U.S. state of Utah. The name of the city is often shortened to Salt Lake or SLC. With a population of 186,440 as of the 2010 Census, the city lies in the Salt Lake City metropolitan area, which has a total population of 1,124,197...
. The Grand Central stores in Utah and
Idaho
Idaho
Idaho is a state in the Rocky Mountain area of the United States. The state's largest city and capital is Boise. Residents are called "Idahoans". Idaho was admitted to the Union on July 3, 1890, as the 43rd state....
were converted to Fred Meyer stores, although most did not receive full supermarket departments until the mid 1990s.
In 1997, Fred Meyer Inc. acquired
Smith's Food and Drug
Smith's Food and Drug
Smith's Food and Drug, commonly known as Smith's, is a chain of supermarkets in the Intermountain West and Southwest regions of the United States. Smith's operates 132 stores in Utah, Nevada, New Mexico, Arizona, Montana, Idaho, and Wyoming. Smith's utilizes a combination food and drug center...
of Salt Lake City, though both companies maintained separate operations. In 1998, Fred Meyer acquired
Ralphs Grocery Company
Ralphs
Ralphs is a major supermarket chain in the Southern California area and the largest subsidiary of Cincinnati-based Kroger. It is the oldest such chain west of the Mississippi River. Ralphs also operates stores under the Food 4 Less and Foods Co. names in California.-History:Ralphs Grocery Company...
of
Los Angeles, California
Los Angeles, California
Los Angeles , with a population at the 2010 United States Census of 3,792,621, is the most populous city in California, USA and the second most populous in the United States, after New York City. It has an area of , and is located in Southern California...
, and
QFC
QFC
Quality Food Centers is a supermarket chain based in Bellevue, Washington, with over 75 stores in the Puget Sound region of Washington state and in the Portland, Oregon metropolitan area.-History:...
of Seattle. Both acquisitions also maintained separate operations with Fred Meyer, Inc. as the holding company. In that fast string of mergers, Fred Meyer quickly became the nation's fifth largest food and drug store operator.
In 1997, Fred Meyer converted its Columbia Falls and Kalispell stores into Smith's Food & Drug Stores, and closed its Polson location. In 2001, the Kalispell store was demolished and replaced with a newer Smiths location adjacent to the older, obsolete store. The Columbia Falls store retained the Fred Meyer decor (with Smith's logos over the old Fred Meyer logos) but only contained a grocery department, with none of the other departments or product offerings.
Merger with Kroger
In May 1999 Fred Meyer, Inc. merged with Kroger of Cincinnati, Ohio. In 2000, the Arizona Fred Meyer stores, all of which were formerly Smith's stores that Fred Meyer acquired in the Smith's merger, were re-branded as Fry's Marketplace.
In 2004, Smith's Food and Drug assumed the operations of the Utah Fred Meyer stores, which were re-branded as Smith's Marketplace. Also, since the acquisition of the Fred Meyer Company, Kroger has been unifying standards across the company, adopting many of the Fred Meyer store standards, and implementing their own standards to the Fred Meyer stores. Kroger and Fred Meyer stores are slowly becoming more similar in management and merchandising.
Additionally, one Fred Meyer in Seattle in the Capitol Hill district merged its operations with
QFC
QFC
Quality Food Centers is a supermarket chain based in Bellevue, Washington, with over 75 stores in the Puget Sound region of Washington state and in the Portland, Oregon metropolitan area.-History:...
which had a grocery store across the street from the Broadway Market. This particular Fred Meyer, probably the smallest one in the chain, had only drugs, general merchandise, but no food or apparel. This store is now a QFC Marketplace, the only one of its kind, but it is not signed as such.
Store design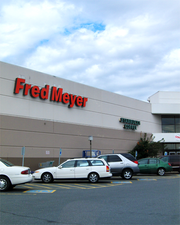 Departments
A typical store has several departments:
Food: groceries, meat and seafood, deli, produce, bakery, health and beauty, natural foods, and pet care;
Apparel: clothing, shoes, accessories, and cosmetics;
Home: housewares and home decor, bed and bath, home improvement and garden, furniture, sporting goods, automotive, toys, and seasonal merchandise;
Electronics: televisions, computers and software, video games, cameras, music and videos;
Customer service: customer information desk with merchandise exchange, FAX and Western Union, money orders, game licenses, and tobacco sales.
Additional services
Many stores include several other amenities, such as a prescription pharmacy,
Fred Meyer Jewelers
Fred Meyer Jewelers
Fred Meyer Jewelers is a national chain of jewelers. It is a wholly owned subsidiary of Fred Meyer, Inc.-History:Fred Meyer Jewelers started in 1973 as a catalog showroom concept by Fred Meyer. As the catalog showroom fad started to die down, Fred Meyer was experiencing excellent sales growth in...
, Playland (day care area), franchised coffee kiosk, and Fred Meyer Fuel Stop. Additionally, many location lease internal or adjoining retail space to complementary businesses, such as
Chase
Chase (bank)
JPMorgan Chase Bank, N.A., doing business as Chase, is a national bank that constitutes the consumer and commercial banking subsidiary of financial services firm JPMorgan Chase. The bank was known as Chase Manhattan Bank until it merged with J.P. Morgan & Co. in 2000...
bank or
Alaska USA Federal Credit Union
Alaska USA Federal Credit Union
Alaska USA Federal Credit Union is a credit union headquartered in Anchorage, Alaska, chartered and regulated under the authority of the National Credit Union Administration...
, locksmith or shoe repair, or a full coffee shop.
Alternate store formats
Not all Fred Meyer stores conform to the conventional hypermarket format. While still department-style stores, Fred Meyer has two additional formats used in smaller legacy locations.
Fred Meyer Marketplace

Fred Meyer Marketplace
is a comparatively compact Fred Meyer, centered on a full service grocery section, with many of the other departments missing or considerably smaller than a full size Fred Meyer store. These are usually older locations in more central locations in Portland, with limited, often unique parking arrangements (such as the Burlingame location's
multistory parking garage
Multi-storey car park
A multi-storey car-park is a building designed specifically to be for car parking and where there are a number of floors or levels on which parking takes place...
). Most Marketplace stores in the Seattle area were once standard supermarkets that have been acquired from other grocers.
Some marketplace locations are early examples of Fred Meyer in its typical
mall
Shopping mall
A shopping mall, shopping centre, shopping arcade, shopping precinct or simply mall is one or more buildings forming a complex of shops representing merchandisers, with interconnecting walkways enabling visitors to easily walk from unit to unit, along with a parking area — a modern, indoor version...
format, being the
anchor store
Anchor store
In retail, an anchor store, draw tenant, anchor tenant, or key tenant is one of the larger stores in a shopping mall, usually a department store or a major retail chain....
in a small Fred Meyer shopping center. Locations from this early era are typified by having the lawn and garden department in a different building immediately across the street or
parking lot
Parking lot
A parking lot , also known as car lot, is a cleared area that is intended for parking vehicles. Usually, the term refers to a dedicated area that has been provided with a durable or semi-durable surface....
.
Fred Meyer Northwest Best
Fred Meyer Northwest Best
is the company's "new concept" store in upscale Northwest Portland near
PGE Park
PGE Park
Jeld-Wen Field is an outdoor sports stadium located in Portland, Oregon, United States that is used primarily for soccer and American football...
. It was converted from the Fred Meyer Stadium Marketplace in 2004 to compete against newly arrived retailers such as the Pearl District
Whole Foods Market
Whole Foods Market
Whole Foods Market is a foods supermarket chain based in Austin, Texas which emphasizes "natural and organic products." The company has been ranked among the most socially responsible businesses and placed third on the U.S...
and Northwest Portland
Trader Joe's
Trader Joe's
Trader Joe's is a privately held chain of specialty grocery stores headquartered in Monrovia, California. , Trader Joe's had a total of 365 stores. Approximately half of its stores are in California, with the heaviest concentration in Southern California, but the company also has locations in 30...
. Fred Meyer also has Northwest Best stores in
Gig Harbor, Washington
Gig Harbor, Washington
Gig Harbor is the name of both a bay on Puget Sound and a city on its shore in Pierce County, Washington, United States. The population was 7,126 at the 2010 census....
and
Redmond, Washington
Redmond, Washington
Redmond is a city in King County, Washington, United States, located east of Seattle. The population was 54,144 at the 2010 census,up from 45,256 in 2000....
.
FM Red Tag Outlet
FM Red Tag Outlet
is a clearance outlet opened by Fred Meyer in 2009 adjacent to their 82nd & S.E. Foster store in southeast Portland. Formerly the Home & Garden department of the 82nd & Foster store, the main store building was thoroughly refurbished earlier in 2009 and afterwards became a Fred Meyer Marketplace store, with the Home & Garden department brought back to the main building. The FM Red Tag Outlet offers clearance items from the regular Fred Meyer stores at discount and the product mix changes frequently. The outlet items are sold as-is with no return option; however customers who are members of Fred Meyer Rewards can earn points at the outlet and can redeem Rewards reward coupons. Originally the outlet was only open Thursdays-Sundays but is now open seven days a week.
Private label brands
Fred Meyer employs Kroger's manufacturing by adding its own private label brands alongside national brand products. Aside from products labeled
Kroger
or
Fred Meyer
, one might also find the following brands at a Fred Meyer store: Kivu, Country Oven, Everyday Living (and the more upscale eL²), F•M•V ("For Maximum Value") is now Kroger value, Moto Tech, Private Selection, HD Designs, Michael Morgan, Great Northwest, GNW, Curfew, Kidz Korner, Splash Spa, and Naturally Preferred. Former brands associated with Fred Meyer were My-Te-Fine,
President's Choice
President's Choice
President's Choice also known as "PC," is a private label or store brand owned by Loblaw Companies Limited, Canada's largest food retailer. As the company's premium line, President's Choice includes a wide variety of grocery and household products, in addition to financial services and mobile...
, Fred Bear, F. G. Meyer First Choice, Personal Choice, and Perfect Choice.
Organizational structure
The store is managed by a store director (an assistant director if they are a management training store). Each department is run by a manager, an assistant manager, and often a third or a fourth manager, depending upon the size of the department. In addition to the management staff,
persons-in-charge
(PIC) are non-management supervisors who assume management duties and responsibilities for the duration of a shift, but are otherwise level with co-workers. In the major divisions
Sectionheads
or Department managers are responsible for a given section of the department.
Employees
A single Fred Meyer store employs anywhere from 50 to 300 employees at any given time. During mid-day, there's usually about 100 employees working at one time within an average Fred Meyer location. Employee benefits vary, depending on the position an individual holds, how many hours per month/week that employee works, and whether or not that store/department of a store belongs to a union. All employees receive Employee Rewards cards that double as Employee Discount cards. Discounts are from 0% to 20% depending on which department the goods are purchased from. Additionally, employees receive a 10% discount on private label grocery department items. A typical Fred Meyer store is always hiring, depending on employees retiring, getting promoted, quitting, or being terminated. Many job opportunities also become available when a store becomes busier, because of nearby businesses, or the addition of new departments or fuel stations. Additionally, there is seasonal hiring for temporary positions such as additional positions in garden centers in the spring time, and additional help over the winter holidays. Recently, the Fred Meyer store chain switched to an online employment system, powered by
Unicru
Unicru
Unicru is a United States computer software company which produces a human resources software line claimed to aid companies in evaluating job applicants and their suitability for particular positions by giving them personality tests...
, which can be found at fredmeyer.com.
Rewards program
On May 4, 2004, Fred Meyer introduced Fred Meyer Rewards, a program that rewards (pays) customers for shopping in their stores. To participate, a customer completes a registration form and receives 3 purple cards (a credit card-sized card and two keytags). When the program was introduced, participating customers received one point for every $5 they spent in a single transaction (transactions with totals under $5 did not receive a point). If a customer earned 100 points (by spending at least $500) during a 13-week rewards cycle, they would receive about $5 in rebate vouchers. The rewards mailer also typically included percentage discount coupons on specific items.
On April 29, 2007, the company revised the program somewhat, simultaneously with the launch of their Fred Meyer Rewards MasterCard. Effective on that date (which was the beginning of a 13-week cycle), customers receive a point for each dollar spent, but the value of each point decreased proportionally, and a customer must earn 500 points in a 13-week rewards cycle to receive a rebate voucher. Customers who use the MasterCard version of Rewards earn double points at Fred Meyer (2 points per dollar spent), and single points everywhere else where Mastercard is accepted (1 point per dollar spent).
Plastic bag ban
In July 2010 Fred Meyer announced that, effective August 1, it would no longer offer
plastic bag
Plastic shopping bag
Plastic shopping bags, carrier bags or plastic grocery bags are a type of shopping bag made from various kinds of plastic, and are common worldwide. These bags are sometimes called single-use bags, referring to carrying items from a store to a home...
s at any of its 10
Portland
Portland, Oregon
Portland is a city located in the Pacific Northwest, near the confluence of the Willamette and Columbia rivers in the U.S. state of Oregon. As of the 2010 Census, it had a population of 583,776, making it the 29th most populous city in the United States...
stores, due to their negative environmental impacts. To date, Fred Meyer is the largest retail chain in the
Portland metropolitan area
Portland metropolitan area
The Portland-Vancouver-Hillsboro, OR-WA Metropolitan Statistical Area , also known as the Portland metropolitan area or Greater Portland, is an urban area in the U.S. states of Oregon and Washington centered around the city of Portland, Oregon. The U.S...
to adopt this policy. A spokesman indicated that an increasing number of the chain's customers have been choosing to use
reusable bag
Reusable shopping bag
A reusable shopping bag, sometimes called bag for life is a type of shopping bag which can be reused several times: this is an alternative of single use paper or plastic bags...
s, noting that Fred Meyer's own sales of such bags at its check stands had increased 30 percent from 2008 to 2009.
External links