 Frank Malina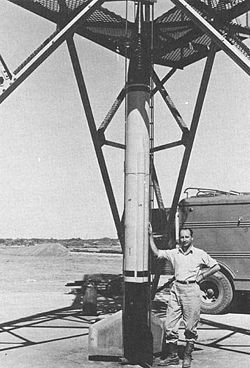 Frank Joseph Malina
was an
American
United States
The United States of America is a federal constitutional republic comprising fifty states and a federal district...
aeronautical engineer and
painter
Painting
Painting is the practice of applying paint, pigment, color or other medium to a surface . The application of the medium is commonly applied to the base with a brush but other objects can be used. In art, the term painting describes both the act and the result of the action. However, painting is...
, especially known for becoming both a pioneer in the art world and the realm of scientific engineering.
Early life
Malina was born in
Brenham
Brenham, Texas
Brenham is a city in east-central Texas in Washington County, Texas, United States, with a population of 16,147 according to the 2009 census. It is the county seat of Washington County...
,
Texas
Texas
Texas is the second largest U.S. state by both area and population, and the largest state by area in the contiguous United States.The name, based on the Caddo word "Tejas" meaning "friends" or "allies", was applied by the Spanish to the Caddo themselves and to the region of their settlement in...
. His father came from
Bohemia
Bohemia
Bohemia is a historical region in central Europe, occupying the western two-thirds of the traditional Czech Lands. It is located in the contemporary Czech Republic with its capital in Prague...
. Frank's formal education began with a degree in
mechanical engineering
Mechanical engineering
Mechanical engineering is a discipline of engineering that applies the principles of physics and materials science for analysis, design, manufacturing, and maintenance of mechanical systems. It is the branch of engineering that involves the production and usage of heat and mechanical power for the...
from
Texas A&M University
Texas A&M University
Texas A&M University is a coeducational public research university located in College Station, Texas . It is the flagship institution of the Texas A&M University System. The sixth-largest university in the United States, A&M's enrollment for Fall 2011 was over 50,000 for the first time in school...
in 1934.
In 1935, while a graduate student at the
California Institute of Technology
California Institute of Technology
The California Institute of Technology is a private research university located in Pasadena, California, United States. Caltech has six academic divisions with strong emphases on science and engineering...
(Caltech), Malina persuaded Professor of Aeronautics
Theodore von Kármán
Theodore von Karman
Theodore von Kármán was a Hungarian-American mathematician, aerospace engineer and physicist who was active primarily in the fields of aeronautics and astronautics. He is responsible for many key advances in aerodynamics, notably his work on supersonic and hypersonic airflow characterization...
to allow him to pursue studies into
rocketry
Rocket
A rocket is a missile, spacecraft, aircraft or other vehicle which obtains thrust from a rocket engine. In all rockets, the exhaust is formed entirely from propellants carried within the rocket before use. Rocket engines work by action and reaction...
and rocket propulsion. The formal goal was development of a
sounding rocket
Sounding rocket
A sounding rocket, sometimes called a research rocket, is an instrument-carrying rocket designed to take measurements and perform scientific experiments during its sub-orbital flight. The origin of the term comes from nautical vocabulary, where to sound is to throw a weighted line from a ship into...
.
Malina and five associates (including Jack Parsons) became known at Caltech as the "Suicide Squad" because of their dangerous experiments (and failures) when testing rocket motor designs.
Malina's group was forced to move their operations away from the main Caltech campus into the more remote
Arroyo Seco
Arroyo Seco
The Arroyo Seco, meaning "dry stream" in Spanish, is a seasonal river, canyon, watershed, and cultural area in Los Angeles County, California, United States. The Arroyo Seco has been called the most celebrated canyon in Southern California.-River course:...
. This site and the research Malina was conducting would later become the
Jet Propulsion Laboratory
Jet Propulsion Laboratory
Jet Propulsion Laboratory is a federally funded research and development center and NASA field center located in the San Gabriel Valley area of Los Angeles County, California, United States. The facility is headquartered in the city of Pasadena on the border of La Cañada Flintridge and Pasadena...
(JPL). Malina served as the first Director of JPL.
Career
In 1942, von Kármán, Malina and three other students started the
Aerojet
Aerojet
Aerojet is an American rocket and missile propulsion manufacturer based primarily in Rancho Cordova, California with divisions in Redmond, Washington, Orange, Gainesville and Camden, Arkansas. Aerojet is owned by GenCorp. They are the only US propulsion company that provides both solid rocket...
Corporation.
By late 1945, Malina's rockets had outgrown the facility at Arroyo Seco, and his tests were moved to
White Sands Missile Range
White Sands Missile Range
White Sands Missile Range is a rocket range of almost in parts of five counties in southern New Mexico. The largest military installation in the United States, WSMR includes the and the WSMR Otera Mesa bombing range...
in
New Mexico
New Mexico
New Mexico is a state located in the southwest and western regions of the United States. New Mexico is also usually considered one of the Mountain States. With a population density of 16 per square mile, New Mexico is the sixth-most sparsely inhabited U.S...
. Here, the project's
Wac Corporal
Wac Corporal
The WAC or WAC Corporal was the first sounding rocket developed in the United States. Begun as a spinoff of the Corporal program, the WAC was a "little sister" to the larger Corporal. It was designed and built jointly by the Douglas Aircraft Company and the Guggenheim Aeronautical Laboratory.The...
sounding rocket was the first U. S. rocket to break the 50-mile altitude mark, becoming the first sounding rocket to reach space.
During 1947, with rocket research in high-gear, Malina's demanding travel and administrative schedule, along with a dislike of so much rocketry research being devoted to weapons systems and not scientific research, caused him to reevaluate his career and leave Aerojet. He joined the fledgling
United Nations
United Nations
The United Nations is an international organization whose stated aims are facilitating cooperation in international law, international security, economic development, social progress, human rights, and achievement of world peace...
as secretariat of the United Nations Educational, Scientific and Cultural Organization (UNESCO) under
Julian Huxley
Julian Huxley
Sir Julian Sorell Huxley FRS was an English evolutionary biologist, humanist and internationalist. He was a proponent of natural selection, and a leading figure in the mid-twentieth century evolutionary synthesis...
.
In 1951, Malina became head of UNESCO's division of scientific research. Two years later, Malina left UNESCO to pursue an interest in
kinetic art
Kinetic art
Kinetic art is art that contains moving parts or depends on motion for its effect. The moving parts are generally powered by wind, a motor or the observer. Kinetic art encompasses a wide variety of overlapping techniques and styles.-Kinetic sculpture:...
.
In 1968 in Paris he founded
Leonardo
Leonardo (journal)
Leonardo is a peer-reviewed academic journal published by the MIT Press covering the application of contemporary science and technology to the arts and music.- History :...
, an international peer-reviewed research journal that featured articles written by artists on their own work, and focused on the interactions between the contemporary arts with the sciences and new technologies. The
Leonardo Journal
is still published as of 2010 as a project of Leonardo/The International Society for the Arts, Sciences and Technology, an organisation devoted to promoting connections between the arts, sciences and technology.
Death and family
Frank Malina died in 1981 in Boulogne Billancourt, near
Paris
Paris
Paris is the capital and largest city in France, situated on the river Seine, in northern France, at the heart of the Île-de-France region...
,
France
France
The French Republic , The French Republic , The French Republic , (commonly known as France , is a unitary semi-presidential republic in Western Europe with several overseas territories and islands located on other continents and in the Indian, Pacific, and Atlantic oceans. Metropolitan France...
. His widow Marjorie Duckworth Malina died in 2006. Their sons
Roger
Roger Malina
Roger Malina is a physicist, astronomer, editor-in-chief of Leonardo magazine and distinguished professor at the University of Texas at Dallas. His work focusses on connections among digital technology, science, and art....
and Alan Malina live and work in France and Portugal respectively.
External links