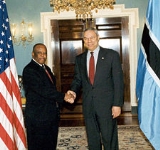 Festus Mogae
Festus Gontebanye Mogae
(born 21 August 1939) is a
Botswana
Botswana
Botswana, officially the Republic of Botswana , is a landlocked country located in Southern Africa. The citizens are referred to as "Batswana" . Formerly the British protectorate of Bechuanaland, Botswana adopted its new name after becoming independent within the Commonwealth on 30 September 1966...
politician who was President of Botswana from 1998 to 2008. He succeeded
Quett Masire
Quett Masire
Quett Ketumile Joni Masire, GCMG was the second President of Botswana for the Botswana Democratic Party from 1980 to 1998. He stepped down and was succeeded by the then Vice-President of Botswana, Festus Mogae, who became the third President of Botswana...
as President in 1998 and was reelected in October 2004; after ten years in office, he stepped down in 2008 and was succeeded by Lieutenant General
Ian Khama
Ian Khama
Lieutenant General Seretse Khama Ian Khama is a Botswana politician who has been the President of Botswana since 2008; he is also the Paramount Chief of the Bamangwato tribe...
. He is married to Barbara Mogae, and they have three children: Cheza, Nametso and Boikaego.
Mogae is of Kalanga (Western Shona) descent, from Sowe. This Kalanga group is called Badhalaunda, named after their king, Dhalaunda, and his native language is Kalanga/western
Shona
Shona language
Shona is a Bantu language, native to the Shona people of Zimbabwe and southern Zambia; the term is also used to identify peoples who speak one of the Shona language dialects: Zezuru, Karanga, Manyika, Ndau and Korekore...
.
Mogae studied
economics
Economics
Economics is the social science that analyzes the production, distribution, and consumption of goods and services. The term economics comes from the Ancient Greek from + , hence "rules of the house"...
in the
United Kingdom
United Kingdom
The United Kingdom of Great Britain and Northern IrelandIn the United Kingdom and Dependencies, other languages have been officially recognised as legitimate autochthonous languages under the European Charter for Regional or Minority Languages...
, first at
University College, Oxford
University College, Oxford
.University College , is a constituent college of the University of Oxford in England. As of 2009 the college had an estimated financial endowment of £110m...
, and then at the
University of Sussex
University of Sussex
The University of Sussex is an English public research university situated next to the East Sussex village of Falmer, within the city of Brighton and Hove. The University received its Royal Charter in August 1961....
. He returned to Botswana to work as a civil servant before taking up posts with the
International Monetary Fund
International Monetary Fund
The International Monetary Fund is an organization of 187 countries, working to foster global monetary cooperation, secure financial stability, facilitate international trade, promote high employment and sustainable economic growth, and reduce poverty around the world...
and the
Bank of Botswana
Bank of Botswana
The Bank of Botswana is the central bank of Botswana.When Botswana gained independence from Britain in 1966, the country was part of the Rand Monetary Area. In 1974 Botswana withdrew from the RMA, and the Bank of Botswana and Financial Institution Acts established the legal framework for a central...
. He was
Vice-President of Botswana
Vice-President of Botswana
The Vice-President of Botswana is the second-highest executive official in the Government of Botswana.-List of Vice-Presidents of Botswana:-See also:*Botswana**Heads of state of Botswana**Heads of government of Botswana...
from 1992 to 1998.
Mogae's party, the
Botswana Democratic Party
Botswana Democratic Party
The Botswana Democratic Party is the governing conservative party in Botswana. Its chairman is Daniel Kwelagobe.BDP was shaped by Sir Seretse Khama, who is celebrated for nurturing the economic and political success of Botswana. The party's base is in the traditional Setswana communities, and it...
(BDP), retained power in the
October 1999 general election
Botswana general election, 1999
The Botswana general election of 1999 was fought between the Botswana Democratic Party and four opposition parties. 40 seats in the Parliament were contested, with the largest opposition party, the Botswana Congress Party losing its leader and ten seats, reducing the party to a mere seat...
, and Mogae was sworn in for a five-year term on 20 October 1999 by Chief Justice Julian Nganunu at the National Stadium in
Gaborone
Gaborone
' is the capital and largest city of Botswana with a population of 191,776 based on a 2006 survey, about 10% of the total population of Botswana....
. On this occasion, he vowed to focus on the fight against poverty and unemployment.
Following the BDP's victory in the
October 2004 general election
Botswana general election, 2004
The Botswana general election of 2004 was contested by the Botswana Democratic Party and eight opposition parties. 57 seats in the Parliament were contested, with the largest opposition party, the Botswana National Front , accusing the Independent Election Commission of fundamental errors in its...
, Mogae was sworn in for another term on 2 November 2004. Mogae promised to tackle poverty and unemployment, as well as the spread of HIV-AIDS, which he pledged to stop in Botswana by 2016.
On 14 July 2007, Mogae affirmed his intention to resign nine months later.
Mogae was awarded the Grand Cross of the
Légion d'honneur
Légion d'honneur
The Legion of Honour, or in full the National Order of the Legion of Honour is a French order established by Napoleon Bonaparte, First Consul of the Consulat which succeeded to the First Republic, on 19 May 1802...
by French President
Nicolas Sarkozy
Nicolas Sarkozy
Nicolas Sarkozy is the 23rd and current President of the French Republic and ex officio Co-Prince of Andorra. He assumed the office on 16 May 2007 after defeating the Socialist Party candidate Ségolène Royal 10 days earlier....
on 20 March 2008 for his "exemplary leadership" in making Botswana a "model" of democracy and
good governance
Good governance
Good governance is an indeterminate term used in development literature to describe how public institutions conduct public affairs and manage public resources in order to guarantee the realization of human rights. Governance describes "the process of decision-making and the process by which...
. He stepped down as President on 1 April 2008 and was succeeded by Vice-President Ian Khama.
Mogae won the 2008
Ibrahim Prize for Achievement in African Leadership
Ibrahim Prize
The Mo Ibrahim Prize for Achievement in African Leadership is awarded by the Mo Ibrahim Foundation to African heads of state who deliver security, health, education and economic development to their constituents, and who democratically transfer power to their successor. It was sponsored by Mo...
, and will receive US$ 5 million over 10 years and US$ 200,000 annually for life thereafter. At London's City Hall on 20 October 2008, former
United Nations
United Nations
The United Nations is an international organization whose stated aims are facilitating cooperation in international law, international security, economic development, social progress, human rights, and achievement of world peace...
Secretary-General
Kofi Annan
Kofi Annan
Kofi Atta Annan is a Ghanaian diplomat who served as the seventh Secretary-General of the UN from 1 January 1997 to 31 December 2006...
stated: "President Mogae's outstanding leadership has ensured Botswana's continued stability and prosperity in the face of an HIV/AIDS pandemic which threatened the future of his country and people."
Mogae currently serves as Special Envoy of the United Nations Secretary-General on Climate Change. In 2010, he joined the advisory board of U.S. nonprofit
TeachAIDS
TeachAIDS
TeachAIDS is a nonprofit organization that develops HIV prevention education technology materials, based on an approach invented through research at Stanford University.The TeachAIDS software has been cited as a model health intervention...
.