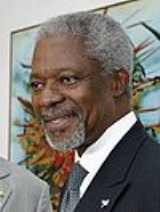 Kofi Annan
Kofi Atta Annan
ˈkoʊfi əˈnɑːn (born 8 April 1938) is a
Ghana
Ghana
Ghana , officially the Republic of Ghana, is a country located in West Africa. It is bordered by Côte d'Ivoire to the west, Burkina Faso to the north, Togo to the east, and the Gulf of Guinea to the south...
ian diplomat who served as the seventh Secretary-General of the UN from 1 January 1997 to 31 December 2006. Annan and the United Nations were the co-recipients of the
2001 Nobel Peace Prize
2001 Nobel Peace Prize
The 2001 Nobel Peace Prize was awarded to The United Nations and Kofi Annan for "their work for a better organized and more peaceful world"....
for his founding the Global AIDS and Health Fund to support developing countries in their struggle to care for their people.
Kofi Annan was born in the Kofandros section of
Kumasi
Kumasi
Kumasi is a city in southern central Ghana's Ashanti region. It is located near Lake Bosomtwe, in the Rain Forest Region about northwest of Accra. Kumasi is approximately north of the Equator and north of the Gulf of Guinea...
, Ghana – in what was then the British colony of the
Gold Coast
Gold Coast (British colony)
The Gold Coast was a British colony on the Gulf of Guinea in west Africa that became the independent nation of Ghana in 1957.-Overview:The first Europeans to arrive at the coast were the Portuguese in 1471. They encountered a variety of African kingdoms, some of which controlled substantial...
.
[Saddam Hussein] is very calm - very, very calm. Never raises his voice. Well-informed, contrary to the sense outside that he is ill-informed and isolated. And decisive.

Press conference (24 February 1998)
Unless the Security Council is restored to its pre-eminent position as the sole source of legitimacy on the use of force, we are on a dangerous path to anarchy.

Speech at the centennial of the International Peace Conference (19 May 1999)
We may have different religions, different languages, different colored skin, but we all belong to one human race. We all share the same basic values.

As quoted in Simply Living: The Spirit of the Indigenous People (1999) edited by Shirley A. Jones