 Faustina Bordoni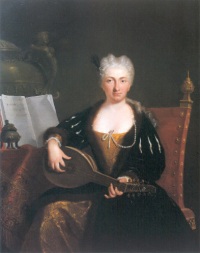 Faustina Bordoni
was an
Italian
Italy
Italy , officially the Italian Republic languages]] under the European Charter for Regional or Minority Languages. In each of these, Italy's official name is as follows:;;;;;;;;), is a unitary parliamentary republic in South-Central Europe. To the north it borders France, Switzerland, Austria and...
mezzo-soprano
Mezzo-soprano
A mezzo-soprano is a type of classical female singing voice whose range lies between the soprano and the contralto singing voices, usually extending from the A below middle C to the A two octaves above...
.
Early career
She was born in Venice and brought up under the protection of the aristocratic brother composers Alessandro and
Benedetto Marcello
Benedetto Marcello
Benedetto Marcello was a Venetian composer, writer, advocate, magistrate, and teacher.-Life:...
. Her singing teacher was another composer, Michelangelo Gasparini. For many years in the service of the Elector Palatine, she made her
opera
Opera
Opera is an art form in which singers and musicians perform a dramatic work combining text and musical score, usually in a theatrical setting. Opera incorporates many of the elements of spoken theatre, such as acting, scenery, and costumes and sometimes includes dance...
tic debut at Venice in 1716 in Carlo Francesco Pollarolo's
Ariodante
, singing in her home city until 1725 in operas by
Albinoni
Tomaso Albinoni
Tomaso Giovanni Albinoni was an Italian Baroque composer. While famous in his day as an opera composer, he is mainly remembered today for his instrumental music, such as the concertos, some of which are regularly recorded.-Biography:Born in Venice, Republic of Venice, to Antonio Albinoni, a...
, the Gasparini brothers, Giacomelli, Leo, Orlandini, the Pollarolos, father and son, and Leonardo Vinci, amongst others. In 1718 and 1719 in Venice she sang alongside
Francesca Cuzzoni
Francesca Cuzzoni
Francesca Cuzzoni was an Italian operatic soprano of the Baroque era.-Early career:Cuzzoni was born in Parma. Her father, Angelo, was a professional violinist, and her singing teacher was Francesco Lanzi. She made her debut in her home city in 1714, singing in La virtù coronata, o Il Fernando by...
, later to become her great rival. During this period she also performed several times at Reggio nell'Emilia, Naples and Parma, and at least once in Milan, Modena and Florence. After her German début in 1723, singing in Torri's
Griselda
at Munich, she was a great favourite north of the Alps during the 1720s, also enjoying great success in Vienna (1725-26). Her nickname was the "new siren", and she was commonly known simply as "Faustina".
"The Rival Queens"
Her London début, as Rossane in Handel's
Alessandro
Alessandro (opera)
Alessandro is an opera written for the Royal Academy of Music composed by George Frideric Handel in 1726. Paolo Rolli was the librettist and based the story on Ortensio Mauro's La superbia d'Alessandro...
, took place on 5 May 1726, alongside
Senesino
Senesino
Senesino was a celebrated Italian contralto castrato, particularly remembered today for his long collaboration with the composer George Frideric Handel.-Early life and career:...
and Cuzzoni. During the next two seasons she created four more Handel roles: Alceste in
Admeto
Admeto
Admeto, re di Tessaglia is a three-act opera written for the Royal Academy of Music with music composed by George Frideric Handel to an Italian-language libretto prepared by Nicola Haym. The story is partly based on Euripedes' Alcestis. The opera's first performance was at the Haymarket Theatre...
and Pulcheria in
Riccardo Primo
Riccardo Primo
Riccardo primo, re d'Inghilterra is an opera in three acts written for the Royal Academy of Music by George Frideric Handel. The Italian-language libretto was by Paolo Antonio Rolli, after Francesco Briani's Isacio tiranno, set by Antonio Lotti in 1710...
(both 1727), and Emira in
Siroe
Siroe
Siroe, re di Persia , HWV 24, is an opera in three acts by George Frideric Handel. It was his 12th opera for the Royal Academy of Music and was written for the sopranos Francesca Cuzzoni and Faustina Bordoni. The opera uses an Italian-language libretto by Nicola Francesco Haym, after Metastasio's...
and Elisa in
Tolomeo
Tolomeo
Tolomeo, re d'Egitto is an opera in three acts by George Frideric Handel to an Italian text by Nicola Francesco Haym, adapted from Carlo Sigismondo Capece's Tolomeo et Alessandro.-Performance history:...
(1728). She also sang in a revival of
Radamisto
Radamisto (Handel)
Radamisto is an opera in three acts by George Frideric Handel to an Italian libretto by Nicola Francesco Haym, based on L'amor tirannico, o Zenobia by Domenico Lalli and Zenobia by Matteo Noris...
, and in operas by Ariosti and Giovanni Bononcini. In a performance of the latter's
Astianatte
on 6 June 1727, her personal and professional rivalry with Cuzzoni exploded into a fight on the stage of the King's Theatre, Haymarket, in front of Caroline, Princess of Wales. This furore seized the public imagination – the pamphleteer
John Arbuthnot
John Arbuthnot
John Arbuthnot, often known simply as Dr. Arbuthnot, , was a physician, satirist and polymath in London...
published "The DEVIL to pay at St. JAMES's: oR A full and true ACCOUNT of a most horrid and bloody BATTLE between Madam FAUSTINA and Madam CUZZONI", in which he lambasted the two ladies: "TWO of a Trade seldom or ever agree … But who would have thought the Infection should reach the Hay-market and inspire Two Singing Ladies to pull each other's Coiffs, to the no small Disquiet of the Directors, who (God help them) have enough to do to keep Peace and Quietness between them. … I shall not determine who is the Aggressor, but take the surer Side, and wisely pronounce them both in Fault; for it is certainly an apparent Shame that two such well bred Ladies should call Bitch and Whore, should scold and fight like any
Billingsgate
Billingsgate
Billingsgate is a small ward in the south-east of the City of London, lying on the north bank of the River Thames between London Bridge and Tower Bridge...
s." Recent research has shown, however, that there was a great deal of journalistic exaggeration in such accounts: it was the ladies' supporters who were behaving badly, not the singers themselves. Nonetheless, the entire opera season at that theatre was brought to a close by this scandal, though Handel kept both singers in his employ until the demise of his company in June 1728.
Later career
Unlike Cuzzoni, Faustina never returned to England. During the years 1728-1732, she was again much in evidence on the stages of major Italian cities, especially Venice. In 1730, she married the German composer, Johann Adolf Hasse, and the following year the couple were summoned to the court of Augustus the Strong at Dresden, where Faustina enjoyed a great success in her husband's opera
Cleofide
Cleofide
Cleofide is an opera seria in three acts by Johann Adolf Hasse. The libretto was by Metastasio, as adapted by Michelangelo Boccardi.-Performance history:...
. They were described by the famous librettist
Metastasio
Metastasio
Pietro Antonio Domenico Trapassi, better known by his pseudonym of Metastasio, was an Italian poet and librettist, considered the most important writer of opera seria libretti.-Early life:...
as "truly an exquisite couple".
Hasse remained at the Saxon court for more than thirty years, and his wife sang in at least fifteen of the operas he composed between
Caio Fabricio
in 1734 and
Ciro riconosciuto
(1751). Faustina was, however, permitted to make many long trips to Italy, appearing again in Naples, Venice, Parma and elsewhere in operas by
Pergolesi
Giovanni Battista Pergolesi
Giovanni Battista Pergolesi was an Italian composer, violinist and organist.-Biography:Born at Iesi, Pergolesi studied music there under a local musician, Francesco Santini, before going to Naples in 1725, where he studied under Gaetano Greco and Francesco Feo among others...
, Porpora and
Vinci
Leonardo Vinci
Leonardo Vinci was an Italian composer, best known for his operas.He was born at Strongoli and educated at Naples under Gaetano Greco in the Conservatorio dei Poveri di Gesù Cristo. He first became known for his opere buffe in Neapolitan dialect in 1719; he also composed many opere serie...
, alongside those of her husband. Though she retired from the theatre in 1751, Faustina kept her salary and title of
virtuosa da camera
to the Elector until the death of Augustus' successor,
Frederick Augustus II
Augustus III of Poland
Augustus III, known as the Saxon ; ; also Prince-elector Friedrich August II was the Elector of Saxony in 1733-1763, as Frederick Augustus II , King of Poland and Grand Duke of Lithuania in 1734-1763.-Biography:Augustus was the only legitimate son of Augustus II the Strong, Imperial Prince-Elector...
in 1763.
At this point, she and her husband moved to Vienna, before removing finally to Venice in 1773. They had two daughters, both trained singers. On a visit in 1772,
Charles Burney
Charles Burney
Charles Burney FRS was an English music historian and father of authors Frances Burney and Sarah Burney.-Life and career:...
described Faustina as "a short, brown, sensible, and lively old woman ... with good remains … of that beauty for which she was so much celebrated in her youth." Unlike her rival Cuzzoni, who died in poverty, Faustina had a happy and prosperous old age.
Bordoni as an artist
The composer
Quantz
Johann Joachim Quantz
Johann Joachim Quantz was a German flutist, flute maker and composer.-Biography:Quantz was born in Oberscheden, near Göttingen, Germany, and died in Potsdam....
gave a description of Bordoni's qualities, as given to Charles Burney:
Burney himself remarked on the strength of the note E (E5) in her voice, and it is worth noting that half of the arias written for her by Handel are in E or A (minor or major), keys which could give this note particular prominence.