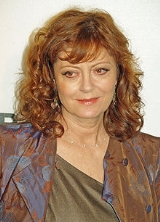 Susan Sarandon
Susan Sarandon
is an American actress. She has worked in films and television since 1969, and won an
Academy Award for Best Actress
Academy Award for Best Actress
Performance by an Actress in a Leading Role is one of the Academy Awards of merit presented annually by the Academy of Motion Picture Arts and Sciences to recognize an actress who has delivered an outstanding performance while working within the film industry...
for her performance in the 1995 film
Dead Man Walking
Dead Man Walking (film)
Dead Man Walking is a 1995 American drama film directed by Tim Robbins, who adapted the screenplay from the non-fiction book of the same name...
. She had also been nominated for the award for four films before that and has received other recognition for her work. She is also noted for her social and political
activism
Activism
Activism consists of intentional efforts to bring about social, political, economic, or environmental change. Activism can take a wide range of forms from writing letters to newspapers or politicians, political campaigning, economic activism such as boycotts or preferentially patronizing...
for a variety of liberal causes.
Sarandon was born
Susan Abigail Tomalin
in New York City to a Roman Catholic family, the eldest of nine children of Leonora Marie (
née
Married and maiden names
A married name is the family name adopted by a person upon marriage. When a person assumes the family name of her spouse, the new name replaces the maiden name....
Criscione) and Phillip Leslie Tomalin (September 26, 1917 – March 26, 1999), who worked as an advertising executive, television producer, and
nightclub
Nightclub
A nightclub is an entertainment venue which usually operates late into the night...
singer during the
big band
Big band
A big band is a type of musical ensemble associated with jazz and the Swing Era typically consisting of rhythm, brass, and woodwind instruments totaling approximately twelve to twenty-five musicians...
era.
Kind of like the difference between making love and masturbation, I'd say.

Responding to the question "What to you is the difference between stage and film?" in Inside the Actors Studio|Inside the Actors Studio, Season 4, Episode 13 (aired 15 November 1998)
Religion is not black and white. It's much more complicated. Spirituality is much bigger than that. God is much bigger than that. I don't believe in a wrathful God. I believe he's much more forgiving and inclusive than some religions. The things that are done in her name or his name are horrible.

"'The Power of One' : Interview with Susan Sarandon"