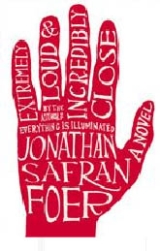 Extremely Loud and Incredibly Close
Extremely Loud and Incredibly Close
is a
2005
2005 in literature
The year 2005 in literature involved some significant events and new books.-Events:*February 25 - Canada Reads selects Rockbound by Frank Parker Day as the novel to be read across the nation....
novel
Novel
A novel is a book of long narrative in literary prose. The genre has historical roots both in the fields of the medieval and early modern romance and in the tradition of the novella. The latter supplied the present generic term in the late 18th century....
by
Jonathan Safran Foer
Jonathan Safran Foer
Jonathan Safran Foer is an American author best known for his novels Everything Is Illuminated and Extremely Loud and Incredibly Close...
.
The book's narrator is a nine-year-old boy named Oskar Schell. Two years before the story begins, Oskar's father dies on 9/11. In the story, Oskar discovers a key in a vase that belonged to his father that inspires him to search all around New York for information about the key.
Narration
The main narrator of the story is a nine year old child, Oskar Schell, an intellectually curious and sensitive child of
Manhattan
Manhattan
Manhattan is the oldest and the most densely populated of the five boroughs of New York City. Located primarily on the island of Manhattan at the mouth of the Hudson River, the boundaries of the borough are identical to those of New York County, an original county of the state of New York...
progressives
Progressivism
Progressivism is an umbrella term for a political ideology advocating or favoring social, political, and economic reform or changes. Progressivism is often viewed by some conservatives, constitutionalists, and libertarians to be in opposition to conservative or reactionary ideologies.The...
. He is a pacifist, a vegan, musical (he plays the
tambourine
Tambourine
The tambourine or marine is a musical instrument of the percussion family consisting of a frame, often of wood or plastic, with pairs of small metal jingles, called "zils". Classically the term tambourine denotes an instrument with a drumhead, though some variants may not have a head at all....
), academically inclined, and above all, earnest. Two additional narrators, Oskar's paternal grandparents, tell the story of their childhood, courtship, marriage, and separation before the birth of Oskar's father; much of their story is presented as a series of letters addressed to Oskar or his father.
Critical response
Critical response towards
Extremely Loud and Incredibly Close
has been generally less positive than for Foer's first novel;
John Updike
John Updike
John Hoyer Updike was an American novelist, poet, short story writer, art critic, and literary critic....
, writing for
The New Yorker
The New Yorker
The New Yorker is an American magazine of reportage, commentary, criticism, essays, fiction, satire, cartoons and poetry published by Condé Nast...
, found the second novel to be "thinner, overextended, and sentimentally watery", stating that "the book's hyperactive visual surface covers up a certain hollow monotony in its verbal drama". In a
New York Times
review
Michiko Kakutani
Michiko Kakutani
is an American Pulitzer Prize-winning critic for The New York Times and is considered by many to be a leading literary critic in the United States.-Life and career:...
said, "While it contains moments of shattering emotion and stunning virtuosity that attest to Mr. Foer's myriad gifts as a writer, the novel as a whole feels simultaneously contrived and improvisatory, schematic and haphazard." Kakutani also stated the book was "cloying" and identified the unsympathetic main character as a major issue.
Harry Siegel
Harry Siegel
Harry Siegel is the City Hall columnist for the Village Voice. He currently lives in Brooklyn, New York.-Biography:Siegel is a lifelong resident of the Brooklyn area of New York City. He graduated from Brandeis University, Siegel worked at The New York Sun as an editorial writer and the paper's...
, writing in
New York Press
New York Press
New York Press was a free alternative weekly in New York City, that was published from 1988 to 2011. During its lifetime, it was the main competitor to the Village Voice...
, bluntly titled his review of the book "Extremely Cloying & Incredibly False: Why the author of
Everything Is Illuminated
is a fraud and a hack", seeing Foer as an opportunist taking advantage of 9/11 "to make things important, to get paid" while also adding "The writers who make it get treated as symbols. Whitehead gets compared to Ellison, because they're both black; Lethem writes a book about race invisibility, but since he's a white boy, no one thinks to mention Ellison. In the same vein, Foer is supposed to be our new Philip Roth, though his fortune-cookie syllogisms and pointless illustrations and typographical tricks don't at all match up to or much resemble Roth even at his most inane. But Jews will be Jews, apparently." Anis Shivani said similarly in a
Huffington Post
article entitled "The 15 Most Overrated Contemporary American Writers", claiming Foer "Rode the 9/11-novel gravy train with
Extremely Loud and Incredibly Close
, giving us a nine-year-old with the brain of a twenty-eight-year-old Jonathan Safran Foer".
Despite several mediocre reviews, the novel was viewed positively in the eyes of several critics. The Herald said that it was a "wonderful" book and is filled with "creative and quirky thoughts". The Spectator said that "Safran Foer is describing a suffering that spreads across continents and generations" and that the "book is a heartbreaker: tragic, funny, intensely moving". The Financial Times thought the novel was "wise, funny and incredibly sad."
Film adaptation
A film adaptation of the novel is in production as of April 2011. The script has been written by
Eric Roth
Eric Roth
Eric Roth is an American screenwriter. He won the Oscar for Best Adapted Screenplay for Forrest Gump . He also co-wrote the screenplay for Michael Mann's The Insider , the Steven Spielberg film Munich , and David Fincher's film The Curious Case of Benjamin Button , all of which were nominated for...
, with
Stephen Daldry
Stephen Daldry
Stephen David Daldry, CBE is an English theatre and film director and producer, as well as a three-time Academy Award nominated and Tony Award winning director.-Early years:...
directing.
Tom Hanks
Tom Hanks
Thomas Jeffrey "Tom" Hanks is an American actor, producer, writer, and director. Hanks worked in television and family-friendly comedies, gaining wide notice in 1988's Big, before achieving success as a dramatic actor in several notable roles, including Andrew Beckett in Philadelphia, the title...
,
Sandra Bullock
Sandra Bullock
Sandra Annette Bullock is an Academy Award winning American actress and producer who rose to fame in the 1990s after roles in successful films such as Demolition Man, Speed, The Net, A Time to Kill, and While You Were Sleeping. She continued with films such as Miss Congeniality, The Lake House,...
,
John Goodman
John Goodman
John Stephen Goodman is an American film, television, and stage actor. He is best known for his role as Dan Conner on the television series Roseanne for which he won a Best Actor Golden Globe Award in 1993, and for appearances in the films of the Coen brothers, with prominent roles in Raising...
,
Viola Davis
Viola Davis
Viola Davis is an American actress.Known primarily as a stage actress, Davis won a Tony Award for Best Performance by a Featured Actress in a Play and a Drama Desk Award for her role in King Hedley II . She won a Tony Award for Best Performance by a Leading Actress in a Play for her role in the...
, and Jeffrey Wright are attached to star, alongside 2010
Jeopardy!
Kids Week winner Thomas Horn, 12, as Oskar Schell. The film is being produced by
Paramount Pictures
Paramount Pictures
Paramount Pictures Corporation is an American film production and distribution company, located at 5555 Melrose Avenue in Hollywood. Founded in 1912 and currently owned by media conglomerate Viacom, it is America's oldest existing film studio; it is also the last major film studio still...
and
Warner Bros.
Warner Bros.
Warner Bros. Entertainment, Inc., also known as Warner Bros. Pictures or simply Warner Bros. , is an American producer of film and television entertainment.One of the major film studios, it is a subsidiary of Time Warner, with its headquarters in Burbank,...
and set to be released on December 25,2011
Comparisons to The History of Love
Extremely Loud and Incredibly Close
was published in early 2005 as was
The History of Love
The History of Love
The History of Love: A Novel is the second novel by the American writer Nicole Krauss, published in 2005. The book was a 2006 finalist for the Orange Prize for Fiction.-Plot:...
, written by
Nicole Krauss
Nicole Krauss
Nicole Krauss is an American author best known for her novels Man Walks Into a Room , The History of Love and, most recently, Great House...
who had just married Foer. Both books feature a precocious youth who set out in New York City on a quest. Both protagonists encounter old men with memories of World War II (a Holocaust survivor in Krauss and a survivor of the
Dresden firebombing
Bombing of Dresden in World War II
The Bombing of Dresden was a military bombing by the British Royal Air Force and the United States Army Air Force and as part of the Allied forces between 13 February and 15 February 1945 in the Second World War...
in Foer). Both old men recently suffered the death of long-lost sons. The stories also use some similar and uncommon literary techniques, such as unconventional typography.
External links
Interview of Foer following release of novel, Mother Jones Magazine, May/June 2005.