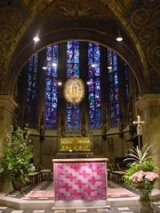 Ernani
Ernani
is an
opera
Opera
Opera is an art form in which singers and musicians perform a dramatic work combining text and musical score, usually in a theatrical setting. Opera incorporates many of the elements of spoken theatre, such as acting, scenery, and costumes and sometimes includes dance...
tic
dramma lirico
in four acts by
Giuseppe Verdi
Giuseppe Verdi
Giuseppe Fortunino Francesco Verdi was an Italian Romantic composer, mainly of opera. He was one of the most influential composers of the 19th century...
to an Italian
libretto
Libretto
A libretto is the text used in an extended musical work such as an opera, operetta, masque, oratorio, cantata, or musical. The term "libretto" is also sometimes used to refer to the text of major liturgical works, such as mass, requiem, and sacred cantata, or even the story line of a...
by
Francesco Maria Piave
Francesco Maria Piave
Francesco Maria Piave was an Italian opera librettist who was born in Murano in the lagoon of Venice, during the brief Napoleonic Kingdom of Italy. His career spanned over twenty years working with many of the significant composers of his day...
, based on the play
Hernani
Hernani (drama)
----Hernani is a drama by the French romantic author Victor Hugo.The play opened in Paris on February 25, 1830...
by
Victor Hugo
Victor Hugo
Victor-Marie Hugo was a Frenchpoet, playwright, novelist, essayist, visual artist, statesman, human rights activist and exponent of the Romantic movement in France....
. The first production took place at
La Fenice Theatre
La Fenice
Teatro La Fenice is an opera house in Venice, Italy. It is one of the most famous theatres in Europe, the site of many famous operatic premieres. Its name reflects its role in permitting an opera company to "rise from the ashes" despite losing the use of two theatres...
,
Venice
Venice
Venice is a city in northern Italy which is renowned for the beauty of its setting, its architecture and its artworks. It is the capital of the Veneto region...
on 9 March 1844. In 1904 it became the first opera to be recorded complete.
Performance history
The UK premiere took place at
Her Majesty's Theatre
Her Majesty's Theatre
Her Majesty's Theatre is a West End theatre, in Haymarket, City of Westminster, London. The present building was designed by Charles J. Phipps and was constructed in 1897 for actor-manager Herbert Beerbohm Tree, who established the Royal Academy of Dramatic Art at the theatre...
in
London
London
London is the capital city of :England and the :United Kingdom, the largest metropolitan area in the United Kingdom, and the largest urban zone in the European Union by most measures. Located on the River Thames, London has been a major settlement for two millennia, its history going back to its...
on 8 March 1845 followed on 13 April 1847 by its US premiere in
New York
New York
New York is a state in the Northeastern region of the United States. It is the nation's third most populous state. New York is bordered by New Jersey and Pennsylvania to the south, and by Connecticut, Massachusetts and Vermont to the east...
.
Today,
Ernani
is infrequently performed work, although it appeared on the roster of the
Metropolitan Opera
Metropolitan Opera
The Metropolitan Opera is an opera company, located in New York City. Originally founded in 1880, the company gave its first performance on October 22, 1883. The company is operated by the non-profit Metropolitan Opera Association, with Peter Gelb as general manager...
as early as 1903 and has been given eighty-eight performances up to the March/April stagings in 2008. It regained some popularity from the early-1980s onward and was revived in a series of new productions at the
San Francisco Opera
San Francisco Opera
San Francisco Opera is an American opera company, based in San Francisco, California.It was founded in 1923 by Gaetano Merola and is the second largest opera company in North America...
(1982),
Lyric Opera of Chicago
Lyric Opera of Chicago
Lyric Opera of Chicago is one of the leading opera companies in the United States. It was founded in Chicago in 1952, under the name 'Lyric Theatre of Chicago' by Carol Fox, Nicolà Rescigno and Lawrence Kelly, with a season that included Maria Callas's American debut in Norma...
(1984), at
La Scala
La Scala
La Scala , is a world renowned opera house in Milan, Italy. The theatre was inaugurated on 3 August 1778 and was originally known as the New Royal-Ducal Theatre at La Scala...
(1984) and the Met (1985), the 2008 stagings being the first since that time. It was given as part of the 1997 season of the
Sarasota Opera
Sarasota Opera
Sarasota Opera is a professional opera company in Sarasota, Florida, USA, which owns and performs in the now-renovated 1,119-seat Sarasota Opera House. The 2011-2012 season is currently featuring Puccini's Madama Butterfly in the fall...
's "Verdi Cycle" which plans to present all of Verdi's operas before the bi-centenary of his birth in 2013. The
Teatro Regio di Parma
Teatro Regio di Parma
Teatro Regio di Parma is a famous 19th century opera house and opera company in Parma, Italy. The theatre was originally known as the Teatro Ducale....
, another company with a similar aim, gave it in October 2005.
Recently, it was given in May 2008 by
Opera Boston
Opera Boston
Opera Boston is an opera company in Boston, Massachusetts. It specializes in innovative repertoire and rarely heard works, along with opera education and outreach programs designed to bring opera education to children, in schools and after-school programs throughout the Boston area.Its home base is...
, a company which presents unusual or rarely staged works, and the
Melbourne City Opera
Melbourne City Opera
Melbourne City Opera, based in Melbourne, Australia, was formed in 1997. It was the successor of Globe Opera, and the intention is to carry on with those traditions, objectives and achievements.In 2007 the company began performing at the BMW Edge, a 450 seat indoor amphitheatre located in...
staged it in March/April 2009. That same year, in October/November, it formed part of the Lyric Opera of Chicago's season, and it will be revived by the Met in February 2012.
Roles
Role
Voice type
Premiere Cast, 9 March 1844
(Conductor: - Gaetano Mares

Gaetano Mares

Gaetano Mares was an Italian conductor. He notably conducted the world premieres of Giuseppe Verdi's Ernani and Verdi's La traviata at La Fenice in Venice.-References:...


)
Ernani, the bandit
tenor

Tenor

The tenor is a type of male singing voice and is the highest male voice within the modal register. The typical tenor voice lies between C3, the C one octave below middle C, to the A above middle C in choral music, and up to high C in solo work. The low extreme for tenors is roughly B2...



Carlo Guasco

Carlo Guasco

Carlo Guasco was a celebrated Italian operatic tenor who sang in Italian and other European opera houses from 1837 to 1853...



Don Carlo, later Charles V, Holy Roman Emperor

Charles V, Holy Roman Emperor

Charles V was ruler of the Holy Roman Empire from 1519 and, as Charles I, of the Spanish Empire from 1516 until his voluntary retirement and abdication in favor of his younger brother Ferdinand I and his son Philip II in 1556.As...



baritone

Baritone

Baritone is a type of male singing voice that lies between the bass and tenor voices. It is the most common male voice. Originally from the Greek , meaning deep sounding, music for this voice is typically written in the range from the second F below middle C to the F above middle C Baritone (or...



Antonio Superchi

Antonio Superchi

Antonio Superchi was an Italian operatic baritone who had an active international career from 1838-1858. He appeared at most of the major opera houses in Italy and Spain, and at Her Majesty's Theatre in London....



Don Ruy Gomez de Silva
bass
Antonio Selva

Antonio Selva

Antonio Selva was an Italian operatic bass who had an active international career from the 1840s through the 1870s. He was particularly associated with the works of Giuseppe Verdi.-Life and career:...



Elvira, his niece and fiancée
soprano

Soprano

A soprano is a voice type with a vocal range from approximately middle C to "high A" in choral music, or to "soprano C" or higher in operatic music. In four-part chorale style harmony, the soprano takes the highest part, which usually encompasses the melody...



Sophie Loewe
Giovanna, her nurse
soprano
Laura Saini
Don Riccardo, Don Carlo's equerry
tenor
Giovanni Lanner
Jago, Don Ruy's equerry
bass
Andrea Bellini

Andrea Bellini

Andrea Bellini was an Italian operatic bass who had an active career performing in Italy's major opera houses from the 1840s through the 1870s. He specialized in the buffo repertoire and was most often heard in comprimario roles.-Career:...



Rebels, brigands, attendants, knights, servant, nobles, ladies - Chorus
Act 1
Mountains of Aragon
The bandits demand the reason for Ernani's gloom. (Chorus:
Eviva! Beviam! Beviam!
/ "To you we drink" and
Ernani pensoso!
/ "Ernani, so gloomy? Why, oh strong one, does care sit on your brow?"). Ernani replies (Recitative: "Thanks, dear friends"; Cavatina:
Come rugiada al cespite
/ "As the flower turns to the sun") that he loves Elvira, who is about to be married against her will to old Gomez de Silva (
O tu che l'alma adora
). He asks the bandits to abduct her.
In Elvira's chamber
Elvira worries about her upcoming marriage (Scena: "Now sinks the sun and Silva does not return";
Cavatina
Cavatina
Cavatina is a musical term, originally a short song of simple character, without a second strain or any repetition of the air...
:
Ernani, Ernani involami
/ "Ernani, Ernani, save me") as servants deliver Silva's wedding presents to her. She reaffirms her love for Ernani (
Tutto sprezzo che d'Ernani
/ "I scorn everything which does not speak to my heart of Ernani"). King Carlos, disguised as a peasant, enters, but Elvira recognizes him and rejects the love that he offers her. As he attempts to use force, she grasps a dagger, but Ernani suddenly arrives and stops Carlos (Trio: "A friend comes quickly to your aid"). Carlos recognizes Ernani as the leader of the bandits. Ernani replies that Carlos robbed him of his lands and forced him into a life of banditry. As he invites Carlos to fight, Silva appears and sees Ernani (
Infelice!..e tu credevi
..
che mai vegg'io!
/ "Dreadful sight"; Silva's cavatina: "Unhappy man! You thought this lovely...was yours"). Ernani offers to fight them both when Riccardo approaches and recognises the king. Ernani whispers to Elvira to prepare to flee.
Act 2
A hall in Silva's palace
Ernani enters disguised as a pilgrim. He asks for shelter, which Silva grants him, and then learns from Silva that he about to marry Elvira who believes Ernani to be dead. Ernani reveals his true identity to Elvira and she tells him that she plans to kill herself at the altar (Duet:
Ah, morir potessi adesso
/ "Ah, if I could die now"). Silva walks in at that moment, discovers the pair, but agrees to keep his word to Ernani and protect him from the king, for which Ernani will owe him a perpetual debt. (Trio:
No, vendetta piu tremenda
/ "No, I want to keep a greater revenge"). Carlos arrives and wishes to know why the castle is barred. Silva refuses to surrender Ernani (Carlos' aria:
Lo vedremo, veglio audace
/ "We shall see, you bold old man") and Don Carlos's men cannot find Ernani's hiding place. Silva keeps his word, even when the king secures Elvira as a hostage. Silva releases Ernani, and then challenges him to a duel. Ernani refuses to fight, but unites with Silva in his plans to free Elvira from the king. Ernani swears to appear at the summons of Silva, wherever he may be at that time (
Odi il voto o grande Iddio
/ "Oh God, hear the vow") and the act ends with Ernani's aria of vengeance (
Sprezzo la vita ne più m'alletta
/ "Life means nothing to me, only hope of vengeance").
Act 3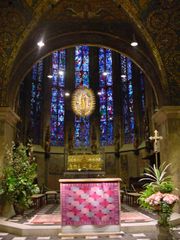 In the burial vault of Charles the Great at Aachen
Carlos visits the grave of the emperor
Charlemagne
Charlemagne
Charlemagne was King of the Franks from 768 and Emperor of the Romans from 800 to his death in 814. He expanded the Frankish kingdom into an empire that incorporated much of Western and Central Europe. During his reign, he conquered Italy and was crowned by Pope Leo III on 25 December 800...
(Carlo Magno), whose successor, the new Holy Roman Emperor, is being elected by delegates from the relevant countries. Carlos resolves to change his life if he is crowned (Cavatina:
Oh, de'verd'anni miei
/ "Oh, the dreams and deceits of my youth"). Hiding behind the vault, he overhears a gathering of conspirators including Silva and Ernani. Ernani swears to murder Carlos. The conspiracy is foiled when Carlos's attendants enter and surprise the conspirators. The king commands that all the traitorous noblemen be executed. Ernani steps forward, declaring that thus he must die too; he is not the bandit Ernani, but Don Juan of Aragon, whose lands were taken from him. Elvira, who had been brought to Carlos as his intended empress, begs mercy for her lover, and Carlos, whose mood has changed, forgives them both and places Elvira's hand in that of Ernani.
Act 4
Ernani's Castle
Elvira and Ernani have just been married, when, in consternation, Ernani hears a bugle call. Silva arrives and silently hands Ernani a dagger. Ernani asks for time to "sip from the cup of love" (
Ascolta, ascolta un detto ancor
/ "Listen, just one word...") but, cursed by Silva as coward, Ernani keeps his oath and stabs himself in the heart. (Trio with Silva:
E' vano, o donna, il piangere, e vano
/ "Your weeping is in vain, woman"). He dies in Elvira's arms, telling her to live.
Recordings
The first complete recording of an opera was the 1904 recording of
Ernani
, on 40 single-sided discs, by HMV in England. Later recordings include:
Year
Cast
(Ernani, Elvira, Don Carlo, Silva)
Conductor,
Opera House and Orchestra
Label
1930
Antonio Melandri,
Iva Pacetti

Iva Pacetti

Iva Pacetti was an Italian operatic soprano who had an active international career from 1920-1947. Trained in Florence and Milan, she made her professional opera debut in her native city at the age of 21 as the title heroine in Giuseppe Verdi's Aida at the Teatro Metastasio...


,
Gino Vanelli,
Corrado Zambelli

Corrado Zambelli

Corrado Zambelli was an Italian classical bass who had an active international singing career in operas and concerts from the 1920s through the 1950s...



Lorenzo Molajoli

Lorenzo Molajoli

Lorenzo Molajoli was an Italian opera conductor who was active in recording during the 1920s and 30s.The facts surrounding the career of the conductor Lorenzo Molajoli are obscure. He was born in Rome in 1868 and studied there at the Accademia di Santa Cecilia...


,
Orchestra e Coro del Teatro alla Scala di Milano
78 rpm: Columbia GQX 10069-10073
LP: Cat: 4407
1950
Gino Penno

Gino Penno

Gino Penno was an Italian tenor, who enjoyed a short but brilliant career in opera in the 1950s.Penno was born in Felizzano, Italy, and studied with Ettore Campogaliano. After winning a singing competition, he entered the Scuola di Canto of the Teatro alla Scala in Milan...


,
Caterina Mancini

Caterina Mancini

Caterina Mancini is an Italian dramatic coloratura soprano, primarily active in Italy in the 1950s.Mancini was born at Genzano di Roma. She made her debut in 1948, as Giselda in I Lombardi, in Florence...


,
Giuseppe Taddei

Giuseppe Taddei

Giuseppe Taddei was an Italian baritone, who performed mostly the operas of Wolfgang Amadeus Mozart and Giuseppe Verdi....


,
Giacomo Vaghi

Giacomo Vaghi

Giacomo Vaghi was an Italian opera singer who had an active international career from 1925-1956. Along with Tancredi Pasero and Ezio Pinza, he was one of the leading operatic basses of his generation. He possessed a rich voice with a dark timbre that drew him particular acclaim in the operas of...



Fernando Previtali

Fernando Previtali

Fernando Previtali was an Italian conductor, particularly associated with the Italian repertory, especially Verdi operas....


,
Orchestra Sinfonica e Coro di Roma della Rai
Audio CD: Warner Fonit
Cat: 8573 82650-2
1957
Ettore Bastianini

Ettore Bastianini

Ettore Bastianini was an Italian opera singer who was particularly associated with the operas of Verdi. He had a prolific international career between 1945 and 1965 which was cut short by throat cancer. He began his professional career as a bass working in opera houses throughout Italy and in...


,
Mario del Monaco

Mario del Monaco

Mario Del Monaco was an Italian tenor who is regarded by his admirers as being one of the greatest dramatic tenors of the 20th century....


,
Anita Cerquetti

Anita Cerquetti

Anita Cerquetti is an Italian dramatic soprano who had a short career in the 1950s.Cerquetti was born in Montecosaro, near Macerata, Italy. She was first a student of the violin, she trained eight years with Luigi Mori. After a mere one year of vocal study at the Conservatory of Perugia she made...


,
Athos Cesarini
Dimitri Mitropoulos,
Orchestra e Coro del Maggio Musicale Fiorentino
Audio CD: Hr 4400
Cat: HR 4400/01
1967
Carlo Bergonzi,
Leontyne Price

Leontyne Price

Mary Violet Leontyne Price is an American soprano. Born and raised in the Deep South, she rose to international acclaim in the 1950s and 1960s, and was one of the first African Americans to become a leading artist at the Metropolitan Opera.One critic characterized Price's voice as "vibrant",...


,
Mario Sereni

Mario Sereni

Mario Sereni is an Italian baritone, who sang leading roles at the New York Metropolitan Opera for many years.Sereni was born in Perugia, Italy. He attended the Accademia di Santa Cecilia in Rome and the Accademia Chigiana in Siena where he was a pupil of Mario Basiola...


,
Ezio Flagello

Ezio Flagello

Ezio Flagello was an Italian-American bass, particularly associated with the Italian repertory. He sang at the Metropolitan Opera from 1957 to 1984.- Career :...



Thomas Schippers

Thomas Schippers

Thomas Schippers was an American conductor. He was highly-regarded for his work in opera.-Biography:...


,
RCA Italiana Opera Chorus and Orchestra
Audio CD: RCA Victor
Cat: GD 86503 (UK); 6503-2 (USA)
1969
Plácido Domingo

Plácido Domingo

Plácido Domingo KBE , born José Plácido Domingo Embil, is a Spanish tenor and conductor known for his versatile and strong voice, possessing a ringing and dramatic tone throughout its range...



Raina Kabaivanska

Raina Kabaivanska

Raina Kabaivanska is a Bulgarian opera singer, one of the leading lyrico-spinto sopranos of her generation, particularly associated with Verdi and Puccini, although she sang a wide range of roles....



Carlo Meliciani

Carlo Meliciani

Carlo Meliciani is an Italian operatic baritone who had an active international career from the mid 1950s through the late 1970s. From 1959-1979 he was on the roster of singers at La Scala in Milan. Although he sang a wide repertoire, he was particularly known for his portrayal of roles from the...



Nicolai Ghiaurov

Nicolai Ghiaurov

Nicolai Ghiaurov was a Bulgarian opera singer and one of the most famous bass singers of the postwar period. He was admired for his powerful, sumptuous voice, and was particularly associated with roles of Verdi.Ghiaurov married the Italian soprano Mirella Freni in 1978...



Antonino Votto

Antonino Votto

Antonino Votto was an Italian operatic conductor. Votto developed an extensive discography with the Teatro alla Scala in Milan during the 1950s, when EMI produced the bulk of its studio recordings featuring Maria Callas...


,
Teatro alla Scala Orchestra and Chorus
Audio CD: Opera D'Oro
Cat: ODO 1468
1983
Luciano Pavarotti

Luciano Pavarotti

right|thumb|Luciano Pavarotti performing at the opening of the Constantine Palace in [[Strelna]], 31 May 2003. The concert was part of the celebrations for the 300th anniversary of [[St...



Leona Mitchell

Leona Mitchell

Leona Mitchell , is an African-American and Chickasaw operatic soprano and an Oklahoma Music Hall of Fame inductee....



Sherrill Milnes

Sherrill Milnes

Sherrill Milnes is an American operatic baritone most famous for his Verdi roles. From 1965 until 1997 he was associated with the Metropolitan Opera....



Ruggero Raimondi

Ruggero Raimondi

Ruggero Raimondi is an Italian bass-baritone opera singer who has also appeared in motion pictures.-Early training and career:Ruggero Raimondi was born in Bologna, Italy, during World War II...



James Levine

James Levine

James Lawrence Levine is an American conductor and pianist. He is currently the music director of the Metropolitan Opera and former music director of the Boston Symphony Orchestra. Levine's first performance conducting the Metropolitan Opera was on June 5, 1971, and as of May 2011 he has...


,
Metropolitan Opera

Metropolitan Opera

The Metropolitan Opera is an opera company, located in New York City. Originally founded in 1880, the company gave its first performance on October 22, 1883. The company is operated by the non-profit Metropolitan Opera Association, with Peter Gelb as general manager...


Orchestra and Chorus
(Recorded live on 12 and 17 December)
DVD: Pioneer Classics
Cat: PC-99-102-D
1983
Plácido Domingo

Plácido Domingo

Plácido Domingo KBE , born José Plácido Domingo Embil, is a Spanish tenor and conductor known for his versatile and strong voice, possessing a ringing and dramatic tone throughout its range...



Mirella Freni

Mirella Freni

Mirella Freni, birth name Mirella Fregni, is an Italian opera soprano whose repertoire includes Verdi, Puccini, Mozart and Tchaikovsky...



Renato Bruson

Renato Bruson

Renato Bruson is an Italian operatic baritone. Bruson is widely considered one of the most important Verdi baritones of the late 20th and early 21st century. He was born in Granze near Padua, Italy.-Biography and career:...



Nicolai Ghiaurov

Nicolai Ghiaurov

Nicolai Ghiaurov was a Bulgarian opera singer and one of the most famous bass singers of the postwar period. He was admired for his powerful, sumptuous voice, and was particularly associated with roles of Verdi.Ghiaurov married the Italian soprano Mirella Freni in 1978...



Riccardo Muti

Riccardo Muti

Riccardo Muti, Cavaliere di Gran Croce OMRI is an Italian conductor and music director of the Chicago Symphony Orchestra.-Childhood and education:...


,
Teatro alla Scala Orchestra and Chorus
(Production by Luca Ronconi

Luca Ronconi

Luca Ronconi is an Italian actor, theater director, and opera director.- Biography :After growing up in Tunisia, where his mother was a school teacher, he graduated from the Academy of Dramatic Art in Rome in 1953. He acted in productions of Luigi Squarzina, Orazio Costa, Michelangelo Antonioni...


)
(Recording of a performance in the Teatro alla Scala, 4 January)
DVD: Kultur Video
Cat: D72913
1987
Luciano Pavarotti

Luciano Pavarotti

right|thumb|Luciano Pavarotti performing at the opening of the Constantine Palace in [[Strelna]], 31 May 2003. The concert was part of the celebrations for the 300th anniversary of [[St...



Joan Sutherland

Joan Sutherland

Dame Joan Alston Sutherland, OM, AC, DBE was an Australian dramatic coloratura soprano noted for her contribution to the renaissance of the bel canto repertoire from the late 1950s through to the 1980s....



Leo Nucci

Leo Nucci

Leo Nucci is an Italian operatic baritone, particularly suited to Verdi roles.Born at Castiglione dei Pepoli, near Bologna, he studied with Giuseppe Marchese and made his stage debut in Spoleto, as Figaro in Il barbiere di Siviglia, in 1967, he then joined the chorus of La Scala in Milan, and...



Paata Burchuladze

Paata Burchuladze

Paata Burchuladze is a Georgian bass opera singer.Born in Tbilisi, Georgian SSR, he graduated from the Tbilisi State Conservatory and began his operatic career at Tbilisi and Moscow, with subsequent appearances at Covent Garden , Salzburg Festival under Herbert von Karajan , Metropolitan Opera in...



Richard Bonynge

Richard Bonynge

Richard Alan Bonynge, AO, CBE is an Australian conductor and pianist.Bonynge was born in Sydney and educated at Sydney Boys High School before studying piano at the Royal College of Music in London. He gave up his music scholarship, continuing his private piano studies, and became a coach for...


,
Orchestra and Chorus of Welsh National Opera

Welsh National Opera

Welsh National Opera is an opera company founded in Cardiff, Wales in 1943. The WNO tours Wales, the United Kingdom and the rest of the world extensively. Annually, it gives more than 120 performances of eight main stage operas to a combined audience of around 150,000 people...



CD: Decca

Decca Records

Decca Records began as a British record label established in 1929 by Edward Lewis. Its U.S. label was established in late 1934; however, owing to World War II, the link with the British company was broken for several decades....


/London
2005
Marco Berti
Susan Neves
Carlo Guelfi
Giacomo Prestia

Giacomo Prestia

Giacomo Prestia is an Italian operatic bass,A native of Florence , Giacomo Prestia studied vocal technique with Maestro Sergio Catoni...



Antonello Allemandi,
Teatro Regio di Parma

Teatro Regio di Parma

Teatro Regio di Parma is a famous 19th century opera house and opera company in Parma, Italy. The theatre was originally known as the Teatro Ducale....



(Production by Pier' Alli, Video direction by Matteo Ricchetti)
(Audio and video recordings of a performance(s) May)
DVD: Dynamic

Dynamic (record label)

Dynamic is an Italian independent record label located in Genoa. Founded in 1978, it specialises in classical music and opera, especially rarely performed works and has produced several world premiere recordings...


33496
University of Chicago Critical Edition
External links