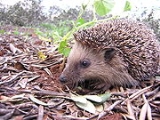 Erinaceidae
Erinaceidae
is the only living family in the order
Erinaceomorpha
, which has recently been subsumed with
Soricomorpha
Soricomorpha
The order Soricomorpha is taxon within the class of mammals. In previous years it formed a significant group within the former order Insectivora...
into the order
Eulipotyphla
. Eulipotyphla has been shown to be monophyletic; Soricomorpha is
paraphyletic
Paraphyly
A group of taxa is said to be paraphyletic if the group consists of all the descendants of a hypothetical closest common ancestor minus one or more monophyletic groups of descendants...
because Soricidae shared a more recent common ancestor with Erinaceidae than with other soricomorphs.
Erinaceidae contains the well-known
hedgehog
Hedgehog
A hedgehog is any of the spiny mammals of the subfamily Erinaceinae and the order Erinaceomorpha. There are 17 species of hedgehog in five genera, found through parts of Europe, Asia, Africa, and New Zealand . There are no hedgehogs native to Australia, and no living species native to the Americas...
s (subfamily Erinaceinae) of Eurasia and Africa and the
gymnure
Gymnure
The gymnure, also called a hairy hedgehog or moonrat, is a type of mammal belonging to the subfamily Galericinae, in the family Erinaceidae and the order Erinaceomorpha...
s or moonrats (subfamily Galericinae) of South-east Asia. This family was once considered part of the order
Insectivora
Insectivora
The order Insectivora is a now-abandoned biological grouping within the class of mammals...
, but that
polyphyletic
Polyphyly
A polyphyletic group is one whose members' last common ancestor is not a member of the group.For example, the group consisting of warm-blooded animals is polyphyletic, because it contains both mammals and birds, but the most recent common ancestor of mammals and birds was cold-blooded...
order is now considered defunct.
Characteristics
Erinaceids are generally
shrew
Shrew
A shrew or shrew mouse is a small molelike mammal classified in the order Soricomorpha. True shrews are also not to be confused with West Indies shrews, treeshrews, otter shrews, or elephant shrews, which belong to different families or orders.Although its external appearance is generally that of...
-like in form, with long snouts and short tails. They are, however, much larger than shrews, ranging from 10–15 cm in body length and 40-60 grams in weight, in the case of the
Short-tailed Gymnure
Short-tailed Gymnure
The Short-tailed Gymnure is a small erinaceomorph that is found in southeast Asia. This gymnure, which resembles a large mouse, grows to a length of 4-6 inches, and feeds on insects, worms and other small animals.-External links:*...
, up to 26–45 cm and 1-1.4 kilograms in the Greater Moonrat. All but one species have five toes in each foot, in some cases with strong claws for digging, and they have large eyes and ears. Hedgehogs possess hair modified into sharp
spines
Spine (zoology)
A spine is a hard, thorny or needle-like structure which occurs on various animals. Animals such as porcupines and sea urchins grow spines as a self-defense mechanism. Spines are often formed of keratin...
to form a protective covering over the upper body and flanks, while gymnures have only normal hair. Most species have anal
scent gland
Scent gland
Scent glands are found in the genital area of most mammals and in various other parts of the body, such as the underarms of humans and the preorbital glands of deer and muskox. They produce a semi-viscous fluid which contains pheromones. These odor-messengers indicate information such as status,...
s, but these are far better developed in gymnures, which can have a powerful odor.
Erinaceids are
omnivorous
Omnivore
Omnivores are species that eat both plants and animals as their primary food source...
, with the major part of their diet consisting of insects, earthworms, and other small invertebrates. They also eat seeds and fruit, and occasionally bird's eggs, along with any
carrion
Carrion
Carrion refers to the carcass of a dead animal. Carrion is an important food source for large carnivores and omnivores in most ecosystems. Examples of carrion-eaters include vultures, hawks, eagles, hyenas, Virginia Opossum, Tasmanian Devils, coyotes, Komodo dragons, and burying beetles...
they come across. Their teeth are sharp and suited for impaling invertebrate prey. The
dental formula
Dentition
Dentition pertains to the development of teeth and their arrangement in the mouth. In particular, the characteristic arrangement, kind, and number of teeth in a given species at a given age...
for erinaceids is:
Hedgehogs are nocturnal, but gymnures are less so, and may be active during the day. Many species live in simple burrows, while others construct temporary nests on the surface from leaves and grass, or shelter in hollow logs or similar hiding places. Erinaceids are solitary animals outside the breeding season, and the father plays no role in raising the young.
Female erinaceids give birth after a gestation period of around six to seven weeks. The young are born blind and hairless, although hedgehogs begin to sprout their spines within 36 hours of birth.
Evolution
Erinaceids are a relatively primitive group of placental mammals, having changed little since their origin in the
Eocene
Eocene
The Eocene Epoch, lasting from about 56 to 34 million years ago , is a major division of the geologic timescale and the second epoch of the Paleogene Period in the Cenozoic Era. The Eocene spans the time from the end of the Palaeocene Epoch to the beginning of the Oligocene Epoch. The start of the...
. The so-called 'giant hedgehog' (actually a
gymnure
Gymnure
The gymnure, also called a hairy hedgehog or moonrat, is a type of mammal belonging to the subfamily Galericinae, in the family Erinaceidae and the order Erinaceomorpha...
)
Deinogalerix
Deinogalerix
Deinogalerix , was a genus of the order Erinaceomorpha, which lived in Italy in the Late Miocene. The genus was apparently endemic to what was then Gargano Island, today's Gargano peninsula...
, from the
Miocene
Miocene
The Miocene is a geological epoch of the Neogene Period and extends from about . The Miocene was named by Sir Charles Lyell. Its name comes from the Greek words and and means "less recent" because it has 18% fewer modern sea invertebrates than the Pliocene. The Miocene follows the Oligocene...
of Gargano Island (part of modern
Italy
Italy
Italy , officially the Italian Republic languages]] under the European Charter for Regional or Minority Languages. In each of these, Italy's official name is as follows:;;;;;;;;), is a unitary parliamentary republic in South-Central Europe. To the north it borders France, Switzerland, Austria and...
), was the size of a large rabbit, and may have eaten vertebrate prey or carrion, rather than insects.
Classification
There are 10 genera and 24 species of erinaceid.
ORDER ERINACEOMORPHA

†Family Amphilemuridae

†Genus Alsaticopithecus
†Genus Amphilemur
†Genus Gesneropithex
†Genus Macrocranion

Macrocranion

Macrocranion is a genus of extinct mammal. Macrocranion has been found in the Messel Pit.The genus Macrocranion is represented in this site by two species. M. tupaiodon had woolly fur with no spikes. Although possibly an omnivore, fossil remains indicate the specimen had eaten fish near the time of...



†Genus Pholidocercus

Pholidocercus

Pholidocercus is an extinct monotypic genus of mammal related to and resembling the modern-day hedgehog with a single species Pholidocercus hassiacus. Like the hedgehog, it was covered in thin spines. Unlike hedgehogs, it had scales on its head in a helmet-like formation, and had a long, thick,...




Family Erinaceidae

Subfamily Erinaceinae (Hedgehogs)
Subfamily Galericinae (Gymnures, or Moonrats)

Genus Deinogalerix

Deinogalerix

Deinogalerix , was a genus of the order Erinaceomorpha, which lived in Italy in the Late Miocene. The genus was apparently endemic to what was then Gargano Island, today's Gargano peninsula...


(Extinct)
Genus Echinosorex

Greater Moonrat, Echinosorex gymnura

Genus Hylomys

Hylomys

Hylomys is a small genus of the family Erinaceidae. Hylomys species, like all species in the subfamily Galericinae, are known as gymnures or moonrats...




Long-eared Gymnure, Hylomys megalotis
Dwarf Gymnure

Dwarf Gymnure

The Dwarf Gymnure is a gymnure found only at Mount Kerinci, Sumatra, Indonesia. It is listed by the International Union for Conservation of Nature as a critically endangered species due to a restricted range....


, Hylomys parvus
Short-tailed Gymnure

Short-tailed Gymnure

The Short-tailed Gymnure is a small erinaceomorph that is found in southeast Asia. This gymnure, which resembles a large mouse, grows to a length of 4-6 inches, and feeds on insects, worms and other small animals.-External links:*...


or Lesser Moonrat, Hylomys suillus

Genus Neohylomys

Hainan Gymnure

Hainan Gymnure

The Hainan Gymnure or Hainan Moonrat is a species of mammal in the Erinaceidae family. It is endemic to China. Its natural habitat is subtropical or tropical dry forests.It is in the monotypic genus Neohylomys....


, Neonylomys hainanensis

Genus Neotetracus

Shrew Gymnure

Shrew Gymnure

The Shrew Gymnure or Shrew Hedgehog is a species of mammal in the Erinaceidae family. It is found in China, Myanmar, and Vietnam.It is the only species in the genus Neotetracus.-Source:...


, Neotetracus sinensis

Genus Podogymnura

Podogymnura

Podogymnura is a genus of mammal in the Erinaceidae family.It contains the following species:* Dinagat Moonrat * Mindanao Gymnure...




Dinagat Gymnure

Dinagat Gymnure

The Dinagat Gymnure is a species of mammal in the Erinaceidae family. It is endemic to the Philippines.Its natural habitat is subtropical or tropical dry forests. It is threatened by habitat loss.-Source:...


, Podogymnura aureospinula
Mindanao Gymnure

Mindanao Gymnure

The Mindanao Gymnure or Mindanao Moonrat is a species of mammal in the Erinaceidae family. It is endemic to the Philippines. Its natural habitat is subtropical or tropical dry forests. It is threatened by habitat loss....


, Podogymnura truei