 Epigraphy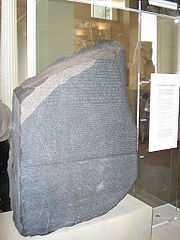 Epigraphy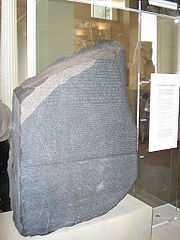 Epigraphy
(from the , literally "on-writing", is the study of inscriptions or epigraphs as
writing
Writing
Writing is the representation of language in a textual medium through the use of a set of signs or symbols . It is distinguished from illustration, such as cave drawing and painting, and non-symbolic preservation of language via non-textual media, such as magnetic tape audio.Writing most likely...
; that is, the science of identifying the
grapheme
s and of classifying their use as to cultural context and date, elucidating their meaning and assessing what conclusions can be deduced concerning the writing and the writers. Specifically excluded from epigraphy is the historical significance of an epigraph as a
document
Document
The term document has multiple meanings in ordinary language and in scholarship. WordNet 3.1. lists four meanings :* document, written document, papers...
or the artistic value of a
literary
Literature
Literature is the art of written works, and is not bound to published sources...
composition.
A person utilizing the methods of epigraphy is called an
epigrapher
or
epigraphist
. For example, the
Behistun inscription
Behistun Inscription
The Behistun Inscription The Behistun Inscription The Behistun Inscription (also Bistun or Bisutun, Modern Persian: بیستون The Behistun Inscription (also Bistun or Bisutun, Modern Persian: بیستون...
is an official
document
Document
The term document has multiple meanings in ordinary language and in scholarship. WordNet 3.1. lists four meanings :* document, written document, papers...
of the
Achaemenid Empire
Achaemenid Empire
The Achaemenid Empire , sometimes known as First Persian Empire and/or Persian Empire, was founded in the 6th century BCE by Cyrus the Great who overthrew the Median confederation...
engraved on native rock at a location in
Iran
Iran
Iran , officially the Islamic Republic of Iran , is a country in Southern and Western Asia. The name "Iran" has been in use natively since the Sassanian era and came into use internationally in 1935, before which the country was known to the Western world as Persia...
. Epigraphists are responsible for reconstructing, translating and dating the trilingual inscription and finding any relevant circumstances. It is the work of
historian
Historian
A historian is a person who studies and writes about the past and is regarded as an authority on it. Historians are concerned with the continuous, methodical narrative and research of past events as relating to the human race; as well as the study of all history in time. If the individual is...
s, however, to determine and interpret the events recorded by the inscription as document. Often epigraphy and history are competences practiced by the same person.
An epigraph is any sort of text, from a single grapheme (such as marks on a pot that abbreviate the name of the merchant who shipped commodities in the pot) to a lengthy document (such as a treaty, a work of literature, or a
hagiographic
Hagiography
Hagiography is the study of saints.From the Greek and , it refers literally to writings on the subject of such holy people, and specifically to the biographies of saints and ecclesiastical leaders. The term hagiology, the study of hagiography, is also current in English, though less common...
prescription). Epigraphy overlaps other competences such as
numismatics
Numismatics
Numismatics is the study or collection of currency, including coins, tokens, paper money, and related objects. While numismatists are often characterized as students or collectors of coins, the discipline also includes the broader study of money and other payment media used to resolve debts and the...
or
palaeography
Palaeography
Palaeography, also spelt paleography is the study of ancient writing. Included in the discipline is the practice of deciphering, reading, and dating historical manuscripts, and the cultural context of writing, including the methods with which writing and books were produced, and the history of...
. Most inscriptions are short compared to books. The media and the forms of the graphemes can be any whatever:
engraving
Engraving
Engraving is the practice of incising a design on to a hard, usually flat surface, by cutting grooves into it. The result may be a decorated object in itself, as when silver, gold, steel, or glass are engraved, or may provide an intaglio printing plate, of copper or another metal, for printing...
s in stone or metal, scratches on rock, impressions in wax,
embossing
Repoussé and chasing
Repoussé or repoussage is a metalworking technique in which a malleable metal is ornamented or shaped by hammering from the reverse side to create a design in low relief. There are few techniques that offer such diversity of expression while still being relatively economical...
on cast metal, cameo or intaglio on precious stones, painting on
ceramic
Ceramic
A ceramic is an inorganic, nonmetallic solid prepared by the action of heat and subsequent cooling. Ceramic materials may have a crystalline or partly crystalline structure, or may be amorphous...
or in
fresco
Fresco
Fresco is any of several related mural painting types, executed on plaster on walls or ceilings. The word fresco comes from the Greek word affresca which derives from the Latin word for "fresh". Frescoes first developed in the ancient world and continued to be popular through the Renaissance...
. Typically the material is durable, but the durability might be an accident of circumstance, such as the baking of a clay tablet in a conflagration.
Scope
Epigraphy is a primary tool of
archaeology
Archaeology
Archaeology, or archeology , is the study of human society, primarily through the recovery and analysis of the material culture and environmental data that they have left behind, which includes artifacts, architecture, biofacts and cultural landscapes...
when dealing with literate cultures. The US Library of Congress classifies epigraphy as one of the
auxiliary sciences of history
Auxiliary sciences of history
Auxiliary sciences of history are scholarly disciplines which help evaluate and use historical sources and are seen as auxiliary for historical research...
. Epigraphy also helps identify a
forgery
Forgery
Forgery is the process of making, adapting, or imitating objects, statistics, or documents with the intent to deceive. Copies, studio replicas, and reproductions are not considered forgeries, though they may later become forgeries through knowing and willful misrepresentations. Forging money or...
: epigraphic evidence formed part of the discussion concerning the
James Ossuary
James Ossuary
The James Ossuary is a 2,000-year old chalk box that was used for containing the bones of the dead. The Aramaic inscription: Ya'akov bar-Yosef akhui diYeshua is cut into one side of the box...
.
The study of ancient
handwriting
Handwriting
Handwriting is a person's particular & individual style of writing with pen or pencil, which contrasts with "Hand" which is an impersonal and formalised writing style in several historical varieties...
, usually in ink, is a separate field,
palaeography
Palaeography
Palaeography, also spelt paleography is the study of ancient writing. Included in the discipline is the practice of deciphering, reading, and dating historical manuscripts, and the cultural context of writing, including the methods with which writing and books were produced, and the history of...
.
The character of the writing, the subject of epigraphy, is a matter quite separate from the nature of the text, which is studied in itself. Texts inscribed in stone are usually for public view and so they are essentially different from the written texts of each culture. Not all inscribed texts are public, however: in
Mycenaean Greece
Mycenaean Greece
Mycenaean Greece was a cultural period of Bronze Age Greece taking its name from the archaeological site of Mycenae in northeastern Argolis, in the Peloponnese of southern Greece. Athens, Pylos, Thebes, and Tiryns are also important Mycenaean sites...
the deciphered texts of "
Linear B
Linear B
Linear B is a syllabic script that was used for writing Mycenaean Greek, an early form of Greek. It pre-dated the Greek alphabet by several centuries and seems to have died out with the fall of Mycenaean civilization...
" were revealed to be largely used for economic and administrative record keeping. Informal inscribed texts are "
graffiti
Graffito (archaeology)
A Graffito , in an archaeological context, is a deliberate mark made by scratching or engraving on a large surface such as a wall. The marks may form an image or writing...
" in its original sense.
History
The science of epigraphy has been developing steadily since the 16th century. Principles of epigraphy vary culture by culture, and the infant science in European hands concentrated on Latin inscriptions at first. Individual contributions have been made by epigraphers such as
Georg Fabricius
Georg Fabricius
Georg Fabricius , born Georg Goldschmidt, was a Protestant German poet, historian and archaeologist.- Life :...
(1516–1571);
August Wilhelm Zumpt
August Wilhelm Zumpt
August Wilhelm Zumpt was a German classical scholar, known chiefly in connection with Latin epigraphy. He was a nephew of Karl Gottlob Zumpt....
(1815–1877);
Theodor Mommsen
Theodor Mommsen
Christian Matthias Theodor Mommsen was a German classical scholar, historian, jurist, journalist, politician, archaeologist, and writer generally regarded as the greatest classicist of the 19th century. His work regarding Roman history is still of fundamental importance for contemporary research...
(1817–1903);
Emil Hübner
Emil Hübner
Emil Hübner was a German classical scholar.He was born at Düsseldorf, the son of the historical painter Julius Hübner ,...
(1834–1901);
Franz Cumont
Franz Cumont
Franz-Valéry-Marie Cumont was a Belgian archaeologist and historian, a philologist and student of epigraphy, who brought these often isolated specialties to bear on the syncretic mystery religions of Late Antiquity, notably Mithraism. Cumont was a graduate of the University of Ghent...
(1868–1947);
Louis Robert
Louis Robert
Louis Robert was a professor of Greek history and Epigraphy at the Collège de France, and author of many volumes and articles on Greek epigraphy , numismatics, and the historical geography of Greek lands...
(1904–1985).
The
Corpus Inscriptionum Latinarum
Corpus Inscriptionum Latinarum
The Corpus Inscriptionum Latinarum is a comprehensive collection of ancient Latin inscriptions. It forms an authoritative source for documenting the surviving epigraphy of classical antiquity. Public and personal inscriptions throw light on all aspects of Roman life and history...
, begun by Mommsen and other scholars, has been published in Berlin since 1863, with wartime interruptions. It is the largest and most extensive collection of Latin inscriptions. New
fascicles
Book
A book is a set or collection of written, printed, illustrated, or blank sheets, made of hot lava, paper, parchment, or other materials, usually fastened together to hinge at one side. A single sheet within a book is called a leaf or leaflet, and each side of a leaf is called a page...
are still produced as the recovery of inscriptions continues. The
Corpus
is arranged geographically: all inscriptions from Rome are contained in volume 6. This volume has the greatest number of inscriptions; volume 6, part 8, fascicle 3 was just recently published (2000). Specialists depend on such on-going series of volumes in which newly discovered inscriptions are published, often in Latin, not unlike the biologists'
Zoological Record
— the raw material of history.
Greek epigraphy has unfolded in the hands of a different team, with different
corpora
Text corpus
In linguistics, a corpus or text corpus is a large and structured set of texts...
. There are two. The first is
Corpus Inscriptionum Graecarum
of which four volumes came out, again at Berlin, 1825-1877. This marked a first attempt at a comprehensive publication of Greek inscriptions copied from all over the Greek-speaking world. Only advanced students still consult it, for better editions of the texts have superseded it. The second, modern corpus is
Inscriptiones Graecae
Inscriptiones Graecae
The Inscriptiones Graecae , is an academic project originally begun by the Prussian Academy of Science, and today continued by its successor organisation, the Berlin-Brandenburgische Akademie der Wissenschaften...
arranged geographically under categories: decrees, catalogues, honorary titles, funeral inscriptions, various., all presented in Latin, to preserve the international neutrality of the field of
classics
Classics
Classics is the branch of the Humanities comprising the languages, literature, philosophy, history, art, archaeology and other culture of the ancient Mediterranean world ; especially Ancient Greece and Ancient Rome during Classical Antiquity Classics (sometimes encompassing Classical Studies or...
.
Other such series include the
Corpus Inscriptionum Etruscarum
Corpus Inscriptionum Etruscarum
The Corpus Inscriptionum Etruscarum is a corpus of Etruscan texts, collected by Karl Pauli and his followers since 1885. After the death of Olof August Danielsson in 1933, this collection was passed on to the Uppsala University Library.The CIE serves as a valuable reference index for many Etruscan...
(Etruscan inscriptions),
Corpus Inscriptionum Crucesignatorum Terrae Sanctae
(Crusaders' inscriptions),
Corpus Inscriptionum Insularum Celticarum,
(Celtic inscriptions),
Corpus Inscriptionum Iranicarum
(Iranian inscriptions) and so forth.
Egyptian hieroglyphs were solved using the
Rosetta Stone
Rosetta Stone
The Rosetta Stone is an ancient Egyptian granodiorite stele inscribed with a decree issued at Memphis in 196 BC on behalf of King Ptolemy V. The decree appears in three scripts: the upper text is Ancient Egyptian hieroglyphs, the middle portion Demotic script, and the lowest Ancient Greek...
, which was a multilingual stele in Classical Greek, Demotic Egyptian and Classical Egyptian hieroglyphs. The work was done by the French scholar,
Jean-François Champollion
Jean-François Champollion
Jean-François Champollion was a French classical scholar, philologist and orientalist, decipherer of the Egyptian hieroglyphs....
, and the British scientist
Thomas Young
Thomas Young
Thomas Young may refer to:*Thomas Young , Scottish Presbyterian and author*Thomas Young , member of the Sons of Liberty*Thomas Young , British polymath, scientist and Egyptologist...
.
The interpretation of Maya hieroglyphs was lost as a result of the Spanish Conquest of Central America. However, recent work by Maya epigraphers and linguists has yielded a considerable amount of information on this complex writing system.