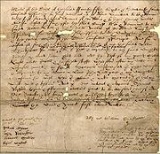 Palaeography
Palaeography
, also spelt
paleography
(from
Greek
Greek language
Greek is an independent branch of the Indo-European family of languages. Native to the southern Balkans, it has the longest documented history of any Indo-European language, spanning 34 centuries of written records. Its writing system has been the Greek alphabet for the majority of its history;...
palaiós
, "old" and
graphein
, "to write") is the study of ancient
writing
Writing
Writing is the representation of language in a textual medium through the use of a set of signs or symbols . It is distinguished from illustration, such as cave drawing and painting, and non-symbolic preservation of language via non-textual media, such as magnetic tape audio.Writing most likely...
. Included in the discipline is the practice of deciphering, reading, and dating historical manuscripts, and the cultural context of writing, including the methods with which writing and books were produced, and the history of
scriptoria
Scriptorium
Scriptorium, literally "a place for writing", is commonly used to refer to a room in medieval European monasteries devoted to the copying of manuscripts by monastic scribes...
.
Palaeography can be an essential skill for
historian
Historian
A historian is a person who studies and writes about the past and is regarded as an authority on it. Historians are concerned with the continuous, methodical narrative and research of past events as relating to the human race; as well as the study of all history in time. If the individual is...
s and
philologists
Philology
Philology is the study of language in written historical sources; it is a combination of literary studies, history and linguistics.Classical philology is the philology of Greek and Classical Latin...
, as it tackles two main difficulties.