 Eldora, Florida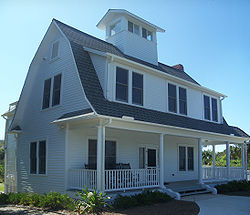 Eldora
is an uninhabited place in
Volusia County
Volusia County, Florida
Volusia County is a county located in the state of Florida. The U.S. Census Bureau 2010 official county's population was 494,593 . Its county seat is DeLand, and its most populous city is currently Deltona....
,
Florida
Florida
Florida is a state in the southeastern United States, located on the nation's Atlantic and Gulf coasts. It is bordered to the west by the Gulf of Mexico, to the north by Alabama and Georgia and to the east by the Atlantic Ocean. With a population of 18,801,310 as measured by the 2010 census, it...
,
United States
United States
The United States of America is a federal constitutional republic comprising fifty states and a federal district...
. It is located within
Canaveral National Seashore
Canaveral National Seashore
The Canaveral National Seashore is a National Seashore located between New Smyrna Beach and Titusville, Florida, in Volusia County and Brevard County, United States. The park, located on a barrier island, is home to more than 1,000 plant species and 310 bird species. CANA occupies 58,000 acres ...
, south of
Bethune Beach
Bethune Beach, Florida
Bethune Beach is an unincorporated community in Volusia County, Florida, United States.Bethune Beach is located just to the south of New Smyrna Beach, Florida, and its southern border is the northern end of the Canaveral National Seashore. Due to its remote location, Bethune Beach is accessible by...
, west of Volusia County Road A1A. The average
elevation
Elevation
The elevation of a geographic location is its height above a fixed reference point, most commonly a reference geoid, a mathematical model of the Earth's sea level as an equipotential gravitational surface ....
is 3 feet above
sea level
Sea level
Mean sea level is a measure of the average height of the ocean's surface ; used as a standard in reckoning land elevation...
.
History
Eldora was a prominent community of
orange
Orange (fruit)
An orange—specifically, the sweet orange—is the citrus Citrus × sinensis and its fruit. It is the most commonly grown tree fruit in the world....
groves in the latter part of the 19th century. After a
freeze
Freezing
Freezing or solidification is a phase change in which a liquid turns into a solid when its temperature is lowered below its freezing point. The reverse process is melting....
destroyed most of its crops, it was nearly completely abandoned and has never regained its
population
Population
A population is all the organisms that both belong to the same group or species and live in the same geographical area. The area that is used to define a sexual population is such that inter-breeding is possible between any pair within the area and more probable than cross-breeding with individuals...
.
After the death of its last resident, Doris "Doc" Leeper, a locally famous artist and conservationist in the 1980s, the management of the
town
Town
A town is a human settlement larger than a village but smaller than a city. The size a settlement must be in order to be called a "town" varies considerably in different parts of the world, so that, for example, many American "small towns" seem to British people to be no more than villages, while...
was officially turned over to the federal government, and the town is now located more than two miles within the borders of the Canaveral National Seashore. The town claims no permanent residents, and visitation is limited and subject to
park
Park
A park is a protected area, in its natural or semi-natural state, or planted, and set aside for human recreation and enjoyment, or for the protection of wildlife or natural habitats. It may consist of rocks, soil, water, flora and fauna and grass areas. Many parks are legally protected by...
hours. Only two of its original buildings remain. The largest, "
The Eldora House
Moulton-Wells House
The Moulton-Wells House is a historic home in New Smyrna Beach, Florida, United States. It is located west of Eldora Road, and is part of the Canaveral National Seashore. On November 21, 2001, it was added to the U.S. National Register of Historic Places.-References and external links:* at * at...
", now holds a
museum
Museum
A museum is an institution that cares for a collection of artifacts and other objects of scientific, artistic, cultural, or historical importance and makes them available for public viewing through exhibits that may be permanent or temporary. Most large museums are located in major cities...
. Although the town's orange groves were nearly completely wiped out over one hundred years ago, some trees still remain.
The town is also the site of two marine research facilities jointly shared by Daytona Beach College, and the
University of Central Florida
University of Central Florida
The University of Central Florida, commonly referred to as UCF, is a metropolitan public research university located in Orlando, Florida, United States...
.
Geography
Eldora is located at 28°54′33"N 80°49′11"W. The town's location is remote, and is only accessible by one service road, which is Volusia County Road A1A. It is nearly a thirty minute drive to the
mainland
Mainland
Mainland is a name given to a large landmass in a region , or to the largest of a group of islands in an archipelago. Sometimes its residents are called "Mainlanders"...
through New Smyrna Beach.