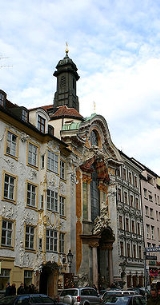 Egid Quirin Asam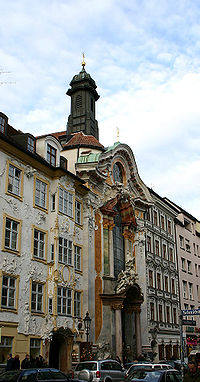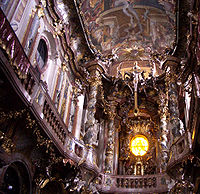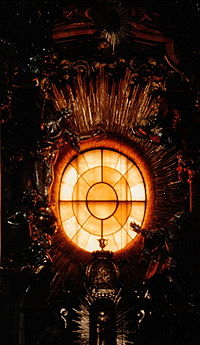 Egid Quirin Asam
was a
German
Germans
The Germans are a Germanic ethnic group native to Central Europe. The English term Germans has referred to the German-speaking population of the Holy Roman Empire since the Late Middle Ages....
plasterer
Plasterer
A plasterer is a tradesman who works with plaster, such as forming a layer of plaster on an interior wall or plaster decorative moldings on ceilings or walls...
and sculptor active during the period of the
Late Baroque
Baroque sculpture
Baroque sculpture is the sculpture associated with the Baroque cultural movement, a movement often identified with the existence of important Baroque art and architecture in non-absolutist and Protestant states.-Course:...
.
Born in
Tegernsee
Tegernsee
Tegernsee is a town in the Miesbach district of Bavaria, Germany. It is located on the shore of Tegernsee lake, at an elevation of 747 m above sea level....
,
Bavaria
Bavaria
Bavaria, formally the Free State of Bavaria is a state of Germany, located in the southeast of Germany. With an area of , it is the largest state by area, forming almost 20% of the total land area of Germany...
, Asam worked mainly together with his brother, the architect and painter
Cosmas Damian Asam
Cosmas Damian Asam
Cosmas Damian Asam was a German painter and architect during the late Baroque period. Born in Benediktbeuern, he moved to Rome in 1711 to study at the Accademia di San Luca with Carlo Maratta. There, he could see the fresco Ascensione di Cristo by Melozzo da Forlì in Santi Apostoli Church...
. Because of this, their common work is often attributed to the
Asam Brothers
Asam brothers
The Asam Brothers were sculptors, workers in stucco, painters, and architects, who worked mostly together and in southern Germany...
. Asam died in
Mannheim
Mannheim
Mannheim is a city in southwestern Germany. With about 315,000 inhabitants, Mannheim is the second-largest city in the Bundesland of Baden-Württemberg, following the capital city of Stuttgart....
.
Major works
The Asam Brothers, singularly and together, were very prolific artists. Some of their major works were:
Bavaria
Aldersbach

Aldersbach

Aldersbach is a municipality in the district of Passau in Bavaria in Germany. The former Cistercian Aldersbach Abbey, of which the baroque church remains, is located in the village....


—Monastery Church of Mariae Himmelfahrt

Aldersbach Abbey

Aldersbach Abbey is a former Cistercian monastery in the community of Aldersbach in the district of Passau in the valley of the Vils, Lower Bavaria, Germany.- History :...


(stucco

Stucco

Stucco or render is a material made of an aggregate, a binder, and water. Stucco is applied wet and hardens to a very dense solid. It is used as decorative coating for walls and ceilings and as a sculptural and artistic material in architecture...


of swirling garlands and capitals and pillars in the Italian Baroque

Baroque sculpture

Baroque sculpture is the sculpture associated with the Baroque cultural movement, a movement often identified with the existence of important Baroque art and architecture in non-absolutist and Protestant states.-Course:...


tradition)
Benediktbeuern

Benediktbeuern

Benediktbeuern is a municipality in the district of Bad Tölz-Wolfratshausen in Bavaria, Germany. The distance between Bichl and Benediktbeuern is only 2 kilometers, or 1.25 miles. The village has about 3,500 residents as of 2004....


—Church of St. Benedikt

Benediktbeuern Abbey

Benediktbeuern Abbey is a monastery of the Salesians of Don Bosco, originally a monastery of the Benedictine Order, in Benediktbeuern in Bavaria, near the Kochelsee, 64 km south-south-west of Munich...


(silver reliquary

Reliquary

A reliquary is a container for relics. These may be the physical remains of saints, such as bones, pieces of clothing, or some object associated with saints or other religious figures...


of St. Anastasia)
Freising

Freising

Freising is a town in Bavaria, Germany, and capital of the district Freising. Total population 48,500.The city is located north of Munich at the Isar river, near the Munich International Airport...


—Dom St. Maria and St. Korbinian (rococo

Rococo

Rococo , also referred to as "Late Baroque", is an 18th-century style which developed as Baroque artists gave up their symmetry and became increasingly ornate, florid, and playful...


paintings and stucco) (1723–1724)
Freystadt

Freystadt

Freystadt is a town in the district of Neumarkt in Bavaria, Germany. It is situated near the Rhine-Main-Danube Canal, 14 km southwest of Neumarkt in der Oberpfalz, and 33 km southeast of Nuremberg....


—Pilgrimage Church of Maria-Hilf (frescoes)
Fürstenfeldbruck

Fürstenfeldbruck

Fürstenfeldbruck is a town in Bavaria, Germany. It is the capital of the district of Fürstenfeldbruck. it has a population of 35,494. Since the 1930s, Fürstenfeldbruck has had an air force base....


—Monastery Church of the Ascension of the Blessed Virgin

Fürstenfeld Abbey

Fürstenfeld Abbey is a former Cistercian monastery in Fürstenfeldbruck in Bavaria, Germany.It is situated about 25 km north-west of Munich. The abbey was one of the household monasteries of the Wittelsbachs...


(side altars and high altar)
Munich

Munich

Munich The city's motto is "" . Before 2006, it was "Weltstadt mit Herz" . Its native name, , is derived from the Old High German Munichen, meaning "by the monks' place". The city's name derives from the monks of the Benedictine order who founded the city; hence the monk depicted on the city's coat...


—Franciscan Monastery Church of St. Anna im Lehel

Abbey Church of St. Anna (Lehel, Munich)

St. Anna im Lehel is a Catholic monastery in Munich, southern Germany. It was the first Rococo church of Old Bavaria and shaped the development of religious architecture in Bavaria. It is located in the center of Lehel near the Catholic parish church of St. Anna im Lehel.-References:- External...


(altars)
Munich

Munich

Munich The city's motto is "" . Before 2006, it was "Weltstadt mit Herz" . Its native name, , is derived from the Old High German Munichen, meaning "by the monks' place". The city's name derives from the monks of the Benedictine order who founded the city; hence the monk depicted on the city's coat...


—Catholic Church of St. Johann Nepomuk

Asamkirche (München)

St. Johann Nepomuk, better known as the Asam Church is a church in Munich, southern Germany, built from 1733 to 1746 by the brothers Egid Quirin Asam and Cosmas Damian Asam as their private church. Due to resistance of the citizens, the brothers were forced to make the church accessible to the...


(Asam Church) (built and decorated entirely by the Asam Brothers) (1733–1746)
Munich

Munich

Munich The city's motto is "" . Before 2006, it was "Weltstadt mit Herz" . Its native name, , is derived from the Old High German Munichen, meaning "by the monks' place". The city's name derives from the monks of the Benedictine order who founded the city; hence the monk depicted on the city's coat...


—Parish Church of St. Peter

St. Peter's Church, München

St. Peter's Church is a Roman Catholic church in the inner city of Munich, southern Germany. It is also the oldest church in the district.-History:...


(furnishings)
Osterhofen

Osterhofen

Osterhofen is a town in the district of Deggendorf, in Bavaria, Germany. It is situated on the right bank of the Danube, 16 km south of Deggendorf.Osterhofen Basilica:,...


—Papal Basilica of St. Margaretha (stucco and high altar)
Regensburg

Regensburg

Regensburg is a city in Bavaria, Germany, located at the confluence of the Danube and Regen rivers, at the northernmost bend in the Danube. To the east lies the Bavarian Forest. Regensburg is the capital of the Bavarian administrative region Upper Palatinate...


—Benedictine Monastery Church of St. Emmeram

St. Emmeram's Abbey

St. Emmeram's Abbey , now known as Schloss Thurn und Taxis, Schloss St. Emmeram, and St...


(stucco)
Rohr

Rohr

-Germany:*Rohr , in the Schmalkalden-Meiningen district, Thuringia*Rohr , in the Roth district, Bavaria*Rohr in Niederbayern, in the Kelheim district, Bavaria*A part of Plattling in the Deggendorf district, Bavaria...


—Monastery Church of Assumption (high altar) (ca. 1717)
Sandizell—Parish Church of St. Peter (high altar)
Straubing

Straubing

Straubing is an independent city in Lower Bavaria, southern Germany. It is seat of the district of Straubing-Bogen. Annually in August the Gäubodenvolksfest, the second largest fair in Bavaria, is held....


—Urselinenkirche (architect)
Weltenburg

Kelheim

Kelheim is a municipality in Bavaria, capital of the district Kelheim. It is situated at the confluence of Altmühl and Danube. As of June 30, 2005, the town had a population of 15,667....


—Monastery Church of St. George and St. Martin

Weltenburg Abbey

Weltenburg Abbey is a Benedictine monastery in Weltenburg in Kelheim on the Danube in Bavaria, Germany.-First foundation:...


(stucco, high altar, side altars) (1716–1724)
Baden-Würrtemberg
Mannheim—Jesuit Church of St. Ignatius and St. Francis Xavier (ceiling and dome paintings, now destroyed)
Meßkirch

Meßkirch

Meßkirch is a town in the district of Sigmaringen in Baden-Württemberg in Germany.Meßkirch was the residence of the counts of Zimmern, widely known through Count Froben Christoph's Zimmern Chronicle ....


—Johann Nepomuk Chapel in Basilica St. Martin (decorations) (1733–1734)
Austria
Innsbruck

Innsbruck

- Main sights :- Buildings :*Golden Roof*Kaiserliche Hofburg *Hofkirche with the cenotaph of Maximilian I, Holy Roman Emperor*Altes Landhaus...


—Dom zu St. Jakob (Cathedral of St. Jakob) (rococo stucco) (1722–1723)