 Edward Wadsworth
Edward Alexander Wadsworth
(29 October 1889 – 21 June 1949) was an English artist, most famous for his close association with
Vorticism
Vorticism
Vorticism, an offshoot of Cubism, was a short-lived modernist movement in British art and poetry of the early 20th century. It was based in London but international in make-up and ambition.-Origins:...
. He painted, often in tempera, coastal views, abstracts, portraits and still-life. He was also an engraver on wood and copper.
Biography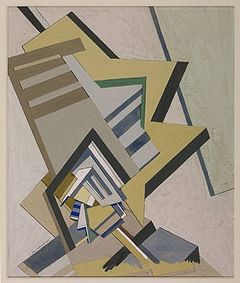 Early life and study
Wadsworth was born on 29 October 1889 in
Cleckheaton
Cleckheaton
Cleckheaton is a town within the Metropolitan Borough of Kirklees, in West Yorkshire, England, situated south of Bradford, east of Brighouse, west of Batley and south-west of Leeds...
,
West Yorkshire
West Yorkshire
West Yorkshire is a metropolitan county within the Yorkshire and the Humber region of England with a population of 2.2 million. West Yorkshire came into existence as a metropolitan county in 1974 after the passage of the Local Government Act 1972....
, and was educated at
Fettes College
Fettes College
Fettes College is an independent school for boarding and day pupils in Edinburgh, Scotland with over two thirds of its pupils in residence on campus...
in
Edinburgh
Edinburgh
Edinburgh is the capital city of Scotland, the second largest city in Scotland, and the eighth most populous in the United Kingdom. The City of Edinburgh Council governs one of Scotland's 32 local government council areas. The council area includes urban Edinburgh and a rural area...
. He studied engineering in
Munich
Munich
Munich The city's motto is "" . Before 2006, it was "Weltstadt mit Herz" . Its native name, , is derived from the Old High German Munichen, meaning "by the monks' place". The city's name derives from the monks of the Benedictine order who founded the city; hence the monk depicted on the city's coat...
between 1906-7, where he studied art in his spare time at the Knirr School. This provoked a change of course, as he attended Bradford School of Art before earning a scholarship to the Slade School of Art, London. His contemporaries at the school included
Stanley Spencer
Stanley Spencer
Sir Stanley Spencer was an English painter. Much of his work depicts Biblical scenes, from miracles to Crucifixion, happening not in the Holy Land but in the small Thames-side village where he was born and spent most of his life...
, CRW Nevinson, Mark Gertler,
Dora Carrington
Dora Carrington
Dora de Houghton Carrington , known generally as Carrington, was a British painter and decorative artist, remembered in part for her association with members of the Bloomsbury Group, especially the writer Lytton Strachey....
and
David Bomberg
David Bomberg
David Garshen Bomberg was an English painter, and one of the Whitechapel Boys.Bomberg was one of the most audacious of the exceptional generation of artists who studied at the Slade School of Art under Henry Tonks, and which included Mark Gertler, Stanley Spencer, C.R.W. Nevinson and Dora Carrington...
.
Career
Wadsworth's work was included in
Roger Fry's
Roger Fry
Roger Eliot Fry was an English artist and art critic, and a member of the Bloomsbury Group. Establishing his reputation as a scholar of the Old Masters, he became an advocate of more recent developments in French painting, to which he gave the name Post-Impressionism...
second Post-Impressionism Exhibition at The Grafton Galleries, 1912, in London, but he changed allegiance shortly after through friendship with Wyndham Lewis, and exhibited some futurist-derived paintings at the Futurist Exhibitions at the Doré Gallery. Although a member of the committee that organised a dinner in honour of
Filippo Tommaso Marinetti
Filippo Tommaso Marinetti
Filippo Tommaso Emilio Marinetti was an Italian poet and editor, the founder of the Futurist movement, and a fascist ideologue.-Childhood and adolescence:...
in 1913, he was one of a number of British painters in the nascent avant-garde that became increasingly disenchanted with the Italian's arrogance. By June of the following year, he was in a group of artists, including Lewis, who jeered Marinetti's public performance of
The Battle Of Adrianople
Zang Tumb Tumb
"Zang Tumb Tumb" is a sound poem and concrete poem written by Filippo Tommaso Marinetti, an Italian futurist. It appeared in excerpts in journals between 1912 and 1914, when it was published as an artist's book in Milan. It is an account of the Battle of Adrianople, which he witnessed as a reporter...
. He was a signatory of the Vorticist Manifesto published in
BLAST
the next month, and also supplied a review of
Kandinsky's
Wassily Kandinsky
Wassily Wassilyevich Kandinsky was an influential Russian painter and art theorist. He is credited with painting the first purely-abstract works. Born in Moscow, Kandinsky spent his childhood in Odessa. He enrolled at the University of Moscow, studying law and economics...
Concerning The Spiritual In Art
and images to be reproduced in the magazine.
First World War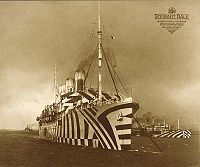 33 days after the magazine was published, war was declared on Germany. Vorticism managed to continue into 1915, with a Vorticist Exhibition, June 1915 at the Doré Gallery and a second edition of BLAST published to coincide with the show. Wadsworth contributed to both, but signed up for the navy shortly after. His fellow vorticists
Henri Gaudier-Brzeska
Henri Gaudier-Brzeska
Henri Gaudier-Brzeska was a French sculptor who developed a rough hewn, primitive style of direct carving....
and
T. E. Hulme
T. E. Hulme
Thomas Ernest Hulme was an English critic and poet who, through his writings on art, literature and politics, had a notable influence upon modernism.-Early life:...
were killed at the front; Bomberg and Lewis found that their belief in the purity of the machine age were seriously challenged by the realities in the trenches; Wadsworth spent the war in the Royal Naval Volunteer Reserve on the island of Mudros until invalided out in 1917, designing
dazzle camouflage
Dazzle camouflage
Dazzle camouflage, also known as Razzle Dazzle or Dazzle painting, was a camouflage paint scheme used on ships, extensively during World War I and to a lesser extent in World War II...
for allied ships. Known as Dazzle ships, these vessels weren't camouflaged to become invisible, but instead used ideas derived from Vorticism and
Cubism
Cubism
Cubism was a 20th century avant-garde art movement, pioneered by Pablo Picasso and Georges Braque, that revolutionized European painting and sculpture, and inspired related movements in music, literature and architecture...
to confuse enemy
U-boat
U-boat
U-boat is the anglicized version of the German word U-Boot , itself an abbreviation of Unterseeboot , and refers to military submarines operated by Germany, particularly in World War I and World War II...
s trying to pinpoint the direction and speed of travel. Always a fan of modern ships, Wadsworth was to utilise nautical themes in his art for the rest of his career.
The Return To Order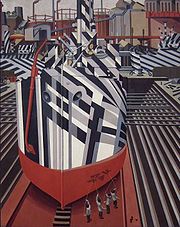 Heralded by the major painting
Dazzle Ship In Dry Dock
, 1919, Wadsworth moved away from the
avant-garde
Avant-garde
Avant-garde means "advance guard" or "vanguard". The adjective form is used in English to refer to people or works that are experimental or innovative, particularly with respect to art, culture, and politics....
in the 1920s, and adopted a more realistic style. However, towards the end of his life his work became increasingly strange and
surreal
Surrealism
Surrealism is a cultural movement that began in the early 1920s, and is best known for the visual artworks and writings of the group members....
, although Wadsworth never had any formal links with the official Surrealist movement.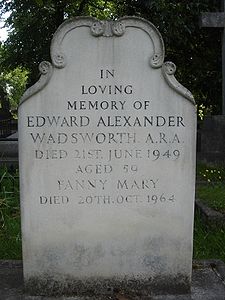 Later life
Wadsworth died in 1949, and is buried in
Brompton Cemetery
Brompton Cemetery
Brompton Cemetery is located near Earl's Court in South West London, England . It is managed by The Royal Parks and is one of the Magnificent Seven...
. The
Nasher Museum of Art
Nasher Museum of Art
The Nasher Museum of Art is the art museum of Duke University, and is located on Duke's campus in Durham, North Carolina, USA. The $24 million museum was designed by architect Rafael Viñoly and opened on October 2, 2005...
at
Duke University
Duke University
Duke University is a private research university located in Durham, North Carolina, United States. Founded by Methodists and Quakers in the present day town of Trinity in 1838, the school moved to Durham in 1892. In 1924, tobacco industrialist James B...
held an exhibition entitled
The Vorticists: Rebel Artists in London and New York, 1914-18
from September 30, 2010 through January 2, 2011 that included his work.
Influences
The graphic designer Peter Saville had seen the painting
Dazzle Ships In Drydock At Liverpool
(1919) by Edward Wadsworth and was struck by the image. After suggesting the idea and title to
Andy McCluskey
Andy McCluskey
George Andrew "Andy" McCluskey is the lead singer, bass guitarist, and primary songwriter for the band Orchestral Manoeuvres in the Dark ....
of
Orchestral Manoeuvres in the Dark
Orchestral Manoeuvres in the Dark
Orchestral Manoeuvres in the Dark are a synthpop group whose founding members are originally from the Wirral Peninsula, England...
, Saville carried the theme over to the sleeve design of their album
Dazzle Ships
Dazzle Ships (album)
The "Manor Version" of "Telegraph" was recorded at the same time as Architecture & Morality. "Swiss Radio International" was dropped from the album at the last minute...
.
Further reading
Black, Jonathan. Edward Wadsworth. I.B. Tauris

I.B. Tauris

I. B. Tauris is an independent publishing house with offices in London and New York.-History:I.B.Tauris was founded in 1983. Its declared strategy was to fill the perceived gap between trade publishing houses and university presses—that is, to publish serious but accessible works on international...


. 2006. ISBN 0-85667-603-9.
"Edward Wadsworth" in Roy R. Behrens, Camoupedia: A Compendium of Research on Art, Architecture and Camouflage. Dysart, Iowa: Bobolink Books, 2009. ISBN 978-0-97-132446-6.
LIT:Exhibition catalogue, Camden Arts Centre, 1990
Memorial Exhibition Catalogue, Tate Gallery, 1951
Edward Wadsworth. A Painter's Life, Barbara Wadsworth, Michael Russell Publishing Ltd,. 1989
A Genius of Industrial England; Edward Wadsworth 1889-1949, Jeremy Lewison (ed.), The Arkwright Arts Trust, 1990
External links