 Duralumin

Duralumin
is the trade name of one of the earliest types of age-hardenable
aluminium alloy
Aluminium alloy
Aluminium alloys are alloys in which aluminium is the predominant metal. The typical alloying elements are copper, magnesium, manganese, silicon and zinc. There are two principal classifications, namely casting alloys and wrought alloys, both of which are further subdivided into the categories...
s. The main alloying constituents are
copper
Copper
Copper is a chemical element with the symbol Cu and atomic number 29. It is a ductile metal with very high thermal and electrical conductivity. Pure copper is soft and malleable; an exposed surface has a reddish-orange tarnish...
,
manganese
Manganese
Manganese is a chemical element, designated by the symbol Mn. It has the atomic number 25. It is found as a free element in nature , and in many minerals...
, and
magnesium
Magnesium
Magnesium is a chemical element with the symbol Mg, atomic number 12, and common oxidation number +2. It is an alkaline earth metal and the eighth most abundant element in the Earth's crust and ninth in the known universe as a whole...
. A commonly used modern equivalent of this alloy type is AA2024, which contains 4.4% copper, 1.5% magnesium, 0.6% manganese and 93.5% aluminium by weight. Typical yield strength is 450 MPa (65 ksi), with variations depending on the composition and
temper
Tempering
Tempering is a heat treatment technique for metals, alloys and glass. In steels, tempering is done to "toughen" the metal by transforming brittle martensite or bainite into a combination of ferrite and cementite or sometimes Tempered martensite...
.
Duralumin was developed by the German metallurgist
Alfred Wilm
Alfred Wilm
Alfred Wilm , was a German metallurgist, who invented the alloy Al-3.5–5.5%Cu-Mg-Mn, now known as duraluminium, which is used extensively in aircraft....
at Dürener Metallwerke Aktien Gesellschaft. In 1903, Wilm discovered that after
quench
Quench
In materials science, quenching is the rapid cooling of a workpiece to obtain certain material properties. It prevents low-temperature processes, such as phase transformations, from occurring by only providing a narrow window of time in which the reaction is both thermodynamically favorable and...
ing, an aluminium alloy containing 4% copper would slowly harden when left at room temperature for several days. Further improvements led to the introduction of duralumin in 1909. The name is obsolete today, and mainly used in
popular science
Popular science
Popular science, sometimes called literature of science, is interpretation of science intended for a general audience. While science journalism focuses on recent scientific developments, popular science is broad-ranging, often written by scientists as well as journalists, and is presented in many...
to describe the Al-Cu alloy system, or 2000 series as designated by the International Alloy Designation System (IADS) originally created in 1970 by the Aluminum Association.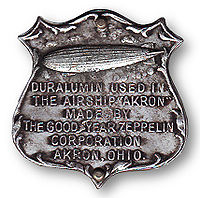 Its first use was in rigid
airship
Airship
An airship or dirigible is a type of aerostat or "lighter-than-air aircraft" that can be steered and propelled through the air using rudders and propellers or other thrust mechanisms...
frames eventually including the great German passenger Zeppelins
LZ 127 Graf Zeppelin
LZ 127 Graf Zeppelin
LZ 127 Graf Zeppelin was a German built and operated passenger-carrying hydrogen-filled rigid airship which operated commercially from 1928 to 1937. It was named after the German pioneer of airships, Ferdinand von Zeppelin, who was a Graf or Count in the German nobility. During its operating life,...
,
LZ 129 Hindenburg
LZ 129 Hindenburg
LZ 129 Hindenburg was a large German commercial passenger-carrying rigid airship, the lead ship of the Hindenburg class, the longest class of flying machine and the largest airship by envelope volume...
,
LZ 130 Graf Zeppelin II
LZ 130 Graf Zeppelin
The Graf Zeppelin II was the last of the great German rigid airships built by the Zeppelin Luftschiffbau during the period between the World Wars, the second and final ship of the Hindenburg class named in honor of Paul von Hindenburg...
, and U.S. Navy airships
USS Los Angeles (ZR-3, ex-LZ 126)
USS Los Angeles (ZR-3)
The second USS Los Angeles was a rigid airship, designated ZR-3, that was built in 1923-1924 by the Zeppelin factory in Friedrichshafen, Germany, where it was originally designated LZ-126...
,
USS Akron (ZRS-4)
USS Akron (ZRS-4)
USS Akron was a helium-filled rigid airship of the United States Navy that was lost in a weather-related accident off the New Jersey coast early on April 4, 1933, killing 73 of the 76 crew and passengers on board...
and
USS Macon (ZRS-5)
USS Macon (ZRS-5)
USS Macon was a rigid airship built and operated by the United States Navy for scouting. She served as a "flying aircraft carrier", launching Curtiss F9C Sparrowhawk biplane fighters. In service for less than two years, in 1935 Macon was damaged in a storm and lost off California's Big Sur coast,...
in the 1920s and 1930s. Its composition and
heat treatment
Heat treatment
Heat treating is a group of industrial and metalworking processes used to alter the physical, and sometimes chemical, properties of a material. The most common application is metallurgical. Heat treatments are also used in the manufacture of many other materials, such as glass...
were a wartime secret. With this new rip-resistant mixture, duralumin quickly spread throughout the
aircraft
Aircraft
An aircraft is a vehicle that is able to fly by gaining support from the air, or, in general, the atmosphere of a planet. An aircraft counters the force of gravity by using either static lift or by using the dynamic lift of an airfoil, or in a few cases the downward thrust from jet engines.Although...
industry in the early 1930s, where it was well suited to the new
monocoque
Monocoque
Monocoque is a construction technique that supports structural load by using an object's external skin, as opposed to using an internal frame or truss that is then covered with a non-load-bearing skin or coachwork...
construction techniques that were being introduced at the same time. Duralumin also is popular for use in precision tools such as levels because of its light weight and strength.
The earliest known attempt to use duralumin for a heavier-than-air aircraft structure occurred in 1916, when
Hugo Junkers
Hugo Junkers
Hugo Junkers was an innovative German engineer, as his many patents in varied areas show...
first introduced its use in the creation of the Junkers J 3's airframe, a single-engined monoplane that marked the first use of the Junkers trademark duralumin corrugated skinning. Only the covered wings and tubular fuselage framework of the J 3 were ever completed, before the project was abandoned - the slightly later
Junkers J.I
Junkers J.I
-See also:-References:NotesBibliography* Flight 18 March 1920* Grey, C. G. Jane's All the World's Aircraft 1919. London: Putnam, 1919.* Grosz, P.M. Junkers J.I, Windsock Datafile 39. Hertfordshire, UK: Albatros Productions Ltd., 1993. ISBN 0-948414-49-9.* Taylor, Michael J. H. Jane's Encyclopedia...
armored sesquiplane had its all-metal wings and horizontal stabilizer made in the same manner as the J 3's wings had been, along with the experimental and airworthy all-duralumin Junkers J 7 single seat fighter design, which led to the
Junkers D.I
Junkers D.I
-External links:* *...
low-wing monoplane fighter introducing all-duralumin aircraft structural technology to German military aviation in 1918.
Although the addition of copper improves strength, it also makes these alloys susceptible to
corrosion
Corrosion
Corrosion is the disintegration of an engineered material into its constituent atoms due to chemical reactions with its surroundings. In the most common use of the word, this means electrochemical oxidation of metals in reaction with an oxidant such as oxygen...
. For sheet products, corrosion resistance can be greatly enhanced by metallurgical bonding of a high-purity aluminium surface layer. These sheets are referred to as
alclad
Alclad
Alclad is a trademark of Alcoa used as a generic term to describe corrosion resistant aluminium sheet formed from high-purity aluminium surface layers metallurgically bonded to high strength aluminium alloy core material. These sheets are commonly used by the aircraft industry...
, and are commonly used by the aircraft industry.
Applications
List of typical uses for the
wrought
Metalworking
Metalworking is the process of working with metals to create individual parts, assemblies, or large scale structures. The term covers a wide range of work from large ships and bridges to precise engine parts and delicate jewelry. It therefore includes a correspondingly wide range of skills,...
Al-Cu alloys:
2011: Wire, rod, and bar for screw machine products. Applications where good machinability

Machinability

The term machinability refers to the ease with which a metal can be machined to an acceptable surface finish. Materials with good machinability require little power to cut, can be cut quickly, easily obtain a good finish, and do not wear the tooling much; such materials are said to be free machining...


and good strength are required.
2014: Heavy-duty forging

Forging

Forging is a manufacturing process involving the shaping of metal using localized compressive forces. Forging is often classified according to the temperature at which it is performed: '"cold," "warm," or "hot" forging. Forged parts can range in weight from less than a kilogram to 580 metric tons...


s, plate, and extrusions for aircraft fittings, wheels, and major structural components, space booster tankage and structure, truck frame and suspension components. Applications requiring high strength and hardness including service at elevated temperatures.
2024

2024 aluminum

Aluminium alloy 2024 is an aluminium alloy, with copper as the primary alloying element. It is used in applications requiring high strength to weight ratio, as well as good fatigue resistance. It is not weldable, and has average machinability...


: Aircraft structures, rivets, hardware, truck wheels, screw machine products, and other miscellaneous structural applications.
2036: Sheet for auto body panels.
2048: Sheet and plate in structural components for aerospace application and military equipment.
2141: Plate in thicknesses of 40 to 150 mm (1.6 to 5.9 in) for aircraft structures.
2218: Forgings; aircraft and diesel engine

Diesel engine

A diesel engine is an internal combustion engine that uses the heat of compression to initiate ignition to burn the fuel, which is injected into the combustion chamber...


pistons; aircraft engine cylinder heads; jet engine

Jet engine

A jet engine is a reaction engine that discharges a fast moving jet to generate thrust by jet propulsion and in accordance with Newton's laws of motion. This broad definition of jet engines includes turbojets, turbofans, rockets, ramjets, pulse jets...


impellers and compressor rings.
2219: Welded space booster oxidizer and fuel tanks, supersonic aircraft skin and structure components. Readily weldable and useful for applications over temperature range of -270 C. Has high fracture toughness, and the T8 temper is highly resistant to stress-corrosion cracking.
2618: Die and hand forgings. Pistons and rotating aircraft engine parts for operation at elevated temperatures. Tire molds.