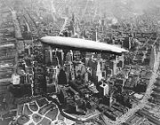 USS Los Angeles (ZR-3)
The second
USS Los Angeles was a rigid airship

Airship

An airship or dirigible is a type of aerostat or "lighter-than-air aircraft" that can be steered and propelled through the air using rudders and propellers or other thrust mechanisms...


, designated
ZR-3
, that was built in 1923-1924 by the Zeppelin

Zeppelin

A Zeppelin is a type of rigid airship pioneered by the German Count Ferdinand von Zeppelin in the early 20th century. It was based on designs he had outlined in 1874 and detailed in 1893. His plans were reviewed by committee in 1894 and patented in the United States on 14 March 1899...


factory in Friedrichshafen

Friedrichshafen

This article is about a German town. For the Danish town, see Frederikshavn, and for the Finnish town, see Fredrikshamn .Friedrichshafen is a university city on the northern side of Lake Constance in Southern Germany, near the borders with Switzerland and Austria.It is the district capital of the...


, Germany

Germany

Germany , officially the Federal Republic of Germany , is a federal parliamentary republic in Europe. The country consists of 16 states while the capital and largest city is Berlin. Germany covers an area of 357,021 km2 and has a largely temperate seasonal climate...


, where it was originally designated
LZ-126. The airship was given to the
United States
United States
The United States of America is a federal constitutional republic comprising fifty states and a federal district...
by the German Government, as it was partially funded by
war reparations
War reparations
War reparations are payments intended to cover damage or injury during a war. Generally, the term war reparations refers to money or goods changing hands, rather than such property transfers as the annexation of land.- History :...
from
World War I
World War I
World War I , which was predominantly called the World War or the Great War from its occurrence until 1939, and the First World War or World War I thereafter, was a major war centred in Europe that began on 28 July 1914 and lasted until 11 November 1918...
.
History
After World War I, Major
Harold Geiger
Harold Geiger
Major Harold C. Geiger , born in East Orange, New Jersey, was a pioneer in US military aviation and ballooning who was killed in an airplane crash in 1927...
was attached to the Ambassador's staff in Berlin. While in Germany, Major Geiger sent reports to the Chief of the
United States Army Air Service
United States Army Air Service
The Air Service, United States Army was a forerunner of the United States Air Force during and after World War I. It was established as an independent but temporary wartime branch of the War Department by two executive orders of President Woodrow Wilson: on May 24, 1918, replacing the Aviation...
on the construction of the ZR-3, and repeatedly urged that the craft, which was later taken over by the Navy, be purchased by the Army. He was on the ZR-3 on its
transatlantic flight
Transatlantic flight
Transatlantic flight is the flight of an aircraft across the Atlantic Ocean. A transatlantic flight may proceed east-to-west, originating in Europe or Africa and terminating in North America or South America, or it may go in the reverse direction, west-to-east...
.
After the highly publicized October, 1924, transatlantic delivery flight from the Zeppelin Company works in Friedrichshafen to the US Naval Air Station at
Lakehurst, New Jersey
Lakehurst, New Jersey
Lakehurst is a Borough in Ocean County, New Jersey, United States. As of the United States 2010 Census, the borough population was 2,654.Lakehurst was incorporated as a borough by an Act of the New Jersey Legislature on April 7, 1921, from portions of Manchester Township, based on the results of a...
, the airship was commissioned into the US Navy on November 25, 1924 at
Anacostia, D.C.
Anacostia (Washington Metro)
Anacostia is a Washington Metro station in Washington, D.C. on the Green Line. The station is located in the Anacostia neighborhood of Southeast Washington, with entrances at Shannon Place and Howard Road near Martin Luther King, Jr. Avenue SE . The station serves as a hub for Metrobus routes in...
with LCDR Maurice R. Pierce in command. Its lifting gas was switched from hydrogen to helium, which reduced payload but improved safety.
The airship went on to log a total of 4,398 hours of flight, covering a distance of 172,400 nautical miles (319,300 km) traveling to places in both the Pacific and the Atlantic. It served as an observatory and experimental platform, as well as a training ship for other airships. The length was 656 feet (199.9 m), about 148 feet (45.1 m) shorter than the longest Zeppelins.
On August 25, 1927, while tethered at the Lakehurst
high mast
Mooring mast
A mooring mast, or mooring tower, is a structure designed to allow for the docking of an airship outside of an airship hangar or similar structure...
, a gust of wind caught the tail of the Los Angeles
and lifted it into colder, denser air that was just above the airship. This caused the tail to lift higher. The crew on board tried to compensate by climbing up the keel

Keel

In boats and ships, keel can refer to either of two parts: a structural element, or a hydrodynamic element. These parts overlap. As the laying down of the keel is the initial step in construction of a ship, in British and American shipbuilding traditions the construction is dated from this event...


toward the rising tail, but could not stop the ship from reaching an angle of 85 degrees, before it finally descended. Amazingly, the ship suffered only slight damage and was able to fly the next day.

In 1930 the
Los Angeles
was used to test the trapeze system developed by the US Navy to launch and recover fixed wing aircraft from dirigibles. The tests were a success and future American dirigibles were fitted with this system to launch and recover small fighters. The temporary system though was removed from the
Los Angeles
and never carried any aircraft operational flights. Also, in 1930 the Los Angeles tested the launching of a glider over Lakehurst, N.J.

On May 24, 1932 the
Los Angeles
participated in a demonstration of photophone

Photophone

The photophone, also known as a radiophone, was invented jointly by Alexander Graham Bell and his then-assistant Charles Sumner Tainter on February 19, 1880, at Bell's 1325 'L' Street laboratory in Washington, D.C...


technology. Floating over the General Electric

General Electric

General Electric Company , or GE, is an American multinational conglomerate corporation incorporated in Schenectady, New York and headquartered in Fairfield, Connecticut, United States...


plant in Schenectady, New York

Schenectady, New York

Schenectady is a city in Schenectady County, New York, United States, of which it is the county seat. As of the 2010 census, the city had a population of 66,135...


, crew on board the ship engaged in an on-air conversation with a WGY radio announcer using a beam of light.

As the terms under which the Allies permitted the United States to have the
Los Angeles
restricted its use to commercial and experimental purposes only, when the U.S. Navy sought in 1931 to use the airship in a fleet problem

Fleet problem

Fleet problem was the term used by the United States Navy to describe each of 21 large-scale naval exercises conducted between 1923 and 1940. They are labeled with roman numerals, from Fleet Problem I through Fleet Problem XXI. A 22nd Fleet Problem exercise, scheduled for 1941, was canceled because...


, permission had to be obtained from the Allied Control Commission.
Los Angeles
took part in Fleet Problems XII (1931) and XIII (1932), but, as was the case with all U.S. Navy rigid airships, demonstrated no particular benefit to the fleet.

The
Los Angeles
was decommissioned in 1932 as an economy measure, but was recommissioned for a period after the USS
Akron
crashed in April 1933. Soon returned to storage, the airship was finally struck off the Navy list in 1939 and dismantled in its hangar, thus ending the career of the Navy's longest serving airship. Unlike the ill-fated
Akron
USS Akron (ZRS-4)
USS Akron was a helium-filled rigid airship of the United States Navy that was lost in a weather-related accident off the New Jersey coast early on April 4, 1933, killing 73 of the 76 crew and passengers on board...
,
Macon
USS Macon (ZRS-5)
USS Macon was a rigid airship built and operated by the United States Navy for scouting. She served as a "flying aircraft carrier", launching Curtiss F9C Sparrowhawk biplane fighters. In service for less than two years, in 1935 Macon was damaged in a storm and lost off California's Big Sur coast,...
, and
Shenandoah
USS Shenandoah (ZR-1)
USS Shenandoah was the first of four United States Navy rigid airships. It was built in 1922-1923 at Lakehurst Naval Air Station, and first flew in September 1923. It developed the Navy's experience with rigid airships, even making the first crossing of North America by airship...
, the
Los Angeles career did not meet a disastrous end.
External links