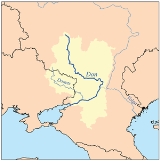 Don River (Russia)
The
Don River
is one of the major rivers of
Russia
Russia
Russia or , officially known as both Russia and the Russian Federation , is a country in northern Eurasia. It is a federal semi-presidential republic, comprising 83 federal subjects...
. It rises in the town of
Novomoskovsk
Novomoskovsk, Russia
Novomoskovsk , called Bobriki before 1934 and Stalinogorsk between 1934 and 1961, is a city in Tula Oblast, Russia, located at the source of the Don and Shat Rivers. Population: 143,000 ; 107,000 ; 76,000 ....
60 kilometres southeast from
Tula
Tula, Russia
Tula is an industrial city and the administrative center of Tula Oblast, Russia. It is located south of Moscow, on the Upa River. Population: -History:...
, southeast of
Moscow
Moscow
Moscow is the capital, the most populous city, and the most populous federal subject of Russia. The city is a major political, economic, cultural, scientific, religious, financial, educational, and transportation centre of Russia and the continent...
, and flows for a distance of about 1,950 kilometres (1,220 mi) to the
Sea of Azov
Sea of Azov
The Sea of Azov , known in Classical Antiquity as Lake Maeotis, is a sea on the south of Eastern Europe. It is linked by the narrow Strait of Kerch to the Black Sea to the south and is bounded on the north by Ukraine mainland, on the east by Russia, and on the west by the Ukraine's Crimean...
.
From its source, the river first flows southeast to
Voronezh
Voronezh
Voronezh is a city in southwestern Russia, the administrative center of Voronezh Oblast. It is located on both sides of the Voronezh River, away from where it flows into the Don. It is an operating center of the Southeastern Railway , as well as the center of the Don Highway...
, then southwest to its mouth. The main city on the river is Rostov on Don, its main tributary, the Donets.
Paleolithic archaeological layers at
Kostenki
Kostenki
Kostenki is a village located on western middle bank of Don River in Voronezh Oblast, Russia. It is known for high concentration of cultural remains of modern humans from beginning of Upper Paleolithic era....
reveal human histories around 40,000 years ago.