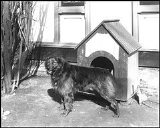 Doghouse
A
doghouse
, known in
British English
British English
British English, or English , is the broad term used to distinguish the forms of the English language used in the United Kingdom from forms used elsewhere...
as a
kennel
, is a small
shed
Shed
A shed is typically a simple, single-storey structure in a back garden or on an allotment that is used for storage, hobbies, or as a workshop....
commonly built in the shape of a little
house
House
A house is a building or structure that has the ability to be occupied for dwelling by human beings or other creatures. The term house includes many kinds of different dwellings ranging from rudimentary huts of nomadic tribes to free standing individual structures...
intended for a dog. It is a structure in which a
dog
Dog
The domestic dog is a domesticated form of the gray wolf, a member of the Canidae family of the order Carnivora. The term is used for both feral and pet varieties. The dog may have been the first animal to be domesticated, and has been the most widely kept working, hunting, and companion animal in...
is kept or can run into for shelter from the
elements
Weather
Weather is the state of the atmosphere, to the degree that it is hot or cold, wet or dry, calm or stormy, clear or cloudy. Most weather phenomena occur in the troposphere, just below the stratosphere. Weather refers, generally, to day-to-day temperature and precipitation activity, whereas climate...
.
Architecture
In
architecture
Architecture
Architecture is both the process and product of planning, designing and construction. Architectural works, in the material form of buildings, are often perceived as cultural and political symbols and as works of art...
, "doghouse" is commonly a
builder
Construction
In the fields of architecture and civil engineering, construction is a process that consists of the building or assembling of infrastructure. Far from being a single activity, large scale construction is a feat of human multitasking...
/
contractor
Independent contractor
An independent contractor is a natural person, business, or corporation that provides goods or services to another entity under terms specified in a contract or within a verbal agreement. Unlike an employee, an independent contractor does not work regularly for an employer but works as and when...
term for a
dormer
Dormer
A dormer is a structural element of a building that protrudes from the plane of a sloping roof surface. Dormers are used, either in original construction or as later additions, to create usable space in the roof of a building by adding headroom and usually also by enabling addition of windows.Often...
. The name is derived from the appearance of improperly proportioned dormers, which do resemble dog houses. A properly proportioned dormer should neatly fit over the
window
Window
A window is a transparent or translucent opening in a wall or door that allows the passage of light and, if not closed or sealed, air and sound. Windows are usually glazed or covered in some other transparent or translucent material like float glass. Windows are held in place by frames, which...
it is meant to frame. A common mistake is to undersize the windows or oversize the dormer, which necessitates the use of
siding
Siding
Siding is the outer covering or cladding of a house meant to shed water and protect from the effects of weather. On a building that uses siding, it may act as a key element in the aesthetic beauty of the structure and directly influence its property value....
or other
infill
Infill
Infill in its broadest meaning is material that fills in an otherwise unoccupied space. The term is commonly used in association with construction techniques such as wattle and daub, and civil engineering activities such as land reclamation.-Construction:...
material with the structure treated as a
gable
Gable
A gable is the generally triangular portion of a wall between the edges of a sloping roof. The shape of the gable and how it is detailed depends on the structural system being used and aesthetic concerns. Thus the type of roof enclosing the volume dictates the shape of the gable...
end. Some architects use the word "doghouse" in a derogatory manner to indicate an ignorance of "honest" building practices often found in low-cost residential and light commercial, developer-built structures. See also pork chop eave.
Double bass
The
double bass
Double bass
The double bass, also called the string bass, upright bass, standup bass or contrabass, is the largest and lowest-pitched bowed string instrument in the modern symphony orchestra, with strings usually tuned to E1, A1, D2 and G2...
is also sometimes jokingly referred to as a
doghouse
due to its largeness of sound, especially by jazz or bluegrass musicians.
In the doghouse
The idiom 'In the doghouse/Land yourself in the doghouse' means out of favour and in trouble with a person/people because of an offence/caused upset, for example for a
husband
Marriage
Marriage is a social union or legal contract between people that creates kinship. It is an institution in which interpersonal relationships, usually intimate and sexual, are acknowledged in a variety of ways, depending on the culture or subculture in which it is found...
who is figuratively sent to the doghouse in the same way that a dog is removed from the human habitation. This is the principal usage of the expression
dog house
in British English.
External links