 David Schwarz (aviation inventor)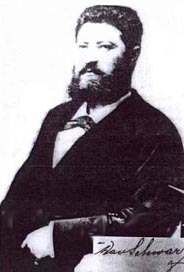 David Schwarz
was a
Hungarian
aviation
Aviation
Aviation is the design, development, production, operation, and use of aircraft, especially heavier-than-air aircraft. Aviation is derived from avis, the Latin word for bird.-History:...
pioneer of Jewish descent.
Schwarz created the first flyable
rigid airship
Rigid airship
A rigid airship is a type of airship in which the envelope retained its shape by the use of an internal structural framework rather than by being forced into shape by the pressure of the lifting gas within the envelope as used in blimps and semi-rigid airships.Rigid airships were produced and...
. It was also the first airship with an external hull made entirely of metal. He died before he could see it finally fly. Sources claimed that Ferdinand Graf von Zeppelin purchased the patent from his widow, but
Hugo Eckener
Hugo Eckener
Dr. Hugo Eckener was the manager of the Luftschiffbau Zeppelin during the inter-war years, and was commander of the famous Graf Zeppelin for most of its record-setting flights, including the first airship flight around the world, making him the most successful airship commander in history...
disputed this.
Life
David Schwarz was the son of Jewish parents. He was a wood merchant born in
Županja
Županja
Županja is a city in eastern Slavonia, Croatia, located 254 km east of Zagreb. It is administratively part of the Vukovar-Syrmia county. It is inhabited by 12,185 people ....
, but he spent most of his life in
Zagreb
Zagreb
Zagreb is the capital and the largest city of the Republic of Croatia. It is in the northwest of the country, along the Sava river, at the southern slopes of the Medvednica mountain. Zagreb lies at an elevation of approximately above sea level. According to the last official census, Zagreb's city...
, then part of the
Kingdom of Croatia-Slavonia
Kingdom of Croatia-Slavonia
The Kingdom of Croatia-Slavonia or Croatia Slavonia was an autonomous kingdom within the Austro-Hungarian Empire. It was part of the Hungarian Kingdom within the dual Austro-Hungarian state, being within the Lands of the Crown of St. Stephen or Transleithania...
, Austro-Hungarian Empire.
Although Schwarz had no special technical training, he busied himself with technology and developed improvements for woodcutting machinery.
Airship thoughts
Schwarz first interested himself with airships in the 1880s. This occurred as he stayed in a Croatian log cabin at the start of winter to supervise the treefelling in a newly purchased forest. As the work took longer than planned he had his wife send him literature to while away the evenings. Because the works of
Charles Dickens
Charles Dickens
Charles John Huffam Dickens was an English novelist, generally considered the greatest of the Victorian period. Dickens enjoyed a wider popularity and fame than had any previous author during his lifetime, and he remains popular, having been responsible for some of English literature's most iconic...
and
Victor Hugo
Victor Hugo
Victor-Marie Hugo was a Frenchpoet, playwright, novelist, essayist, visual artist, statesman, human rights activist and exponent of the Romantic movement in France....
did not appeal to him, an assumption arising from one of his wife's letters, she sent him a work from
Aristotle
Aristotle
Aristotle was a Greek philosopher and polymath, a student of Plato and teacher of Alexander the Great. His writings cover many subjects, including physics, metaphysics, poetry, theater, music, logic, rhetoric, linguistics, politics, government, ethics, biology, and zoology...
and a
Mechanics
Mechanics
Mechanics is the branch of physics concerned with the behavior of physical bodies when subjected to forces or displacements, and the subsequent effects of the bodies on their environment....
textbook. Although Schwarz became excited, it is not altogether clear this inspired him to build his own airship. The wood business suffered due to his obsession and, like other airflight pioneers, his project attracted mockery. Nevertheless his wife Melanie supported him. Schwarz busied himself using
aluminium
Aluminium
Aluminium or aluminum is a silvery white member of the boron group of chemical elements. It has the symbol Al, and its atomic number is 13. It is not soluble in water under normal circumstances....
for construction, then a very new material.
In Russia and the first airship
David Schwarz worked out the construction of his all-metal airship. He then offered his documents to the Austria-Hungary war minister. Great interest was shown, but no one was ready to provide financial support.
The Russian military attaché, a technically educated man, advised Schwarz to demonstrate his airship in St. Petersburg. There, an airship following Schwarz's idea was built in 1893. Schwarz and later also his widow assumed that test flights would also be made there, but this did not happen. He began construction late 1892, with industrialist
Carl Berg
Carl Berg (airship builder)
Carl Berg was a German entrepreneur and airship builder.Berg came from a commercial iron-works family. His great grandfather founded a button-making factory on 1786 in Lüdenscheid. In the following generations the factory developed into an important metal-working company...
supplying the aluminium and necessary funding. Sources report problems arose during gas-filling. George Whale wrote that on "inflation, the framework collapsed". Dooley cites Robinson's detailed dimensions, weights and engine performance, and reports several deficiencies in the design: Schwarz apparently intended the metal skin to hold the gas directly without gas bags; Russian engineer Kowanko pointed out the lack of a
ballonet
Ballonet
A Ballonet is a air-filled flexible container that is located inside the envelope of a non-rigid or semi-rigid airship. Such an airship can have one or more ballonets, commonly one fore and one aft...
would cause stresses on the skin during ascent and descent; the skin was not airtight; temporary "filling bags" were also not airtight, Schwarz and the manufacturer both blaming each other; and finally the skin imploded after filling directly and waiting.
The specifications of this first airship were:
gas volume: 3280 cubic metres (115,832.1 cu ft)
empty weight: 2525 kg
gross lift: 958 kg
power: four cylinder engine weighing 298 kg, 10 hp at 480 rpm
ballast and fuel: 170 kg
equipment and three people: 385 kg
net lift: 85 kg
The circumstances of Schwarz's return is unclear, reports were of a hasty departure from Russia.
Back in Germany and construction at Tempelhof
In Germany in 1894,
Carl Berg
Carl Berg (airship builder)
Carl Berg was a German entrepreneur and airship builder.Berg came from a commercial iron-works family. His great grandfather founded a button-making factory on 1786 in Lüdenscheid. In the following generations the factory developed into an important metal-working company...
procured a contract to build an airship for Royal Prussian Government, citing Schwarz as idea-provider. Carl Berg had already experience in working and developing the then new aluminium, and was to later deliver parts for Zeppelin's first airship. With financial and technical help from Berg and his firm, the airship was designed and built.
The construction began in 1895 at the
Tempelhof
Tempelhof
Tempelhof is a locality of Berlin within the borough of Tempelhof-Schöneberg. It is the location of the former Tempelhof Airport, one of the earliest commercial airports in the world. It is now deserted and shows as a blank spot on maps of Berlin. Attempts are being made to save the still-existing...
field in Berlin. For a time the Prussian Airship Battalion put its grounds and personnel at Schwarz's disposal. The pieces were produced in Carl Berg's Eveking Westphalia factory and under the direction of Schwarz, assembled in Berlin. A gondola, also of aluminium, was fixed to the framework. Attached to the gondola was a 12 hp Daimler engine that drove aluminium propellers. One of the propellers was used to steer the craft.
In 1896 June Carl Berg was in Moscow and sent a card to his stepfather, apparently indicating that he had searched for information on Schwarz and became cynical of delays and was nearly convinced he had been swindled.
Due to delays, the airship was first filled with gas on 1896-10-09 and tested, but the results were not satisfactory because the hydrogen gas delivered by the
Vereinigten Chemischen Fabriken
from Leopoldshall (part of
Staßfurt
Staßfurt
Staßfurt is a town in the Salzlandkreis district, in Saxony-Anhalt, Germany. It is situated on both sides of the river Bode, approximately northeast of Aschersleben, and south of Magdeburg. Pop. 23,538....
) was not of the required quality and did not provide sufficient lift. (Some sources mention a test was done on October 8, 1896.) It was reckoned that gas with a density of 1.15 kg per cubic metre was needed. Gas with that quality could not be produced until 1897-01-13, the day of Schwarz's death.
Death and maiden flight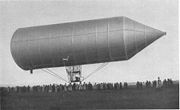 Schwarz did not live to see the maiden flight of his airship. Between 1892 until 1896 he was often traveling, which had affected his health. In 1897-01-13 he collapsed in the street in Vienna by the restaurant "Zur Linde" and died minutes later in a hallway from heart failure. Historical sources speak of a "
Blutsturz
" (a term meaning either
hemoptysis
Hemoptysis
Hemoptysis or haemoptysis is the expectoration of blood or of blood-stained sputum from the bronchi, larynx, trachea, or lungs Hemoptysis or haemoptysis is the expectoration (coughing up) of blood or of blood-stained sputum from the bronchi, larynx, trachea, or lungs Hemoptysis or haemoptysis ...
or
hematemesis
Hematemesis
Hematemesis or haematemesis is the vomiting of blood. The source is generally the upper gastrointestinal tract. Patients can easily confuse it with hemoptysis , although the latter is more common.-Signs:...
). Shortly before, he had received news that his airship was ready to be filled with gas.
The city of Vienna honoured David Schwarz with an
Ehrengrab
Ehrengrab
An Ehrengrab is a distinction granted by certain German, Swiss and Austrian cities to one of their citizens for extraordinary services or achievements in their lifetime. If there are no descendants or institutions to care for the gravesite, the communities or cities will take responsibility for...
(a memorial grave) and with a
Grabmal
(a kind of tomb) at the
Zentralfriedhof
Zentralfriedhof
The Zentralfriedhof is one of the largest cemeteries in the world, largest by number of interred in Europe and most famous cemetery among Vienna's nearly 50 cemeteries.-Name and location:...
.
Carl required confirmation of Schwarz's death, suspecting he had fled to sell his secrets. Nevertheless, Berg resumed the work with Melanie, Schwarz's widow and together with the Airship Battalion they completed the airship with the addition of a gas relief valve.
This second airship had these specifications:
gas volume: 4610 cubic metres
length 38.32 metres
elliptical cross-sectional area: 132 square metre, 15.4 metre wide, 18.2 metre high,
engine: 12 hp Daimler weighing 508 kg
vertical airscrews: three 2.6 metre diameter, two on hull, one above gondola
horizontal airscrew: one mounted under the gondola
skin: 0.2 mm aluminium plates riveted to framework
Sean Dooley analysed the engineering structure from the drawings and considered it deficient such that the skin took most of the shear stresses, as could be seen in the photo in flight.
The second airship tested with partial success at Tempelhof near Berlin, Germany, on 3 November 1897. Battalion mechanic Ernst Jägels climbed into the gondola and lifted off at 15:00. The ship broke free of the ground crew, and because it rose too fast Jägels disengaged the horizontal propeller. At about 130 metre altitude the driving belt slipped off the left propeller, causing partial loss of steering, the ship "turned broadside to the wind, and the forward tether broke free." As the ship drifted up to 510 metres the belt slipped off the right propeller, thus losing all steering. Jägels then opened the newly fitted gas release valve and landed safely, but the ship turned over and collapsed.
Legacy
Starting around the time of the trial flight crash, and for decades after, various reports were written, some often conflicting and misleading.
Later, Berg, and also his son would write negatively of his experiences with Schwarz.
Sources vary, some say Count
Ferdinand von Zeppelin
Ferdinand von Zeppelin
Ferdinand Adolf Heinrich August Graf von Zeppelin was a German general and later aircraft manufacturer. He founded the Zeppelin Airship company...
purchased the patent from his widow in 1898, others claim he used the design, however Dr Hugo Eckener addressed these claims as legend stating:
Cvi Rotem (1903–1980) wrote the only known biography titled
David Schwarz: Tragödie des Erfinders, Zur Geschichte des Luftschiffes
, and Robinson reviewed the 187 page manuscript in the March 1984 issue of Buoyant Flight. Cvi Rotem wrote that both Berg and Schwarz wished to keep their work secret.
Between 2000-12-03 and 2001-04-29 the
Museen der Stadt Lüdenscheid
held an exhibition which covered Berg, Schwarz and Zeppelin history from 1892 to 1932, which displayed papers, photographs and remnants.
Footnotes
Note a: Sources for date of birth vary: Library of Congress

Library of Congress

The Library of Congress is the research library of the United States Congress, de facto national library of the United States, and the oldest federal cultural institution in the United States. Located in three buildings in Washington, D.C., it is the largest library in the world by shelf space and...


cites Rotem, Ẓ. giving 1850-12-07, and cites Brockhaus giving 1850-12-20
Note b: Library of Congress

Library of Congress

The Library of Congress is the research library of the United States Congress, de facto national library of the United States, and the oldest federal cultural institution in the United States. Located in three buildings in Washington, D.C., it is the largest library in the world by shelf space and...


cites Brockhaus place of birth as Zalaegerszeg

Zalaegerszeg

In 2001 Zalaegerszeg had 61,654 inhabitants . The distribution of religions were, 71.1% Roman Catholic, 3.8% Calvinist, 1.6% Lutheran, 11.6% Atheist .-Notable people:* Lajos Botfy , mayor...


, (Hungary). Note in the mid-19th century Zalaegerszeg was in a confusing state
External links