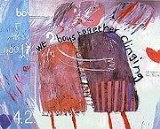 David Hockney
David Hockney
,
CH
Order of the Companions of Honour
The Order of the Companions of Honour is an order of the Commonwealth realms. It was founded by King George V in June 1917, as a reward for outstanding achievements in the arts, literature, music, science, politics, industry or religion....
, RA, (born 9 July 1937) is an
English
England
England is a country that is part of the United Kingdom. It shares land borders with Scotland to the north and Wales to the west; the Irish Sea is to the north west, the Celtic Sea to the south west, with the North Sea to the east and the English Channel to the south separating it from continental...
painter, draughtsman, printmaker, stage designer and photographer, who is based in
Bridlington
Bridlington
Bridlington is a seaside resort, minor sea fishing port and civil parish on the Holderness Coast of the North Sea, in the East Riding of Yorkshire, England. It has a static population of over 33,000, which rises considerably during the tourist season...
,
Yorkshire
Yorkshire
Yorkshire is a historic county of northern England and the largest in the United Kingdom. Because of its great size in comparison to other English counties, functions have been increasingly undertaken over time by its subdivisions, which have also been subject to periodic reform...
and
Kensington
Kensington
Kensington is a district of west and central London, England within the Royal Borough of Kensington and Chelsea. An affluent and densely-populated area, its commercial heart is Kensington High Street, and it contains the well-known museum district of South Kensington.To the north, Kensington is...
, London.
An important contributor to the
Pop art
Pop art
Pop art is an art movement that emerged in the mid 1950s in Britain and in the late 1950s in the United States. Pop art challenged tradition by asserting that an artist's use of the mass-produced visual commodities of popular culture is contiguous with the perspective of fine art...
movement of the 1960s, he is considered one of the most influential British artists of the twentieth century.
Hockney was born in Bradford, England on 9 July 1937 to Laura and Kenneth Hockney and was educated first at Wellington Primary School then
Bradford Grammar School
Bradford Grammar School
Bradford Grammar School is a co-educational, independent school in Frizinghall, Bradford, West Yorkshire. Headmaster, Stephen Davidson is a member of the Headmasters' and Headmistresses' Conference . The school was founded in 1548 and granted its Charter by King Charles II in 1662...
, Bradford College of Art and the
Royal College of Art
Royal College of Art
The Royal College of Art is an art school located in London, United Kingdom. It is the world's only wholly postgraduate university of art and design, offering the degrees of Master of Arts , Master of Philosophy and Doctor of Philosophy...
in London, where he met
R. B. Kitaj
R. B. Kitaj
Ronald Brooks Kitaj was an American artist who spent much of his life in England.-Life:Born in Chagrin Falls, Ohio, near Cleveland, United States, his Hungarian father, Sigmund Benway, left his mother, Jeanne Brooks, shortly after he was born and they were divorced in 1934. His mother was the...
.
What I always longed to do was to be able to paint like I can draw, most artists would tell you that, they would all like to paint like they can draw.

From a series of interviews with Marco Livingstone (April 22 - May 7, 1980 and July 6 - 7, 1980) quoted in Livingstone's David Hockney (1981), p. 207
I've started painting much more freely, and faster. I think it's working in the theatre that did it. You know what the Glyndebourne scene-painters said about my The Magic Flute? They said they had to wear sunglasses to paint it.

"Portrait of the Artist as a Naughty Boy," interview with John Mortimer, In Character (1983) ISBN 0-14-006389-7 p.97
In one gallery they actually had a notice which said "No Sketching." How obnoxious! I said, "How do you think these things got on the walls if there was no sketching?"

"Portrait of the Artist as a Naughty Boy," interview with John Mortimer, In Character (1983), p.97
Television is becoming a collage — there are so many channels that you move through them making a collage yourself. In that sense, everyone sees something a bit different.

Interview with Paul Joyce, New York, November 1985, quoted in Hockney on Photography, ed. Wendy Brown (1988)
If we are to change our world view, images have to change. The artist now has a very important job to do. He's not a little peripheral figure entertaining rich people, he's really needed.

Interview with Paul Joyce, New York, (September 1986) quoted in Hockney on Photography, ed. Wendy Brown (1988)
We live in an age where the artist is forgotten. He is a researcher. I see myself that way.

The Observer (London) (9 June 1991)