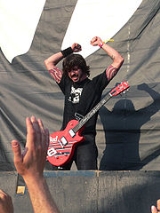 Dave Grohl
David Eric "Dave" Grohl
(born January 14, 1969) is an American
rock
Rock music
Rock music is a genre of popular music that developed during and after the 1960s, particularly in the United Kingdom and the United States. It has its roots in 1940s and 1950s rock and roll, itself heavily influenced by rhythm and blues and country music...
musician
Musician
A musician is an artist who plays a musical instrument. It may or may not be the person's profession. Musicians can be classified by their roles in performing music and writing music.Also....* A person who makes music a profession....
,
multi-instrumentalist
Multi-instrumentalist
A multi-instrumentalist is a musician who plays a number of different instruments.The Bachelor of Music degree usually requires a second instrument to be learned , but people who double on another instrument are not usually seen as multi-instrumentalists.-Classical music:Music written for Symphony...
, and
singer-songwriter
Singer-songwriter
Singer-songwriters are musicians who write, compose and sing their own musical material including lyrics and melodies. As opposed to contemporary popular music singers who write their own songs, the term singer-songwriter describes a distinct form of artistry, closely associated with the...
who is the
lead vocalist
Lead vocalist
The lead vocalist is the member of a band who sings the main vocal portions of a song. They may also play one or more instruments. Lead vocalists are sometimes referred to as the frontman or frontwoman, and as such, are usually considered to be the "leader" of the groups they perform in, often the...
,
guitarist
Guitarist
A guitarist is a musician who plays the guitar. Guitarists may play a variety of instruments such as classical guitars, acoustic guitars, electric guitars, and bass guitars. Some guitarists accompany themselves on the guitar while singing.- Versatility :The guitarist controls an extremely...
, and primary songwriter for
Foo Fighters
Foo Fighters
Foo Fighters is an American alternative rock band originally formed in 1994 by Nirvana drummer Dave Grohl as a one-man project following the dissolution of his previous band. The band got its name from the UFOs and various aerial phenomena that were reported by Allied aircraft pilots in World War...
; the former
drummer
Drummer
A drummer is a musician who is capable of playing drums, which includes but is not limited to a drum kit and accessory based hardware which includes an assortment of pedals and standing support mechanisms, marching percussion and/or any musical instrument that is struck within the context of a...
for
Nirvana
Nirvana (band)
Nirvana was an American rock band that was formed by singer/guitarist Kurt Cobain and bassist Krist Novoselic in Aberdeen, Washington in 1987...
and
Scream
Scream (band)
Scream is a hardcore punk band from Bailey's Crossroads, Virginia active from 1981 to 1990. As of 2009, the band has reunited to play several shows.-Biography:...
; and the current drummer for
Them Crooked Vultures
Them Crooked Vultures
Them Crooked Vultures is a rock supergroup formed in Los Angeles in 2009 by John Paul Jones , Dave Grohl , and Josh Homme . The group also includes guitarist Alain Johannes during live performances...
. He has also written all the music for his short-lived side projects Late! and
Probot
Probot
Probot was a heavy metal side project of ex-Nirvana drummer and Foo Fighters rhythm guitarist and lead-singer Dave Grohl. An album was recorded out of the material and released in February 2004...
as well as being involved with
Queens of the Stone Age
Queens of the Stone Age
Queens of the Stone Age is an American rock band from Palm Desert, California, United States, formed in 1997. The band's line-up has always included founding member Josh Homme , with the current line-up including longtime members Troy Van Leeuwen and Joey Castillo , alongside Michael Shuman and...
. Furthermore, he has performed session work for a variety of musicians, including
Killing Joke
Killing Joke
Killing Joke are an English post-punk band formed in October 1978 in Notting Hill, London, England; other sources report the band formed in early 1979.Related news articles: Founding members Jaz Coleman and Geordie Walker have been the only constant members.A key influence on industrial rock,...
,
Nine Inch Nails
Nine Inch Nails
Nine Inch Nails is an American industrial rock project, founded in 1988 by Trent Reznor in Cleveland, Ohio. As its main producer, singer, songwriter, and instrumentalist, Reznor is the only official member of Nine Inch Nails and remains solely responsible for its direction...
,
The Prodigy
The Prodigy
The Prodigy are an English electronic dance music group formed by Liam Howlett in 1990 in Braintree, Essex. Along with Fatboy Slim, The Chemical Brothers, and other acts, The Prodigy have been credited as pioneers of the big beat genre, which achieved mainstream popularity in the 1990s and 2000s...
,
Slash
Slash (musician)
Saul Hudson , known by his stage name Slash, is a British-American musician and songwriter. He is best known as the former lead guitarist of the American hard rock band Guns N' Roses, with whom he achieved worldwide success in the late 1980s and early 1990s. During his later years with Guns N'...
, Juliette Lewis,
Tenacious D
Tenacious D
Tenacious D is an American rock band that was formed in Los Angeles, California in 1994. Composed of lead vocalist and guitarist Jack Black and lead guitarist and vocalist Kyle Gass, the band has released two albums – Tenacious D and The Pick of Destiny...
and
Lemmy Kilmister
Lemmy Kilmister
Ian Fraser "Lemmy" Kilmister is an English heavy metal musician....
.
I'd like to imagine I won't end up in hell, but I think I've done too much acid and listened to too much death metal to sit on a cloud next to God with angels floating above my head.

Maxim Magazine|Maxim Magazine (January 2008)